Simon & Patrick Woodland Pro Folk Sunburst Acoustic Guitar Review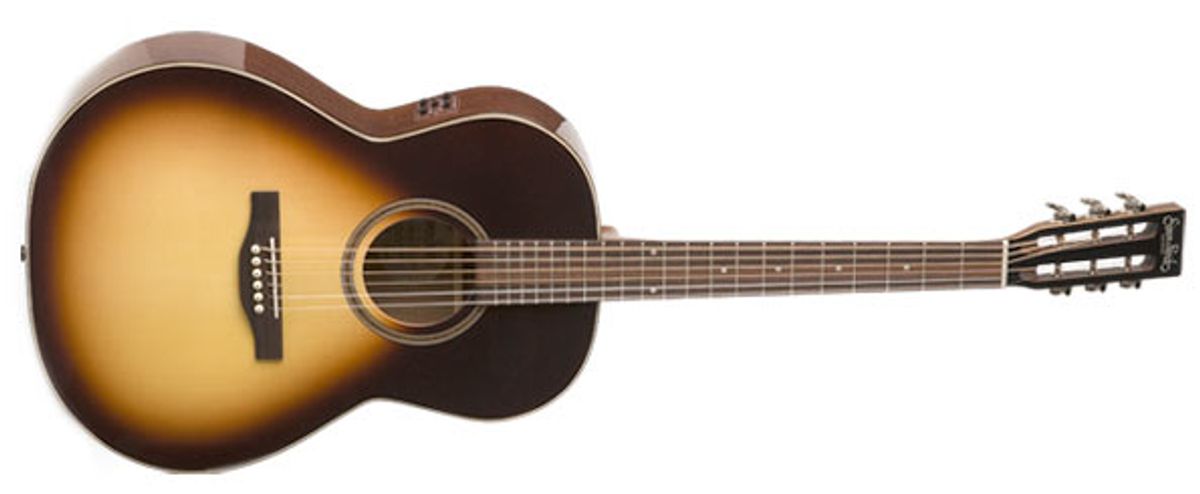 This solid wood, Canadian-built acoustic is impressively priced around $750. However, it''s the interesting body size and neck profile that have the potential to drive your playing to new places.
It's not that unusual to find great-playing and well-built guitars for less than a thousand bucks these days. Finding personality in an affordable instrument can be another matter entirely. With their unique-feeling, almost classical-inspired necks, Simon & Patrick (a division of Godin) has pulled off the trick of making their Canadian-built guitars accessibly priced and full of character since the '80s. The new Woodland Pro Folk Sunburst reviewed here keeps with family tradition—packing a lot of individuality, classic style, high quality, and pretty sweet tones at a price around 750 bucks that will get the attention of frugal players.
Collision of Classics
The Woodland Pro Folk Sunburst is a charming and pretty thing to behold. The compact body and slotted headstock echo Martin's pre-war 00 models. The cool sunburst job and body also evoke Gibson's legendary L-00. The flattish, slightly wider 14-fret neck also lends something unique to the experience, however—something a little like picking up a really nice old Kay after you've spent six months with a contemporary acoustic—a sense that you're playing a guitar that will help you express something a little different.
The feeling that you've stumbled upon some kind of pawnshop treasure is enhanced by touches like the butterbean tuners and the beautiful, glossy, and almost fiery-hued, three-color burst. But construction is super clean with a contemporary precision in the joints, glue work, and kerfing and bracing cuts that makes you feel like you're getting the best of both worlds.
The tonewood recipe is a classic—back and sides of beautifully grained, cocoa-colored solid mahogany and a spruce top that's a great match for the burst. The three-piece neck is mahogany with a rosewood fretboard. B-Band electronics are also available.
While the mahogany back gives the guitar a traditional warmth, the spruce top adds punch, presence and definition to high-mid registers—a great blend for fingerstyle.

Canadian Character
The Woodland Pro Folk is comfortable, light, and well-balanced in hand, which makes it easier to get used to the unique neck profile, which is feels more like a classical neck zapped by a shrink ray than say, a modern Martin 00 or a Taylor GC. Once accustomed to the shape, the Simon & Patrick's neck proves super versatile. The string spacing is wide enough for fingerstyle moves and aggressive hammer ons and pull offs and still compact enough for easy chording.
The Woodland Pro Folk sounds unique too. While the mahogany back gives the guitar traditional warmth, the spruce top adds punch, presence and definition to high-mid registers—a great blend for fingerstyle. The mahogany does seem to temper the attack of higher notes, however. Fingerpicked notes up past the seventh note on the first string can sound a little blunted and wooly, though they still sing with sustain that works beautifully with fingerstyle and flatpicked arpeggios in particular.
In standard tuning, the little Woodland Pro is a great strumming guitar, with a sweet, even voice that would settle beautifully into a band mix both live and in a recording environment. The midrange in particular is beautifully resonant and chiming. And the zing produced by a capo at the fourth fret practically begged for some Johnny Marr-style arpeggios and "Bigmouth Strikes Again" rapid-fire strumming.
The Woodland Pro's bass tones are surprisingly robust for a small-bodied, mahogany-back guitar. And the balanced girth really pays off when you tune the guitar down. Open G and DADGAD highlighted the guitar's high-mid range strengths and made the guitar feel a little more responsive to fingerpicking dynamics. Tuning down yet another step from DADGAD found the Woodland Pro growling like a jungle cat with an authority that belies its size.
Our Woodland Pro would probably benefit from a pro setup. Action past the fifth fret was just a little high—making complex chords a little tricky further up the neck. And you could probably shave the saddle down a bit without sacrificing much break angle. That said, the guitar, as set up was great for both fingerpicking and slide in open G, making this exceptionally cool candidate for country blues players not ready to spring for a reissue L-00.
The Verdict
Equal parts sweet and husky, the Woodland Pro Folk is a fantastic all-around acoustic with a unique playability and tone that's a welcome departure from the cookie-cutter feel you tend to find in affordable interpretations of mid-century classics. Features like the slotted headstock and butterbean tuners lend a sense of luxury and pre-war authenticity. And the guitar is a looker by any standard.
At 750 bones, it's a deal for an all-solid wood, Canadian-built axe. But it's the range of tones from full-bodied bass to bell-like high-mids that would make this a great guitar if you tacked another few hundred on the price tag. And given that the unique feel and voice of the Simon & Patrick really can beckon you in unexpected directions, the dividends of inspiration hiding in this little guitar could make it a priceless friend.
Buy if...
a vintage-inspired, all-solid wood, and uniquely voiced small-body is the key to your fingerstyle, folk, and blues expressions.
Skip if...
narrower, contemporary-feeling necks are essential to you playing your best.
Rating...