Some Ramblings on Vintage Originality
Jim Bastian weighs the importance of original cases in vintage value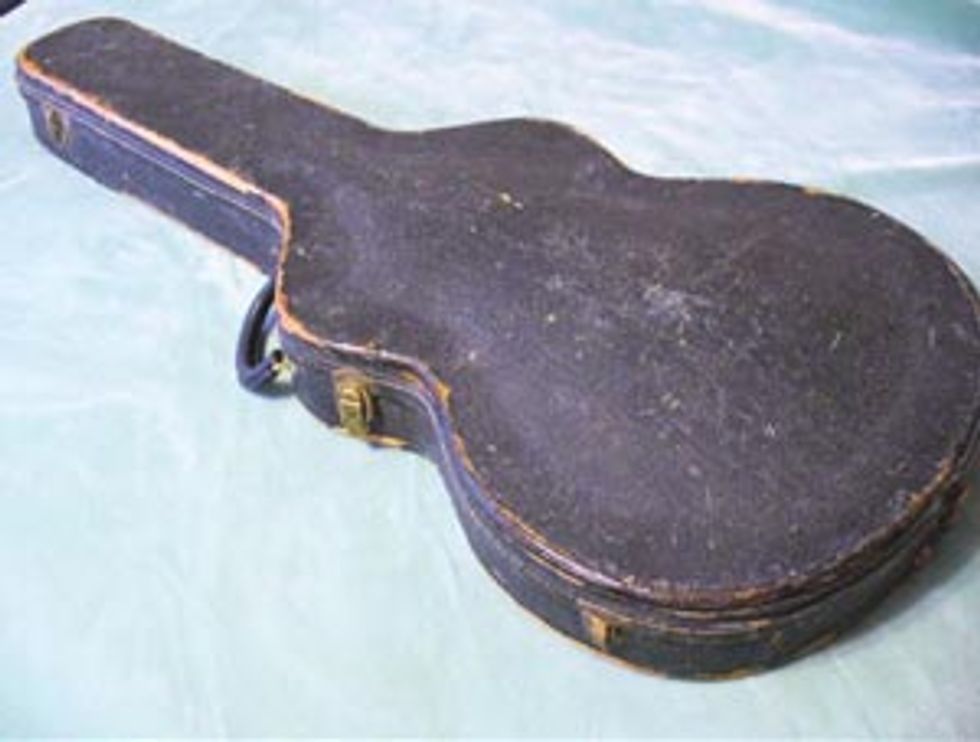 This month I thought we might have some fun and do some rambling about our vintage collecting fetishes and the concept of "originality." We all have different parameters in deciding what is collectible: whether an item or model fits in with our personal collection, the degree to which we will actually play the instrument, what level of restoration, if any, is acceptable, and so forth. One of my criteria is that if I won't play it – if it is just too minty and unplayed, belonging more in a museum than on the bandstand – I then treat it more as an investment and eventually resell it. To search out and find the archtops that I am not afraid to take on the bandstand, that are close to original and have a straight neck, are some of the peak moments of life!
In an era when gigs are increasingly hard to find, many modern musicians have developed multifaceted careers, engaging in a number of music-related activities as a way of piecing together an independent career. My own career is no different and has many sides, including teaching, performing, writing, selling and publishing. Most musicians today who want to stay in music full-time find themselves in similar situations.
One such enterprise that is related to our topic – and has become a small part of my larger business – is restoring vintage cases. These cases walk into my shop with tops and backs loose (or off), wood missing, handles gone and/or non-working hardware. This artistic restoration work grew out of my own interest in vintage collecting and my desire to be able to use an original, if worn, case. It is also related to growing up around my father's wood shop. Now I see a decrepit Cali-girl case or early sixties Lifton black/yellow case as a work of art, in need of restoration and an important piece of a vintage guitar's value.
To increase collectible value, a piece has to be functional and have some degree of originality. In restoring an old case, I keep everything I can, but I'm also not afraid to do any restoration work that will make the case strong and functional. The picture shows a 1962 Gibson ES-345 case that a customer brought to me in pieces. The case went through many clamping and drying stages to reattach both top and back, and I applied fiberglass to strengthen a few worn areas, especially where wood was missing. With the application of a little color in spots and some clear coat to strengthen the edges, the case was once again a functional, original partner to the PAF ES-345 with which it left the factory.
Last year I bought a '63 Barney Kessel archtop – wood only – and a month later I bought the same exact model with all original parts, although there was neck damage on the second one. Using all those original parts, I restored the first shell I bought and have since enjoyed playing it. Does this "blended" guitar qualify as "all-original?" Well, yes and no. Certainly, after I pass on and my wife puts all the guitars in the front yard with a "for sale" sign, any serious collector would think this BK was all original.
My minty 1959 ES-175 came to me with a brown-interior case. Succumbing to collector fetish urges, I traded for a near-mint, pink-lined Gibson-logo case to go with the guitar. Both case and guitar are correct for 1959; does this qualify as "original?" Clearly, many decades from now it will be sold by some dealer as original.
In some ways, collecting is a risky activity to be in and the buyer better know the correct plating, numbers, dimensions and tooling marks on every part when buying under the claim of "all original." Most professional dealers will have several areas of expertise, but even they cannot possibly know every vintage part and screw on every model from every manufacturer. This leaves it up to the buyers to educate themselves as to what is truly original on the models they are seeking.
Most of us start drooling when we see our favorite model in mint, unplayed condition. With vintage guitars, the Blue Book goes out the window in these cases. There is just something about these guitars that brings a high level of enjoyment when purchased. What a joy it is to receive a 1961 Gibson in the mail, and, before fully knowing what we bought, turning a pickup over and seeing a genuine "Patent Applied For" sticker on the back. I am revealing one of my own collector fetishes here, but to play the bop and post-bop jazz I am interested in, I have only been able to find the tone I am looking for (as well as the perfect neck profile) in early sixties Gibson archtops with untouched, original PAFs.
For many of us who are actually playing these old guitars, seeking a certain tone helps shape the goals of collecting. For those who collect more as an investment, tone becomes less important than market value. The search for original vintage gear is fun and can be an important part of our search for the tone we are seeking, but ultimately practicing, performing and advancing our skills in our style of choice are the top priority and have the greatest lasting value.
Correction: Last month we incorrectly identified the Peterson Guitar Special Amp as factory-equipped with a 10" EV speaker. It should have been 12".
---
Jim Bastian
A clinician and jazz educator, Jim Bastian is a 10 year veteran of teaching guitar in higher education. Jim holds two masters degrees and has published 6 jazz studies texts, including the best-selling
How to Play Chordal Bebop Lines
, for Guitar (available from Jamey Aebersold). He actively performs on both guitar and bass on the East Coast.
An avid collector and trader in the vintage market, you can visit Jim's store at
premierguitar.com
(dealer: IslandFunhouse).