Specimen Products & The Chicago School of Guitar Making
A quick primer on Specimen Products and the Chicago School of Guitar Making
The Specimen Guitar Shop, owned and operated by Ian and Nadine Schneller, is the home of both Specimen Products and the Chicago School of Guitar Making. More than a luthierie and a repair facility, the Specimen shop is also a gallery and an artist's studio. I recently visited Specimen for a tube amp building seminar, and found a Midwestern haven where esoteric creativity and invention meet traditional techniques and handcrafted quality.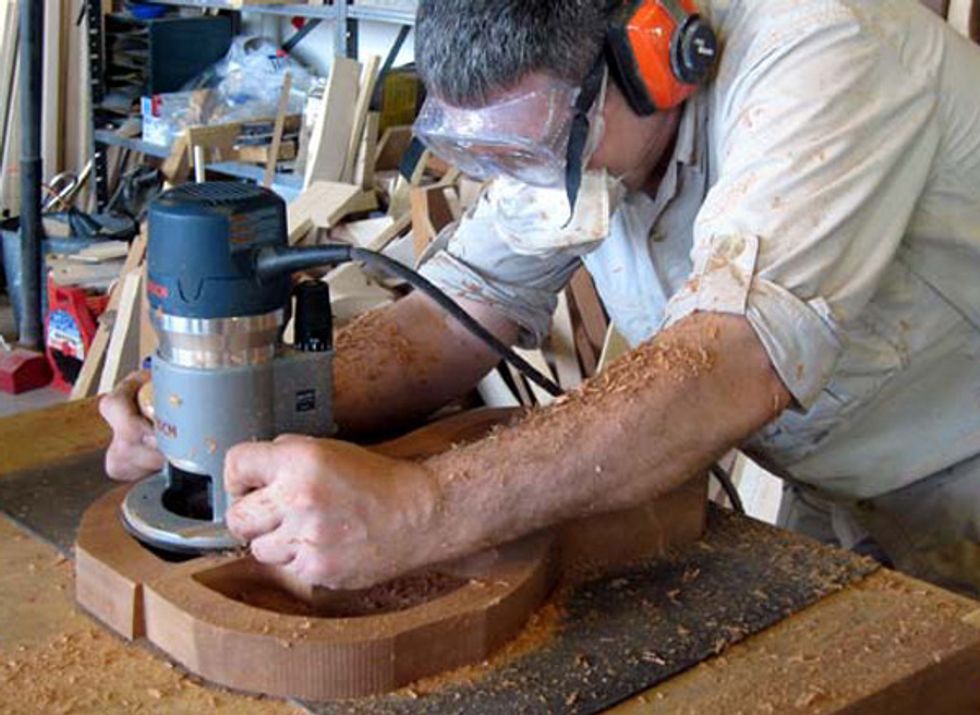 Schneller routing the body of an Ultra Luddite model.
This Specimen Royale Premiere features a two-piece, hand-sculpted basswood body, mahogany neck, Alaskan-cedar-burl headstock veneer and sculpted aluminum "diver's helmet" finial, a one-piece ebony bridge and ebony fretboard with pearl inlays of rippling flags, colored dots and side markers, a faceted and machined aluminum tailpiece, Lindy Fralin humbucker, four Grover Imperial tuners and two geared banjo tuners—and finished in pale blue nitrocellulose lacquer.
Specimen Products
If you've ever visited their website, you already know that Specimen offers quite an impressive array of intriguing and engaging instruments, from the nearly traditional-looking aluminum guitars, solidbodies and archtops to the custom offerings they affectionately call "Singletons" and more unconventional creations, like electric ukes, mandolins and even an electric lute.
Schneller also repairs all manner of stringed instruments and amplifiers, and even builds his own guitar and hi-fi stereo amps, along with a variety of custom high-fidelity horn speakers (you've seen them if you've seen Andrew Bird recently).
Go inside Specimen with our tour videos:
Specimen Gallery
In Progress Projects/Prototypes
Schneller and seminar student Mike Dunn firing up Mike's modded Tweed Champ replica (on the floor).
The Chicago School of Guitar Making
Since 2005, Specimen has been offering instruction in guitar repair and guitar and tube amplifier building in the form of weekly classes as well as weekend seminars throughout the year. All classes are taught by Schneller and take place at Specimen, which is outfitted with a fully-equipped wood and metal shop, individual workstations for up to eight students, and all the necessary tools, supplies and materials.
The foundation curriculum consists of the following classes: Guitar and Bass Setup and Maintenance, Fret Work, Guitar and Bass Electronics, and Advanced Guitar Repair. Once students have mastered the essentials they can move on to the Guitar Design and Theory class and the Constructive Techniques Workshops. The Tube Amp Building classes, which center on classic vintage Fender and Marshall replicas has recently been supplemented by a new Hi-Fi Stereo Tube Amplifier Building course for students interested in expanding beyond guitar amps.
For more information and course schedules, visit:
specimenproducts.com/guitar_school/chicagoschoolofguitarmaking
More from the Chicago School of Guitar Making:
Tube Amp Building Seminar Video
Tube Amp Building Seminar Article & Gallery