PG answers some basic questiosn you may have about tuning your guitar!
How do you tune a guitar?
Tuning a guitar is the process of adjusting the tension in a string to bring it to a specific note. In practical terms, that involves turning a tuning head on your guitar's headstock to tighten or loosen the string that's wrapped around a corresponding peg.
What tools do I need to tune my guitar?
Just one: a tuner. If you have an electric guitar, you can buy a tuning pedal to plug your guitar into or you can buy a clip-on tuner, which clamps onto the headstock and works with any kind of guitar. You can also use free tuning apps and websites.
What does flat and sharp mean?
Flat means that the note is lower or deeper than what it should be. Sharp means that it's higher than it should be. In both cases, it means you're out of tune or your strings aren't tuned to the notes that they need to be.
What notes do you tune your guitar to?
Standard E tuning is the most popular guitar tuning, and it goes like this, from top to bottom of the fretboard: E-A-D-G-B-E. My first guitar teacher taught me a little memory trick for remembering: "Eat at Denny's good breakfast everytime." Thanks, teach!
Are there other tunings?
Yes! There are nearly endless tunings for guitar, and some are easier to play then others. For example, popular open tunings like DADGAD make it fairly easy to produce pleasant, rich sounding chords with very simple finger positions. Drop D tuning, which simply involves dropping the low E string in standard tuning to a D, is another wickedly fun and simple tuning used by hard rock and metal guitarists.
Can't guitars tune themselves nowadays?
Some modern guitars come equipped with self-tuning machines on the headstock, and automatic tuning machines like this one are hitting shelves, but they're still rare to see and often have questionable accuracy. Best to do it yourself for convenience, accuracy, and ear training.
A sleek clip-on tuner that will tune up more than just your instrument.
 

Ratings

Pros:

Two vital functions in one unit, user-friendly, and nice display. Priced nice.

Cons:

Additional pivoting range for desired angle would be welcomed.

Street:

$25

Boss TU-03boss.us

Ease of Use:Build/Design:Value:
Playing out of tune or not playing in time are two surefire ways to invite sneers from bandmates and listeners. The TU-03 tuner/metronome from Boss wants to help players with both. Like the company's industry staple pedalboard tuners, the sleek TU-03 delivers highly accurate tuning (rated at +/- one cent) and an easy to read, straightforward display that's void of multiple colors and busyness. It has five different modes—chromatic, guitar, bass, violin, and uke—and offers flat tuning one or two semitones down. Though the display doesn't seem to have as much pivoting maneuverability as some others in its class, it has a sturdy clamp jaw, is simple to use, and doesn't feel chintzy in the least.
What makes the TU-03 stand out from many others of the clip-on variety is that it also functions as a metronome—something we all need. I think just having that functionality at the ready, rather than the oh-so-difficult task of retrieving your metronome (if you have one) from whatever drawer it's stashed in, makes a huge difference. The TU-03 has a variety of patterns and beat variations, an adjustable BPM from 30 to 250, and is impressively loud when the sound is engaged. At $25 to tune up both your guitar and your timing, I'd say that's money pretty well spent.
Test gear: Larrivée P-01, Dell'Arte Dark Eyes, Les Stansell tenor uke, Fender Precision
Ten open-gear tuner options to dress your acoustic for success, simply or ornately.
Whether you need a period-correct set for an heirloom acoustic or just want to spruce up the functionality and aesthetics of a modern 6-string, swapping out tuning machines can provide a dramatic headstock makeover through a (hopefully) simple process.
WAVERLY
W16

These 16:1 gear ratio tuners are a direct replacement for Grover Sta-Tites, and feature butterbean buttons and a stainless-steel worm with nylon bushings for smooth action.

$157 street


GOTOH
SXN510V

Made for a flush fit, these tuners employ a nut-mount system and can utilize the same holes to replace Rotomatic-syle machines.

$65 street

GRAPHTECH
PRN-3411-NO

These skeleton-button tuners feature individual gear ratios, as in all of GraphTech's Ratio line, which means each half-key turn equals one semitone change for its string.

$132 street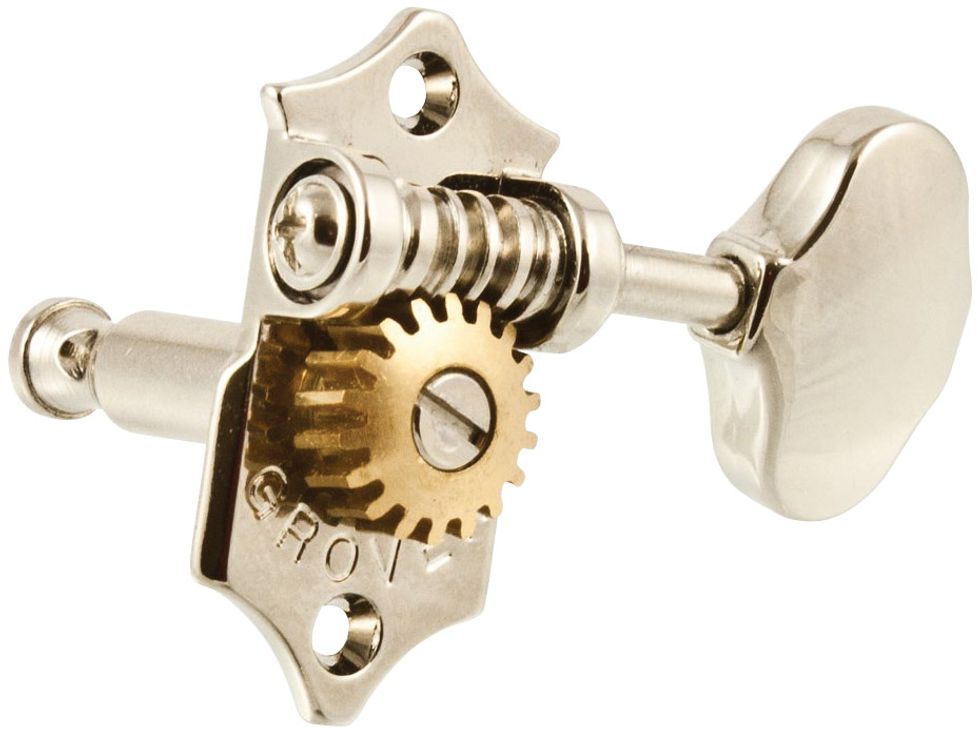 GROVER
Sta-Tite 98 Series

These machine heads feature a classic, round button and a heavily plated finish that creates a prominent contrast to the brass gears.

$38 street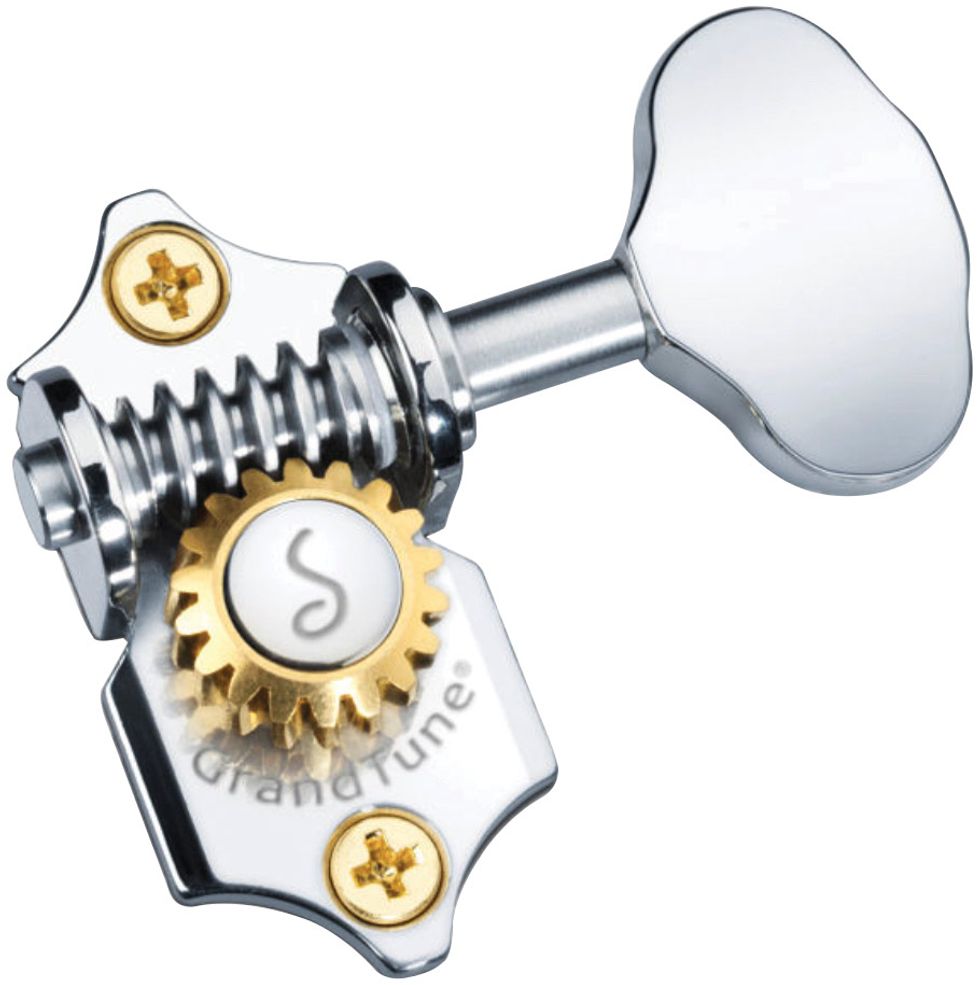 SCHALLER
GrandTune Butterbean

With no polymer coatings used for the gear joints and fittings, these tuners claim excellent stick/slip performance and zero wear and slackening.

$99 street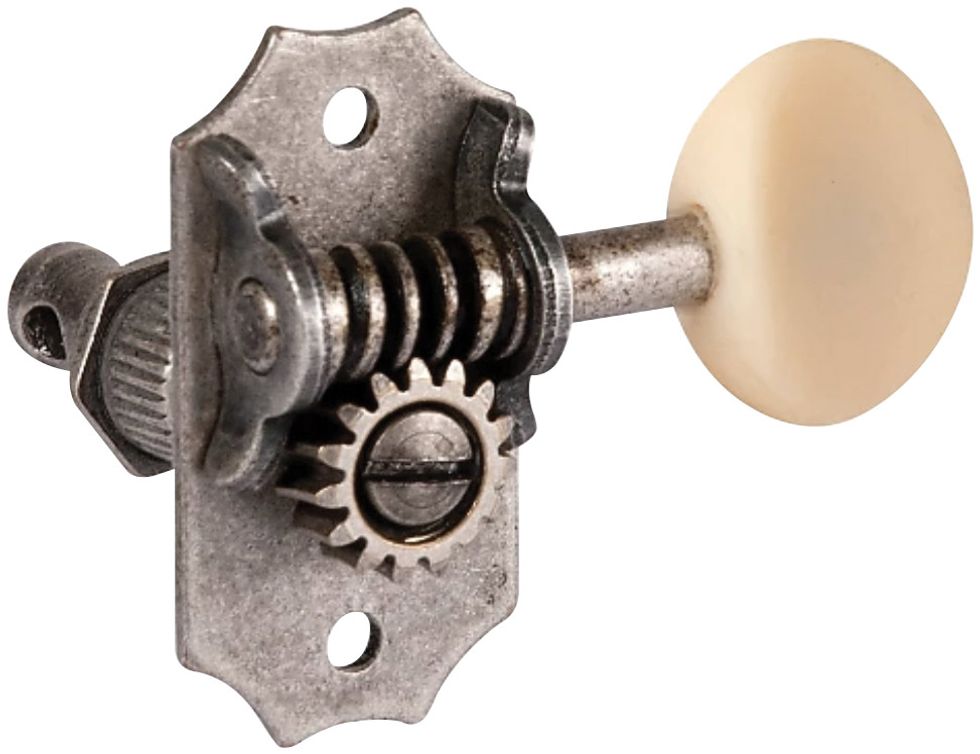 GOLDEN AGE
Restoration

Designed to look like tuners of yesteryear, but tune better, these machines feature open gears and steel plates, and represent a solid option when restoring an old guitar.

$65 street


WILKINSON
WJ28NCR

These tradition-style, open-frame tuning machines are chrome plated and were designed to be an affordable yet high-quality option for Western-style guitars.

$57 street


RODGERS
Rodgers Style

These ornate tuners are available with plate material made of brass, nickel silver, or sterling silver, and with buttons ranging from exotic woods to bone to mother-of-pearl.

$792 street (starting)

SCHELLER
Sch-EO

These high-end machines are available in a wide variety of finishes, bobbins, and buttons, and are reported to run friction free, precisely, and with quick reaction.

$580 street

RUBNER
Ebony Special Series

Adaptable for unique roller-spacing situations thanks to a small, two-screw faceplate, these tuners boast Moldflon anti-friction bearings for smooth precision tuning.

$118 street