A thunderous, ripping riff on the Ram's Head theme.
Cutting, open, and airy fuzz that communicates chord detail and packs a punch.
You can, ostensibly, buy the same pedal without a signature and with less fancy paint for 17 bucks less.
Electro-Harmonix J Mascis Ram's Head Big Muff Pi
ehx.com
4.5
4.5
4.5
4.5
If there is a single quality that distinguishes the music of Dinosaur Jr., it is the band's knack for wedding brute force to heart-wrenching melodicism. And though much is made of the band's volume, the most important pillars in Dinosaur Jr.'s musical architecture are the deceptively tuneful sensibilities of songwriter and guitarist J Mascis.
Mascis and Dinosaur Jr.'s ability to graft Gene Clark's sense of song to Motorhead's megatonnage is a trick that can feel just short of sorcery. And as anyone who has tried can attest, communicating nuanced, beautiful melodies and moods through a haze of fuzz damage is not easy. For starters, you need a fuzz that doesn't crumble under the harmonic weight of a first position chord. Strangely, given its capacity for sheer horsepower, an Electro-Harmonix Big Muff is pretty good at that task. Where other archetypal fuzzes like Tone Benders and Fuzz Faces tend to turn to a spitty mess when you play a C chord, a Big Muff stays surprisingly cohesive. This capacity for clarity and potency caught J Mascis' ear in the earliest days of Dinosaur Jr.'s evolution. And as much as any other factor, the Muff became a critical underpinning of Mascis' live sound.
The J Mascis version offers heaps of the balanced but scorching tone colors that make the music of Dinosaur Jr. so melodically monstrous.
Electro-Harmonix elected to celebrate Mascis' allegiance to the Big Muff with a signature variation of the Nano Ram's Head. That's no small matter: In EHX's long, storied history, this is the company's first signature edition. Appropriately, the J Mascis does not disappoint. It does everything the already awesome Ram's Head Big Muff does. That's little surprise given that EHX tells us there is no significant difference between a regular Ram's Head circuit (in its current guise) and the Mascis version. I played the two side by side for a long time and swear I heard a more present high-end and a touch more buzzsaw aggression in the J Mascis. Your results—or perceptions—may vary. Either way, the J Mascis version offers heaps of the balanced but scorching tone colors that make the music of Dinosaur Jr. so melodically monstrous.
Vive Le Différence
As is noted often in Premier Guitar, there is no definitive Ram's Head Big Muff. Inconsistencies in components during the original run make the likelihood of any two Muffs sounding identical pretty slim. Even Mascis' own favorite original Muff is an oddball, with wildly drifting component values that have thrown obsessive circuit detectives like Matt Holl for a loop.
Those inconsistencies aren't generally an issue these days. And admittedly the differences I heard when comparing the J Mascis version to my own current-issue Ram's Head were small. At times I wondered if they were attributable to inconsistent potentiometers or some other factor. At other times, I became less sure that they even existed at all. But if pressed, I'll stand by my assertion that the Mascis—at least at my preferred range of gain and tone settings (anywhere between 1 o'clock and maximum)—is both a little more buzzily aggressive and clearer in the high midrange. Perhaps the lesson here is to try both versions, or a few of each, in the flesh and let your ears decide.
There are many musical styles suited to the J Mascis Ram's Head tone profile. Dave Gilmour fans that love his extra-grindy tone from live Animals tour bootlegs will seriously dig the way it both growls and soars with extra attitude. It also generates high-gain variations on psych-punk '66 fuzz colors that would make a Super Fuzz blush. And high-desert-dwelling Iommis will love its doomful mass.
The Verdict
Whether or not you choose to spend an extra 17 bucks to acquire a J Mascis Ram's Head rather than a regular EHX Ram's Head will probably be down to the degree of your Dinosaur Jr. fandom, your completist tendencies as a Big Muff collector, or your preference for purple-on-white paint schemes. But while EHX insists that this circuit is identical to the less expensive Ram's Head, I heard enough difference to underscore the notion that—even in times of tighter-than-ever manufacturing and component standards—small differences can exist among similar pedals, and that it pays to try a few out. Whatever the baseline, the J Mascis Ram's Head Big Muff positively cooks for a 132 dollar fuzz, and is more than capable of the detail and copious power that made the Big Muff an indispensable part of the Dinosaur Jr. formula in the first place.
Electro-Harmonix J Mascis Signature Ram's Head Big Muff Pi Demo | First Look
Thirty-one years after Gish, the Smashing Pumpkins are still exploring the architecture of sound in their often explosive and unpredictable songs. For their current Spirits on Fire Tour, Billy Corgan leads with his Reverend signatures and a few other carefully culled guitars, and Jeff Schroeder lends support with his fleet of Yamahas.
The Smashing PumpkinsSmashing Pumpkins' first two albums, Gish and Siamese Dream, were a huge part of the soundtrack for the early '90s alternative rock revolution. Still sounding revolutionary all these years later, the band's leader, Billy Corgan, recently brought the Smashing Pumpkins to Nashville's Bridgestone Arena for the Spirits on Fire tour, on the heels of their 11th studio album, Atum: A Rock Opera in Three Acts.
The concept album is a sequel to the Smashing Pumpkins' definitive three-LP masterwork Mellon Collie and the Infinite Sadness, from 1995—which also brought them crushing into the mainstream. Acts two and three of Atum are scheduled for January and April 2023. But meanwhile, there are live shows … and all the gear it takes to recreate more than three decades years of the band's signature sounds. PS: Special thanks to super-tech Trace Davis for his help with the fine points.
Brought to you by D'Addario XPND Pedalboard.
Sticker Shocker
Billy Corgan's main guitar, tuned in standard, is his Reverend signature Z-One in midnight black, loaded with Railhammer Billy Corgan Z-One neck and bridge pickups. This model is the third collaboration between Corgan and Reverend's Joe Naylor, and Mr. C's axe takes Ernie Ball Regular Slinkys, gauged .010–.046.
Purple Haze
For a back-up, Billy has his Reverend BC1 signature in satin purpleburst, loaded—again—with Z-One neck and bridge pickups, which blend the bite of P-90s with humbucker heaviness.
Those Pickup Covers!
Stare long enough at those pickup covers, and perhaps you'll see the universe, putting a new spin on the old Zen koan. When Corgan wants things just a bit looser, in Eb standard tuning, he'll reach for this Z-One sig in silver freeze. Oh! The strings? Ernie Ball Power Slinkys, .011–.048.
Truly Special
For a classic P-90 voice, Corgan lets the strings on this 1994 Gibson Les Paul Special sing. He keeps it tuned to C# standard and the switch has been modified (it's a secret), as has the sticker. Ernie Ball Not Even Slinkys (.012–.056) adorn this axe.
ES for Eb Standard
Another low-tuned Gibson, Corgan's 1972 ES-335 with block inlays and a trapeze tailpiece, lives in Eb standard land and gets called out to play on the song "1979."
The Silver Surfboard
For some mini-hum sting, Billy plays this Gibson Firebird with a Bigsby in silver finish. There are several switches in the headstock, which Corgan's tech Davis says control the "secret sauce and voodoo magic."
Star Baby
Corgan tours with two of his signature Yamaha LJ16BC acoustics—one in E and one in Eb standard. They're medium-jumbos and all-stock, which means a spruce top, rosewood back and sides, a 5-ply mahogany and rosewood neck, and the company's comfort traditional neck style.
Double Vision
Corgan tours with two identical amp rigs, with four different heads used separately for different tones, and all switched with an Ampete 444. This allows him to drive all four heads into one Laney Black Country Customs LA412 4x12 speaker cab loaded with Celestion G12H-75s. It lives in an iso box under the stage. The amps? There's a Laney Supermod, an Orange Rockerverb 100 MKIII, a Carstens Grace, and an Ebo Customs Del Rio.
Billy Corgan's Pedalboard
Here's what underfoot: an RJM Mastermind GT/16 MIDI controller, an MXR CAE Power System, Analog Man Beano Boost treble booster with Mullard-style transistors, a Lehle III switching and looping tool, a Tone Bender-inspired Minotaur Sonic Terrors Evil Eye MkIII fuzz, a Strymon Brigadier delay, a Behringer Octave Divider, and a Dunlop Volume (X), used as an expression pedal for the Strymon.
Yamaha, Aha!
Jeff Schroeder plays Yamaha guitars. And he's got four Revstars on tour. This one has an especially elegant finish. They came stocked with P-90s, but now one has Black Cat Vintage Repro Minis, another features Lollar Low Wind Imperial Humbuckers, and the one he keeps in dop D is totally stock. Schroeder goes with Ernie Ball Paradigm .009 sets for standard, .010s for Eb standard, .009s with a heavier .046 on the bottom for drop D, and .011s for C# standard.
Cutaway to the Pacifica
This Yamaha Pacifica has a scalloped fretboard and Seymour Duncan Hunter humbucking pickups in the bridge and neck, and an SSL-5 single-coil in the middle. It also features a Floyd Rose whammy upgraded with titanium parts.
Big Red
For a semi-hollow, Jeff goes with his Yamaha SA2200 guitars, with Lollar Low Wind Imperial Humbuckers.
Player's Pick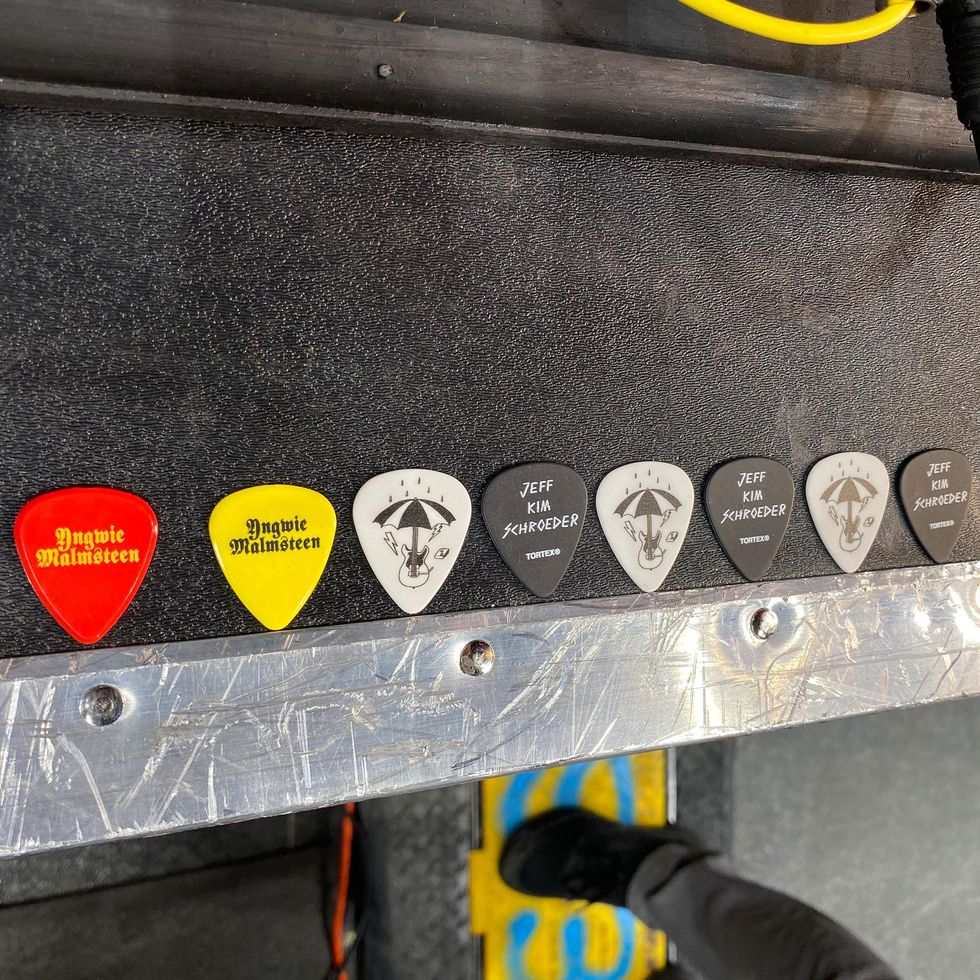 As with all his axes, his plectrum choice is Dunlop Tortex 1.14 mms, including the the just-for-fun Dunlop YJMP03YL Yngwie Malmsteen picks (yellow), but the Dunlop YJMP02RD Yngwie Malmsteen picks (red) are beefier at 2 mm.
Double Generation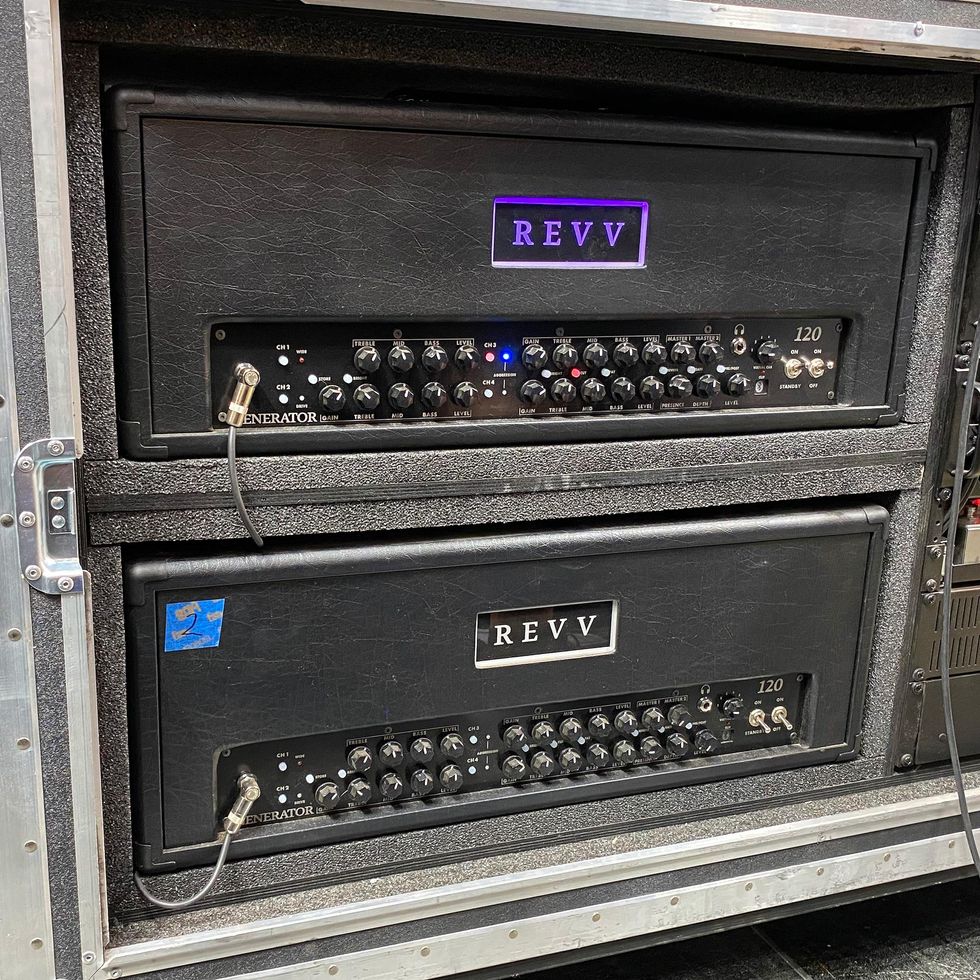 Schroeder tours with two Revv Generator 120 MKII tube heads—big, beefy, and versatile.
Don't Call a Cab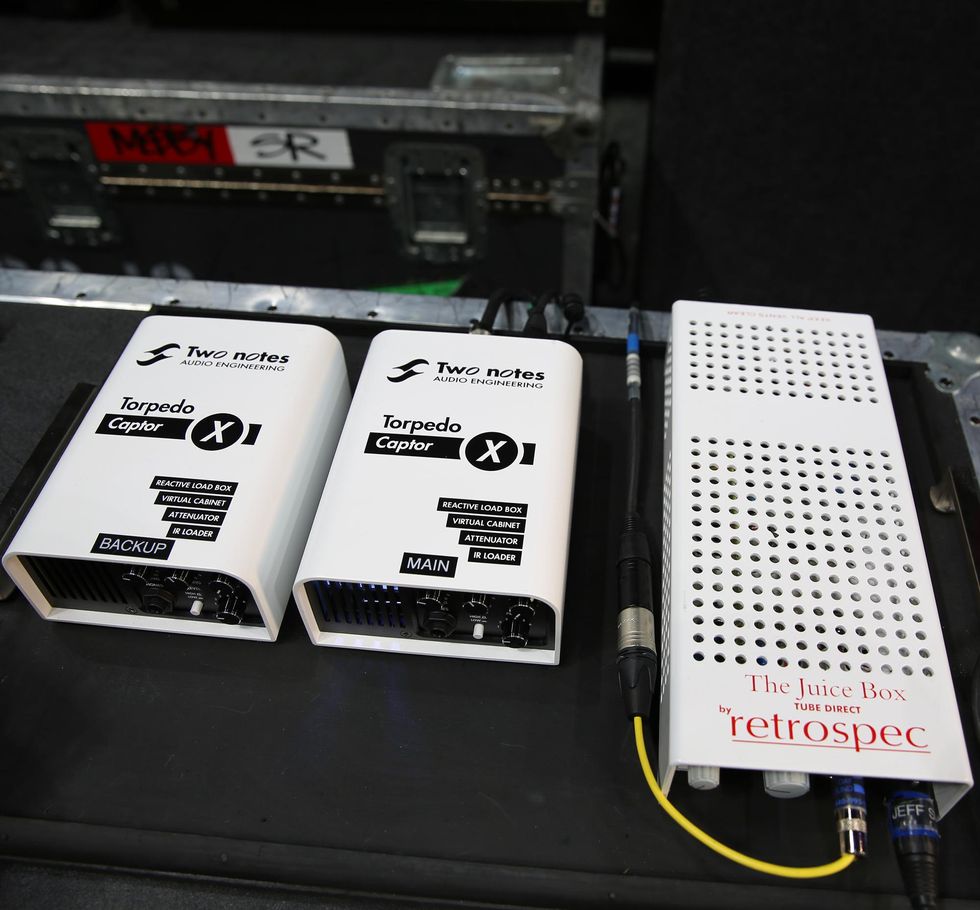 No big boxes for Schroeder … at least onstage. He uses a pair of Two Notes Torpedo Captor X simulators, emulating a 4x12 mic'd with a Shure SM57 and Sennheiser MD421 on Celestion V30s. As a back-up, there is a Marshall 4x12 in an isolation cabinet—with a Shure SM57—under the stage. And Jeff's "icing on the cake"—a suggested addition from tech Trace Davis (of Voodoo Amps)—is a Retrospec Juice Box. This inconspicuous box is a transformer-less, all-tube DI that has upped his live tones to a studio quality.
Double Helix
His effects array has two Line 6 Helix Rack units that live in his rolling rock case.
Central Command
At his feet he has a Line 6 Helix Control Foot Controller that works with an Analog Man Beano Boost, like Billy's. These are fired up for solos. Also, Schroeder has a pair of Dunlop DVP3 Volume (X) pedals (one for volume and another for pitch-shifting effect from the Helix) and a Dunlop JB95 Joe Bonamassa Signature Cry Baby wah.
But Wait, There's More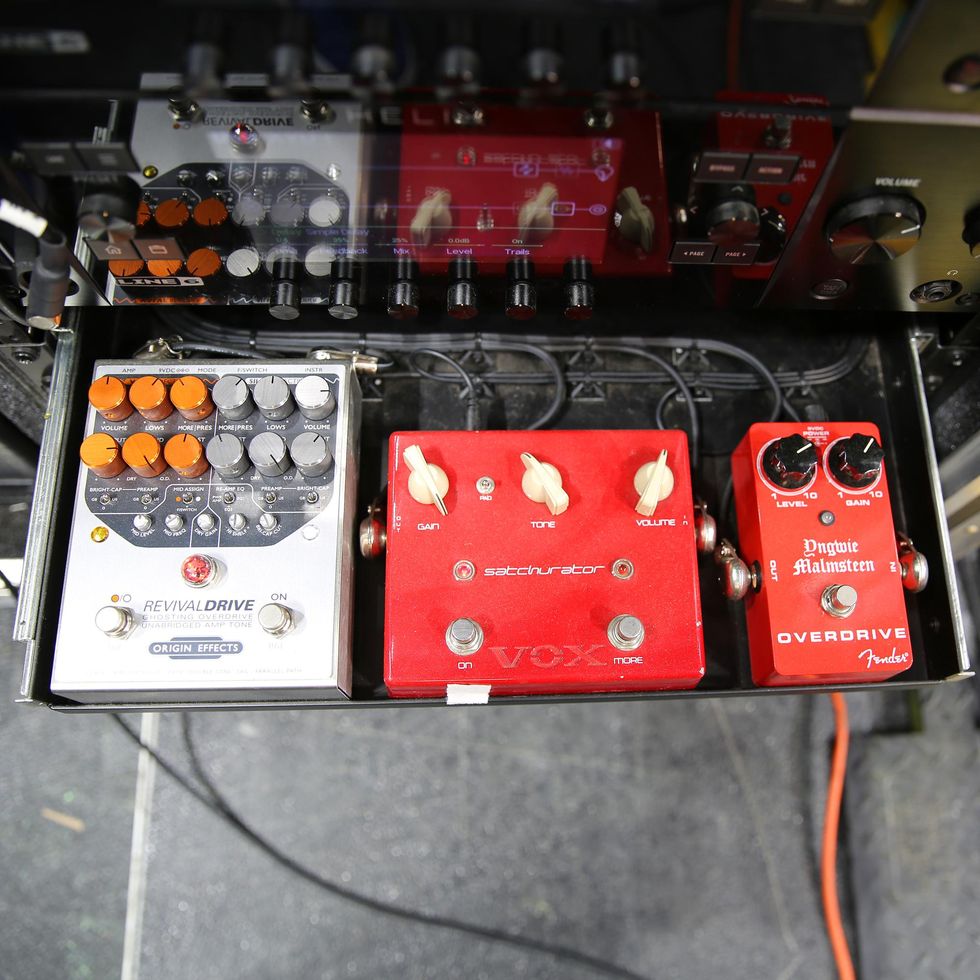 He also uses an Origin Effects RevivalDrive, a Vox Satchurator, and Fender's Yngwie Malmsteen signature OD.
Mystery Stocking is coming soon! Sign up for PG Perks below so you don't miss it.
Sign up for PG Perks on the form below to make sure you don't miss the launch announcement! 
About Mystery Stocking
Each year, Premier Guitar likes to put out these mystery boxes as a part of bringing some fun to the holiday season. Remember, this is supposed to be a fun holiday treat! If the contents of this box will ruin your holiday, deplete the last of your bank account, or end your ability to see the good in humanity, it may not be for you.
This year's Mystery Stocking will cost $44.95. ($39.95 + $5 Flat shipping)
Each box will be guaranteed to contain $40 or more in value.
US only. (Sorry World.)
Make sure your shipping address is correct.
Have your credit card ready to go before you refresh the page. Paypal is not available. Autofill may not fill in your information.
There will be NO REFUNDS given.
There has been a huge demand for these in the past. We really did sell out in less than 4 minutes last year. When they are gone, they are gone.
One per household, one per person.
Q: What's in the Mystery Stocking?
A: It wouldn't be much of a surprise if we told you, now would it?

Q: Will I definitely get my money worth?
A: Yep.
Q: Can I return it if I don't like it?
A: Nope. All sales final.
Q: What if I live outside the US?
A: Sorry, US only.
Q. How much is it?
A. $39.95 Plus $5 shipping
Q. When will it ship?
A. On or before December 10, 2022.
Q. What form of payment do you accept?
A. Credit cards only. Sorry, no Paypal for this.
Q. Can I ship to a different location than my billing address?
A. Yes
Q. I tried last year and didn't get one. Will I get one this year?
A. There is an overwhelming demand for Mystery Stocking. Be sure you have a fast internet connection and be ready when they go on sale. Last year we sold out in 3 min 33 seconds.
Q. I want to buy 5. How can I buy 5?
A. You can't. This year, we're limiting to one per household, so more people can get in on the fun!