Photo by Karolina Grabowska from Pexels
Take your rhythmic independence to a new level and learn to become a complete solo guitarist.
Chops:
Intermediate
Theory:
Beginner
Lesson Overview:
• Learn a three-step process to mastering a sound used by some of the greatest blues players of all time.
• Develop your fingerstyle, thumbpick, and hybrid-picking techniques with the same song.
• Learn to pedal bass notes while simultaneously improvising melodies and lead lines on top.
Click here to download a printable PDF of this lesson's notation.
One of the most satisfying ways of playing solo blues guitar is pedaling a consistent bass-note rhythm while simultaneously improvising lead lines and melodic phrases on top. Many of the blues greats like Big Bill Broonzy, Robert Johnson, Skip James, and Hubert Sumlin all employed this classic technique in their playing. Early country blues players would often use this pedal-style backing between vocal stanzas to create full and interesting guitar parts. Using their guitar alone, they were able to keep the energy of the music driving along without—and way before—looper pedals.
To start playing in this style, practice pedaling bass notes to create your own backing rhythm. The benefits are increased rhythmic independence, a deeper sense of basic time and groove, and getting a full, "band like" sound when playing solo guitar.
Before diving into the musical examples below, here's a refresher on the various techniques used in the picking hand and some general guidelines for practicing this style of guitar playing. All of these examples can be played fingerstyle (no pick), thumbpick, or hybrid-picking. Long term, you should be able to play them with all of those techniques, but to start, you should only use one. I would recommend starting with the technique closest to your common playing style.
If you primarily play with a flatpick, then you should play the bass notes with your pick and the alternate melodies with your middle and ring fingers in a hybrid style. If you play fingerstyle or with a thumbpick, then have your thumb play the bass notes while your index and middle fingers handle the alternate melodies.
The first time you try to play something like this it may seem very difficult. I recommend isolating the parts using this simple, three-step process:
Step 1: Play only the bass part until it is comfortable.
Step 2: Play only the alternate melodies until those are comfortable.
Step 3: Slowly put them together beat-by-beat and bar-by-bar. Count out loud if you need to.
Let's listen to a 12-bar blues in this style, and then break it down by applying the above three-step process.
Let's examine this four measures at a time. First, we are going to isolate the bass part, which is just eighth-notes on an open 6th string (Ex. 1). The eighth-notes are swung and the bass part is played palm-muted in this entire example. Palm-muting the bass part will distinguish it from the alternate melodies, which also contributes to developing that fuller band-like sound.
In Ex. 2, we isolate the alternate melody and harmony only. Remember, if you're using a pick, these notes should be played with the middle and ring fingers of your picking hand. If you are playing fingerstyle or with a thumbpick, these parts should be played with your index and middle fingers.
In Ex. 3, put the parts together very slowly. Remember the bass part must stay steady and separate from the alternate melody and harmony. This is where you'll really start to develop your independence muscle. Notice that this is a two-measure figure that is repeated to make up the first four measures of our 12-bar blues.
Let's look at the bass line for the next four measures of this blues. In measures 5-8 of a standard blues progression, you will typically have two measures of the IV chord followed by two measures of the I chord. In measure 5, notice the bass note has shifted from the 6th string to the 5th string for the root note in Ex. 4. This is the root note for our IV chord, A, and then in measure 7, it moves back to the 6th string for our I chord, E. At the end of measure 8, there is a walk up that leads into the final four measures of this blues. Make sure you keep the bass palm-muted until after beat 4.
Once the bass part in Ex. 4 is feeling comfortable, try Ex. 5. Here we see a familiar riff, but this time it's transposed to the IV chord (A) for two measures and then goes back to the same riff for the E chord for two measures.
Now let's put them together slowly in Ex. 6. If you're having trouble, go even slower and try counting eighth-notes out loud as you play.
Finally, let's look at Ex.7, which takes us through the last four measures of this blues. Remember how we walked up on the 5th string during measure 8? This walk up leads into the V chord in measure 9, which is B. We will keep our eighth-note bass groove going here. Next, move to the chord hit and double-stop lick in measure 10. Lastly, finish with a down-home blues style turnaround lick based off an open position E7 chord shape.
Notice how Ex. 7 departs from the consistent pedal-tone bass part in the last three measures. This is totally acceptable, and the same approach used by many legendary blues guitarists. They would play a consistent bass part a lot of the time but would often veer off and play lead lines or blues turnaround phrases. Eventually, this should be your goal. Ex. 8 puts it all together.
When you've completed these exercises, you should be able to hold down the bass part while playing the melody and harmony independently. However, don't feel locked in to playing every bass eighth-note throughout your blues progression. Keep it steady, and when you feel it, don't be afraid to veer off and experiment with soloing to make it your own!
An encyclopedic collection of analog chorus tones that range from the sublime to the stuttering.
So much more than a chorus. Deep analog sounds. A wealth of usable options.
The 18-volt requirement might be a concern for underpowered boards. Some learning curve.
4.5
4
3.5
4
In my modulation universe, I think of chorus as the North Star—the effect around every other modulation effect turns. Within it, you hear traces of delay, phase, and reverb all mixed together to create waves of sound that evoke powerful and often very specific feelings and musical settings. Sometimes that feeling is the lush sound of '80s pop. Other times it can be aggressive and unnerving. Jackson Audio's New Wave, a chorus/vibrato collaboration with Snarky Puppy's Mark Lettieri, aims to cover both of those extremes and nearly everything in between.
Join The Chorus
The centerpiece of the New Wave's control set is the depth knob, which also cycles through the pedal's seven different modes when you push it. On either side you have a mix control that can take you from fully dry to fully wet, and a speed control that ranges from 0.1 Hz to 10 Hz. The second row of controls features a tone knob, phase/ratio knob (which doubles as a wave shape selector when pushed), and a delay control.
Anytime I test out a chorus pedal, my go-to combo is a T-style guitar and the opening chord of The Police's "Walking on the Moon." (Yes, Andy Summers used a flanger, but you get the idea). The 70 setting is the only mono mode in the New Wave, and the simplicity of the sound shines through when playing vintage-style tunes. With all knobs at noon I was impressed with the dimension and richness in the sound. And the sensitive depth and speed knobs enabled me to fine tune the delicate balance that makes a perfect chorus sound. Maxing out the depth while minimizing the speed gave me a beautiful, full sound that, with the right mix, could be compared to a very fluid, modulated reverb. Doing the inverse pushes you into ring modulation territory.
The 80 mode has two LFO signals working together to create ever so subtle pitch-shifting, generating a flowing sense of uneasiness that's hard to nail in digital emulations. In addition to the other modes, which include rack, vibrato, rotary, harmonic chorus, and user control (a deep dive into these would take up much more than the space allowed for this review), you have five different LFO shapes that range from traditional sine to the rhythmically driving triplet solina. One of my favorite settings combines the harmonic mode with the triangle LFO, which you can hear in the accompanying audio online. It's great for adding interesting textures to otherwise unremarkable melodic lines and making them into compelling riffs.
Other headline features on the New Wave include ramp and bloom switches that are built into the bypass and tap tempo options. With the bloom mode engaged you automatically fade in and fade out the effect when you hit the bypass switch—a welcome feature that makes the New Wave fit more seamlessly into songs where the effect appears periodically. Also, you can control the speed of the effect via an expression pedal or the ramp footswitch, which functions much like the slow/fast switch on a Leslie.
The Verdict
The New Wave is far more than a simple chorus machine. Brad Jackson, Mark Lettieri, and the team at Jackson Audio created a unit that gathers up the chorus effect's greatest hits from the last 40-plus years and adds crafty ways to manipulate them and incorporate them into modern, more nuanced arrangements. The tones are rich. And the wealth of options tells me that serious thought and care went into developing the core functions and the extras that make it feel so flexible. Yes, there is a bit of a learning curve as you sort out the ways that all the controls interact with each other. But the reward is unlocking a wide array of dreamy, disgusting, and droning sounds that you won't find readily in most chorus devices.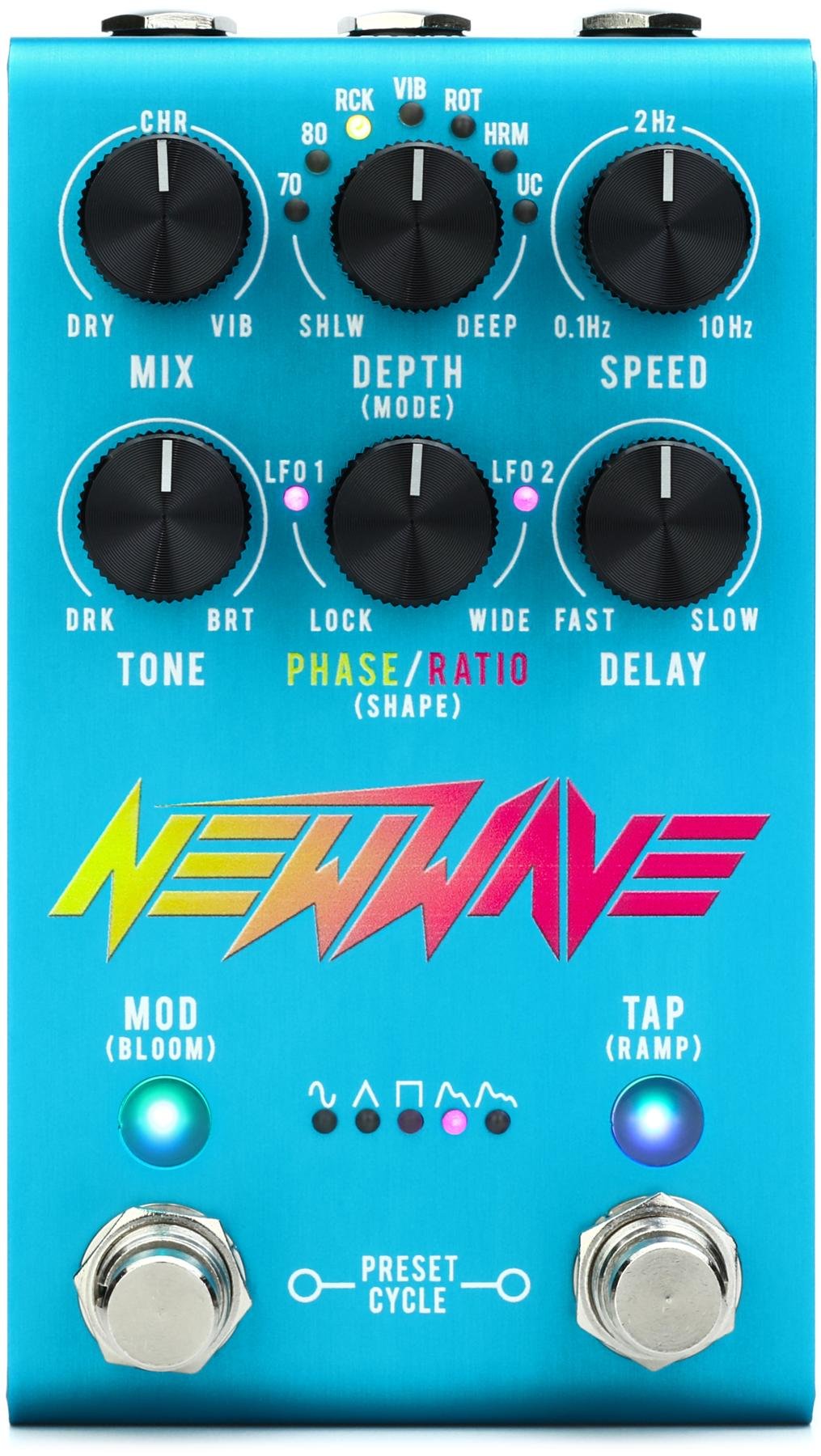 New Wave Chorus/Vibrato Pedal
Jackson Audio
The third edition of Blackstar's best-selling valve amplifier range.
In 2009 when the original HT Venue was designed the goal was to combine the best of our two flagship valve amp lines; the boutique cleans of the handwired Artisan amps and the modern high gain of Series One. This gave guitarists incredible flexibility of tone from a single valve amp, with no compromise between their clean and overdrive tones.

Seven years later Mk II introduced the most requested features; an expanded tone section on the Clean channel, footswitchable voices and power reduction.
A game-changing addition is their advanced CabRig DSP technology, an embodiment of our latest innovations in speaker, cab, mic, and room emulation. This technology, originally featured in our St. James and AMPED products, represents our commitment to staying ahead of the curve. Coupled with 4-channel audio via the USB-C, capturing professional quality valve tone in your DAW is simple.
The CabRig outs (XLR, Stereo Line Out and USB) can also be used in Standby Mode making it ideal for both recording and silent stages too.
Upgraded circuit board components and an all-new digital reverb with adjustable parameters further enhance the tone and performance.
All this comes in an all-new livery using materials normally found on boutique amps; premium tolex and fret, mini-toggle switches and a metal plate logo.
Blackstar's new HT Venue MK III Series of guitar heads, combos and cabinets. Valve amps that are the culmination of decades of design experience and innovation; delivering "the sound in your head" with absolutely no compromises in tone, feel or performance.
Models in the range: HT Club 40 MK III combo, HT Stage 60 112 MK III combo, HT Stage 60 212 MK III combo, HT Club 50 MK III head, HT Stage 100 MK III head, HTV-112 cabinet, HTV-212 cabinet, HTV-412A cabinet, HTV-412B cabinet.