The Word of the Day is Hybrid
Doing double duty with an acoustic-electric
With nearly 40 years of experience whacking it out on what is arguably America's favorite instrument, I find that there aren't too many surprises left, and not much impresses me about guitars anymore. But I do have to say that on this year's Toby Keith tour I was presented with an interesting challenge, and I found a guitar that met the test and genuinely made an impression on me and my bandmates.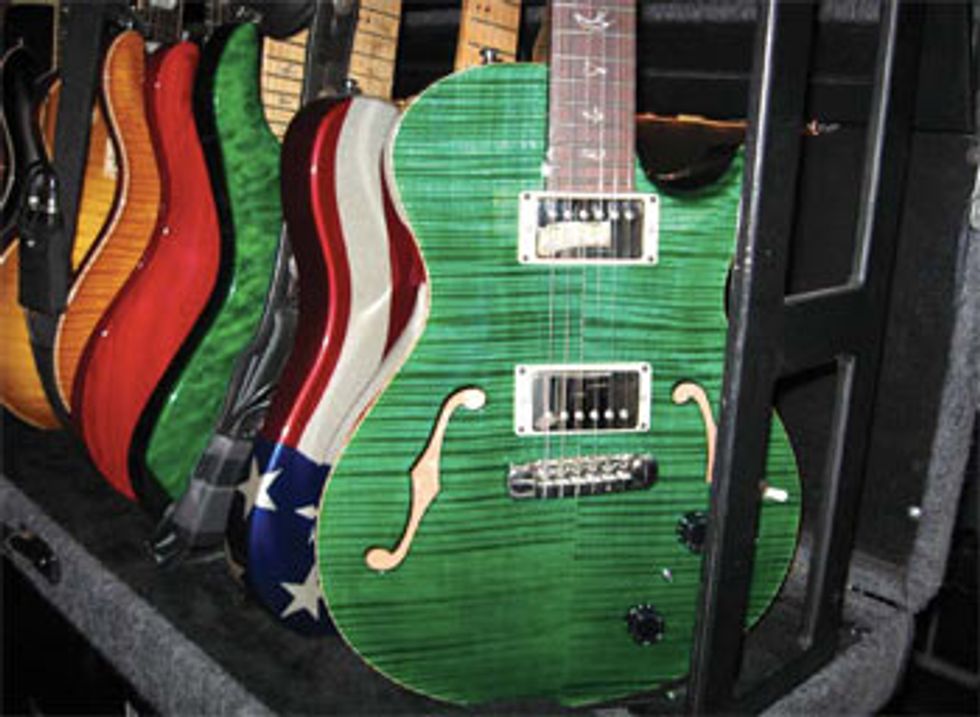 Rich's "guitarsenal" for a Toby Keith show, with the PRS Singlecut Hollowbody.
Normally with Toby I play all electric, leaving acoustic duties to our utility player. On Toby's new single, "American Ride," there is a strong fiddle part as well as electric and acoustic guitars. Fiddle is covered by the acoustic guy, leaving a big hole in the guitar arrangement, and I was left with the challenge of figuring out how to cover both guitar parts.
There are many ways to tackle this predicament. I could have used an acoustic fastened to a Gracie stand and carried out the double duty with the electric still strapped over my shoulder. However, the switch between parts is almost instantaneous, so even the two seconds needed to take my arms from around the big-bodied acoustic and grab my first chord on electric would have been too long a pause. Another solution would have been to try and create an acoustic sounding patch with my electric and switch settings back and forth when needed. I certainly could have made the patch change quickly enough, but the acoustic sound would have suffered critically. My solution was to use an acoustic/electric hybrid, and switch manually between the acoustic sound and electric.
There are several hybrids to choose from these days: Taylor, Ovation, Ibanez and Michael Kelly all make astounding hybrid axes. Many of them are exceptional sounding, comfortable playing instruments, and any one of them may have done the trick in my situation. Because of the high craftsmanship produced by the folks at Paul Reed Smith, I knew that their Singlecut Hollowbody would be my guitar of choice. Their version of the hybrid comes complete with a pair of humbuckers as well as an LR Baggs/PRS Piezo patented pickup system under the bridge, with real acoustic guitar modeling onboard. The PRS hybrid gives me a thrashing electric tone and still manages a natural acoustic sound when I need it.
For the song in question, I will often blend both electric and acoustic to complete the illusion of two players. The song's chord progression is not complicated; either part by itself would be a cake walk. Where the challenge lay for me was in doing them simultaneously. The Singlecut has a hit switch that throws each pickup configuration (acoustic or electric) on and off. The switch is placed right between both volume controls and it has to be flogged with dead on accuracy. Using dual output jacks, I run the humbucker side into my normal guitar rig and have it set to kill with the most intense overdriven tone that I've ever used on a country gig. The piezo output goes into a DigiTech Valve FX rack unit which has a patch that I built for my acoustic guitar that helps to bring out the acoustic value of the PRS perfectly.
One of the obstacles my tech and I had to overcome was figuring out the signal path. Using two separate lines meant we had to run two wireless signals from the one guitar to the rack backstage. I have a pocket sewn to my strap that houses my Shure UHF-R Wireless transmitter. When I do my guitar changes, I keep the strap with me and swap only the guitar from song to song. We had to make this change-over happen with two lines going out. We found an out-of-the-way spot on the back of this guitar where we could velcro a transmitter and keep it plugged into the piezo output jack. With that in place we're able to do our normal guitar switch and have all bases covered and ready to rock or acoustify the audience!
It's a slightly complicated setup that needed some tweaking to get right, but the end result was worth all the vital brain power put into pulling it off. Initially, my band mates didn't grasp how I was going to be able to cop both parts so seamlessly, but I had a pretty good idea that using this guitar would be successful in this situation. This setup will be a part of our show for as long as "American Ride" stays in the set.
Keep Jammin'
---
Rich Eckhardt
Rich Eckhardt is one of the most sought after guitarists in Nashville. His ability to cover multiple styles has put him on stage with singers ranging from Steven Tyler of Aerosmith to Shania Twain. Rich is currently playing lead guitar with Toby Keith. His new album Cottage City Firehouse is available at his website and
CDBaby.com
.