Trash or Treasure: 1927 Gibson L-0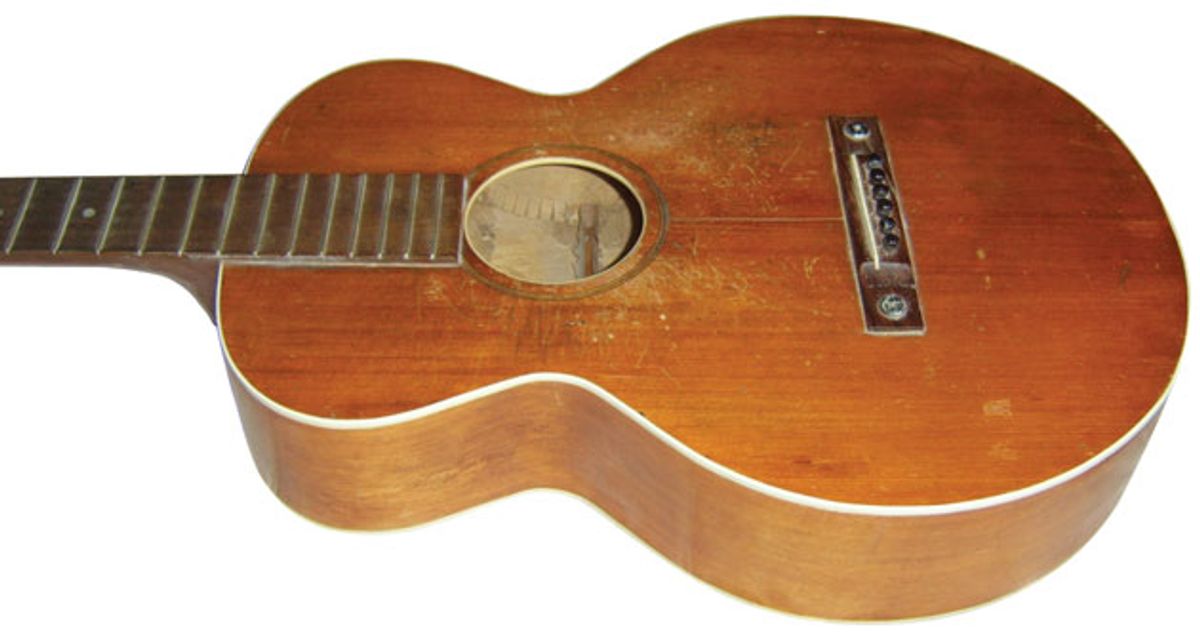 A closeted-for-decades pre-war Gibson flattop might find new life.
Dear Mr. Fjestad,
I bought this guitar from an old country-and-western singer in Minneapolis around 1955. Sadly, I didn't learn to play it, and it has been in my closet for decades. It had a beautiful sound when strummed! In 1989, I brought the guitar in to have it restrung, but they said they couldn't do that unless I also had them do some repairs, and the total cost would be $150. I did not have the extra money at that time, so I declined.
Now I can afford to have the guitar restored and am considering getting that done, but I'm not sure how I should go about it. Also, I'd like to know the year, model, and value of the guitar. The only number on the guitar is 8407.
Sincerely,
Becky in Anchorage, Alaska
1927 Gibson L-0
Hi Becky,
You bring up a lot of great discussion topics here: determining the age of a vintage Gibson, figuring out the model, and deciding whether to restore a guitar or not.
Let's first talk about the age. The non-slanted "The Gibson" headstock logo on your guitar was only used between roughly the mid-1920s and 1934, so that's a big help right away.
Gibson's serialization was simply chronological at the time, and it's a relatively accurate way to date a Gibson from this era. However, the number "8407" would indicate a production year of 1908/1909 and Gibson flattops weren't even introduced until the mid-1920s. Under closer inspection of the serial number inside the guitar, it appears that a fifth digit is either missing or didn't get ink stamped very hard, and a five-digit number of 8407X puts it right in the serial number range indicative of 1927. You really have to look closely at those numbers.
Whenever you refinish or restore a guitar, you will affect
the value negatively.

For years, Gibson never stamped, marked, or indicated the actual model of a guitar anywhere on it. (They still don't today for some models.) This makes for difficult identification at times, and your guitar is no different. One of my best go-to resources is to simply leaf through Gibson's older catalogs to see what was produced during a certain time period. Fortunately, I have a late-1920s Gibson catalog and was able to find what appears to be a nearly identical match of your guitar, which is an L-0. The L-0 model with a natural finish and maple back and sides was only offered in 1926 and 1927, so that confirms the age we determined earlier.
In excellent all-original condition, a 1927 L-0 is worth between $3,500 and $4,000 today. Unfortunately, your guitar is not in excellent condition and will need some work to even make it playable, which leads us to the topic of restoration.
Repairs are an undesirable yet necessary route for many guitars—especially acoustics when they are approaching the century mark. Storage conditions, playing, and weather can wreak havoc on a guitar by causing cracks, neck separations, and other blemishes. Sometimes it gets bad enough to where the guitar is no longer playable—as in your case—and I'm afraid that's why the guitar shop wouldn't restring it for you in 1989.
A cautionary note: Whenever you refinish or restore a guitar, you will affect the value negatively. For instance, a bridge that is pulling up on the top needs to be properly reattached in order to make it playable again, but that part of the guitar is then no longer original. A bridge fix certainly won't affect the value to the degree of someone deciding to, say, change the color of a 1962 Strat from the original sunburst to shoreline gold, but collectors are looking for all-original condition, damage-free instruments. And running one through a guitar-repair/refinish shop is the equivalent to having salvage status on an automobile's title. If it's not original, it's just not worth the value of an original.
I do believe it's something that needs to be done for your L-0. Otherwise, you just have an unplayable guitar and what I'd consider a parts instrument. Make sure you bring it to a Gibson-authorized repair shop or other reputable shop. (Ask around if you don't know of one.) And be prepared to pay more for the work because $150 won't get you much today.
All said, you could have a $2,000 to $2,500 guitar by getting it repaired and cleaned up properly. Do that and you'll enjoy this treasure for years to come.