Vahlbruch FX Presents the Kaluna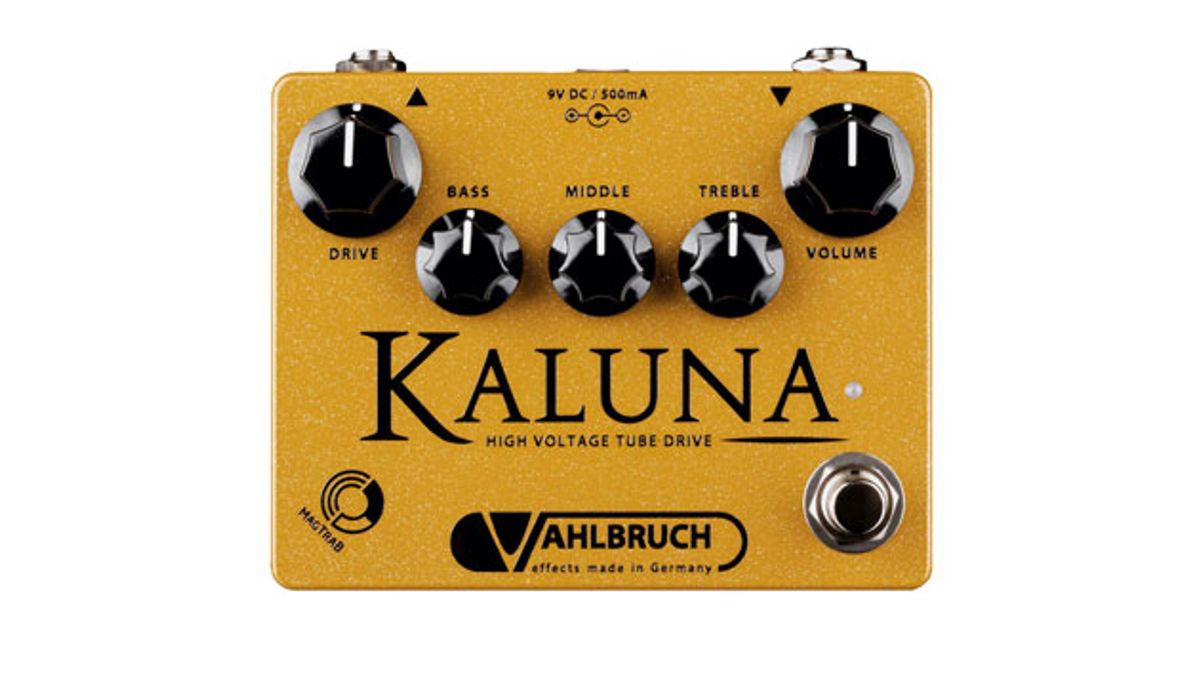 The company's circuit is based on a 250-Volt ECC83/12AX7 double triode tube.
­Springe, Germany (June 18, 2020) -- The use of tubes in effect pedals has a long tradition, but so far only relatively few manufacturers have undertaken this adventure. Vahlbruch FX, effects pedal manufacturer from Northern Germany, has also taken their time to develop, because the new overdrive/distortion pedal Kaluna has been redesigned from scratch to meet their own high demands on sound and flexibility.
The 100% analog circuitry of the Vahlbruch Kaluna is based on a 250-Volt ECC83/12AX7 double triode tube. The high voltage required for this type of tube circuit is generated internally from the standard 9V power supply and is responsible for the rich overtone content, the certain overdrive transparency, the percussive attack response and the typical complex compression, which also characterizes boutique tube amplifiers when overdriven.
The Kaluna has a flexible active three-band tone control, which inside the circuit is placed after the tube. Thus it is the perfect tool to perfectly match the sound spectrum of the pedal to the guitar, effects chain and amp setup used. KALUNA thus allows a wide range of distortion characteristics from mild breakup sounds to creamy saturation. This versatility is paired with an exceptionally open sound characteristic, a high transparency and an extremely wide dynamic range that allows for a very direct and natural interaction with the player. Due to this unique circuitry, the overtones always appear homogeneous and musically harmonious, making the guitar sound extremely organic, "catchy" and three-dimensional, without dominating the actual sound character of the guitar and/or the amplifier.
Technical Specifications
Input impedance: 1.0M Ohm
Output impedance: 100 Ohm
Current draw: 500 mA at 9V
Dimensions: 120mm x 100mm x 48mm
Weight: 375 g
RRP: € 339
Handmade in Germany
Vahlbruch Magnetic Transducer Button Technologie (MagTraB)
Like all Vahlbruch pedals of the present generation, the KALUNA is equipped with the company's own MagTraB foot switch, in the head of which a magnet is integrated, whose respective position is detected by a sensor inside the pedal. If the switch is moved, e.g. when it is pushed down, the sensor measures the alteration and transmits it via a micro-controller to a gold-plated relay that triggers the switching process.
­
The advantages of the MagTraBs:
MagTraB pushbuttons are virtually indestructible and guarantee an almost infinite number of switching cycles.
No more annoying, mechanical switch clicking. Instead, switching is very smooth and almost noiseless.
For more information:
Vahlbruch FX