VOX Announces the AC4HW1 and TB18C1
Anaheim, CA (January 30, 2012) -- VOX Amplification has added the AC4HW1 guitar amplifier to its flagship Hand-Wired Series. Providing a cosmetic match to the rest of the Hand-Wired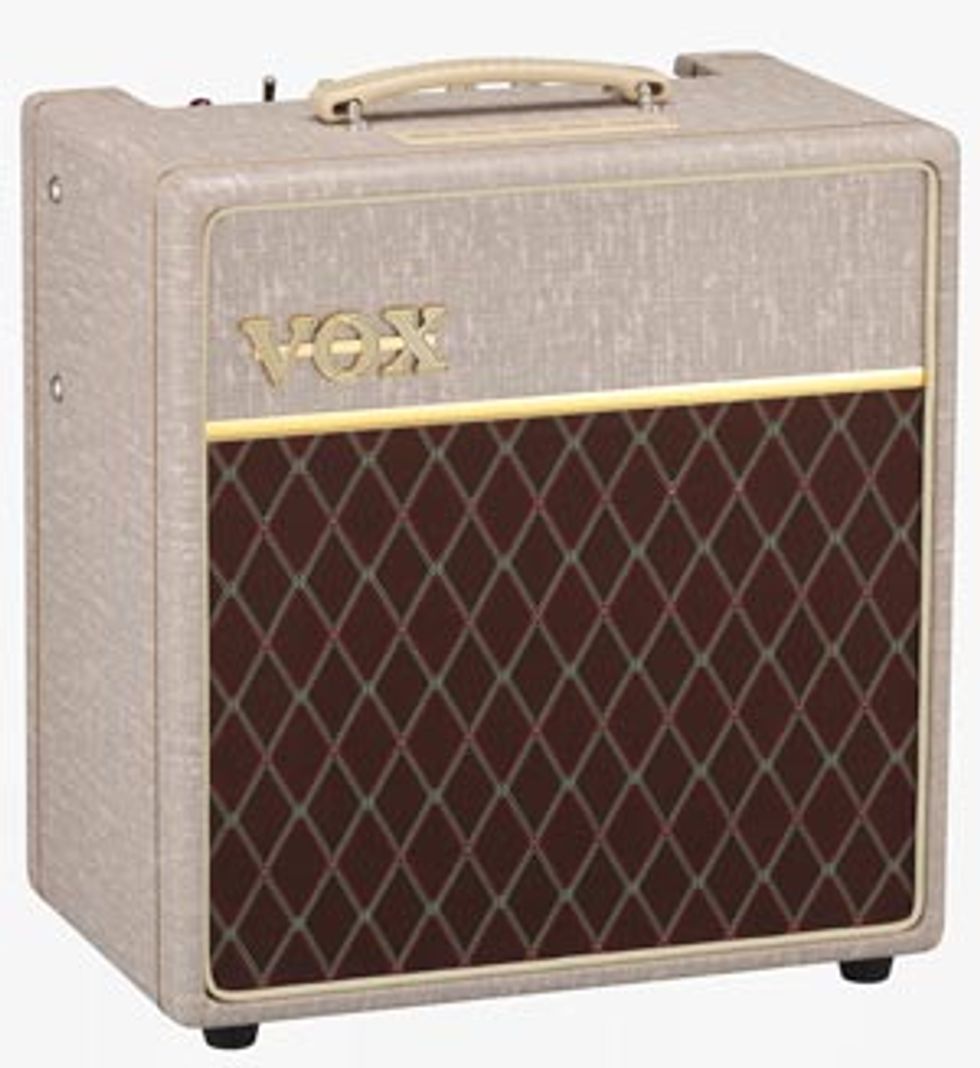 Anaheim, CA (January 30, 2012) -- VOX Amplification has added the AC4HW1 guitar amplifier to its flagship Hand-Wired Series. Providing a cosmetic match to the rest of the Hand-Wired Series, the AC4HW1 is finished with retro-style Fawn-colored vinyl covering.
Hand-wired turret board construction complements the classic, toneful sound with exceptional vintage build quality. The all-tube AC4HW1 is equipped with two 12AX7 tubes in the preamp and a single EL84 vacuum tube in the power stage. The Class A amplifier pumps out 4 Watts of power through a 12-inch Celestion G12M Greenback speaker housed in a vintage style split baffle ply cabinet.
The Volume control, Bass and Treble tone controls, and Master Volume provide any player with a variety of sonic options. The footswitchable HOT/COOL mode offers either the coveted VOX Top Boost tone, or a pure and rich gain that bypasses the tone circuit completely.
The 4 Watt all-tube Hand-Wired Series 1 x 12 Combo amp will be available May 2012 for $1200.00.
VOX has once again joined forces with American guitar amp designer Tony Bruno to create the latest addition to the VOX Bruno line, the TB18C1.
New to the line is the TB18C1. Featuring a pair of 6V6 power tubes, known for their smooth and clean high end, creamy mids, big bass and for their rich "breakup" when overdriven, the amplifier delivers 18 Watts of power through a 12" Celestion G12-65 speaker.
The single-channel preamp offers both High and Low level inputs, as well as Volume, Bass, Middle, and Treble controls. Master Volume and Reverb controls are also provided. The preamp stage is driven by two 12AX7 preamp tubes. Tony's design for the TB18C1 preamp includes two custom created tone-tweaking controls.
The Mid Boost switch is a mid/gain boost. This specially-voiced mod is ideal for players wanting to boost their solos or leads. Leaving this switch permanently activated dramatically changes the sound of the TB18C1 with more mid-range punch.
This circuit further tweaks the TB18C1 amp's tonal diversity. When the Dark switch is engaged, the high frequencies are cut, giving the character of the amp a completely different feel.
The TB18C1 includes external speaker jacks and extension cabinet jacks.
The 18 W VOX Tony Bruno 1 x 12" 6V6 Tube Combo Amp will be available April 2012 for $1100.00
For more information:
www.voxamps.com