Wampler Pedals Announces Ace Thirty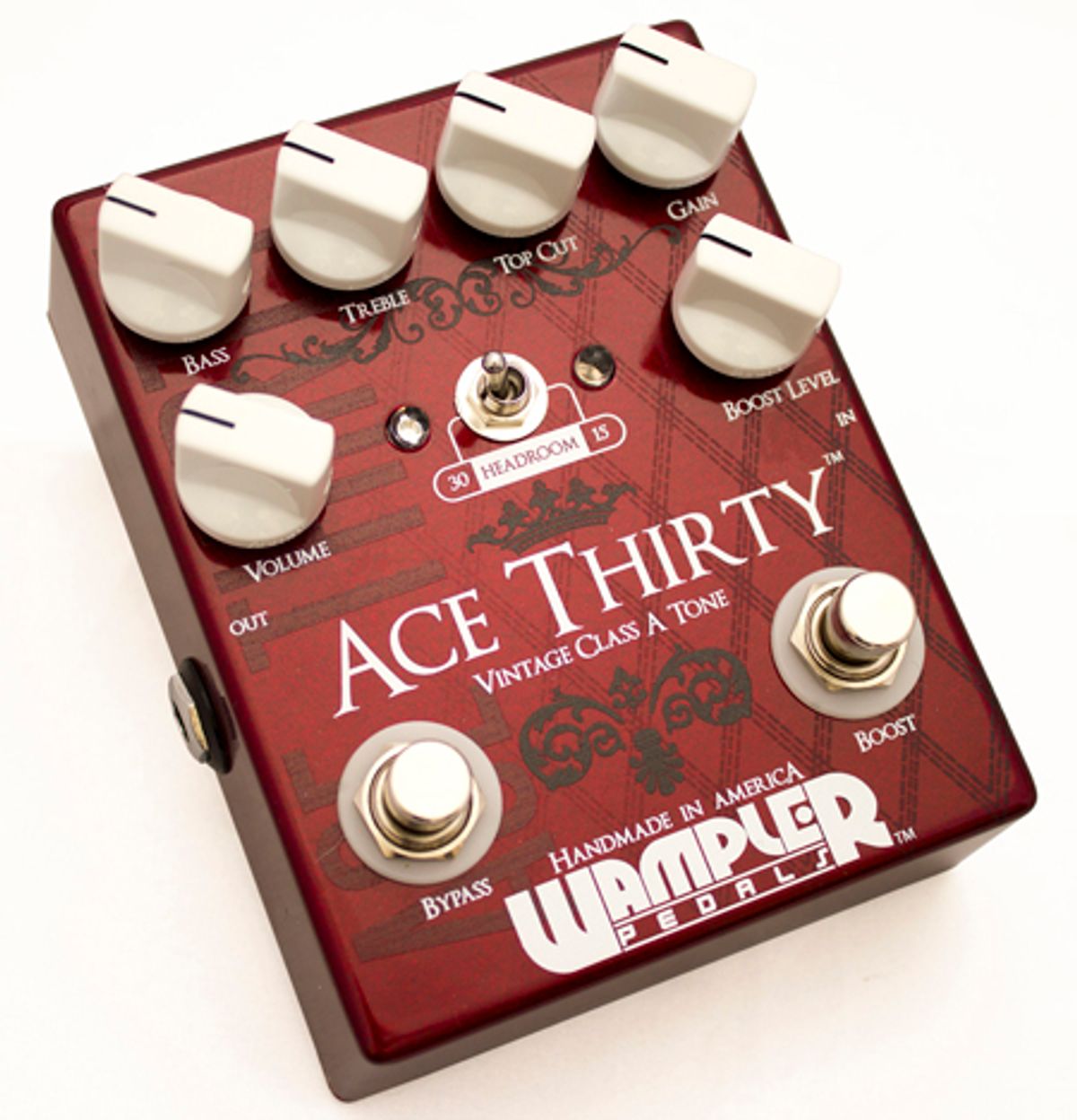 The Ace Thirty emulates the classic British tones of Vox-style amps.
Martinsville, IN (November 8, 2013) -- Wampler Pedals, makers of the Black '65, Tweed '57 and Plexi Drive, are proud to add the Ace Thirty to the Heritage Series guitar effect range on November 29th 2013.
Wampler Pedals: "The Ace Thirty has been a labour of love for us all here at Wampler Pedals; in particular Brian who has been working on this for around 3 years. Although other pedals have been released in that time, this is the one he always came back to, always the one that has been in the back of his mind. As with other pedals in the Heritage range, the Ace Thirty is a total tone shaper, not just a voiced overdrive. Whether running at fully clean or completely overdriven, the tones are a very faithful replication of the amps that inspired it, VOX. With the included Class A pre gain booster, the Ace Thirty will cover the full range of the world famous tones people love and expect."
The pedal has a volume, gain, bass, treble, top cut and boost level controls (with separate stomp activation) as well as a gain switch to replicate the differing overdrive patterns of the AC30 and AC15.
Specs:
Hand made in the U.S.A.
High grade film capacitors and resistors picked for their superior sound and response
Completely true bypass
Switchable between two gain stages - "30" and "15": one giving considerably more clean headroom than the other.
Completely original design.
Total tone shaper giving you "that" tone even on complete clean.
Internal gain trim pot to give you more headroom if using a "hotter" guitar
Pre Gain Class A booster, that can work completely independently from the main circuit.
Power draw: 13mA
Street: $239.97 USD
For more information:
Wampler Pedals