Wampler Pedals Announces the CataPulp OD/Distortion and the Tumnus OD/Boost
The Indiana-based tone tweakers crank out two new dual-function stomps.
Martinsville, IN (October 19, 2015) -- One overdrive circuit, to this day has been the most talked about, the most sought after, and the most mythical. It's big, it's expensive, and it has certainly earned its place at the table. Wampler has painstakingly and faithfully reproduced that magical tone in all its glory in an unbelievably small package, and his name is Tumnus.
Tumnus is a versatile addition to any setup, any style. Stack it with another pedal to help push or shape the total amount of gain, use it as a stand alone overdrive, or use it as a slightly dirty boost to push the front end of your amp over the edge. You can even use it as a buffer, because just like the original this pedal is not true bypass. Instead, faithful to the original, this pedal contains a buffered bypass tone legendary in its own right.
Three knobs and the truth: The Tumnus' streamlined 3 control knobs (Volume, Gain, and Tone) allow you to quickly dial in your tones no matter what the gig calls for.
Let's face it, not everyone has room for a four-legged beast on their board. This slender biped slips in and out of a myriad of tight situations. Now you can have the tone. Now you can have history. Now you can have it all without having to send some pedals back to the bullpen.
Specs:
Mini pedal format – for smaller footprint
Handbuilt in America
Tonally based on "That 'mythical' overdrive"
Streamlined/easy to use controls (volume, gain, tone)
Pricing information:
MSRP $179.97
Watch the company's video demo:
---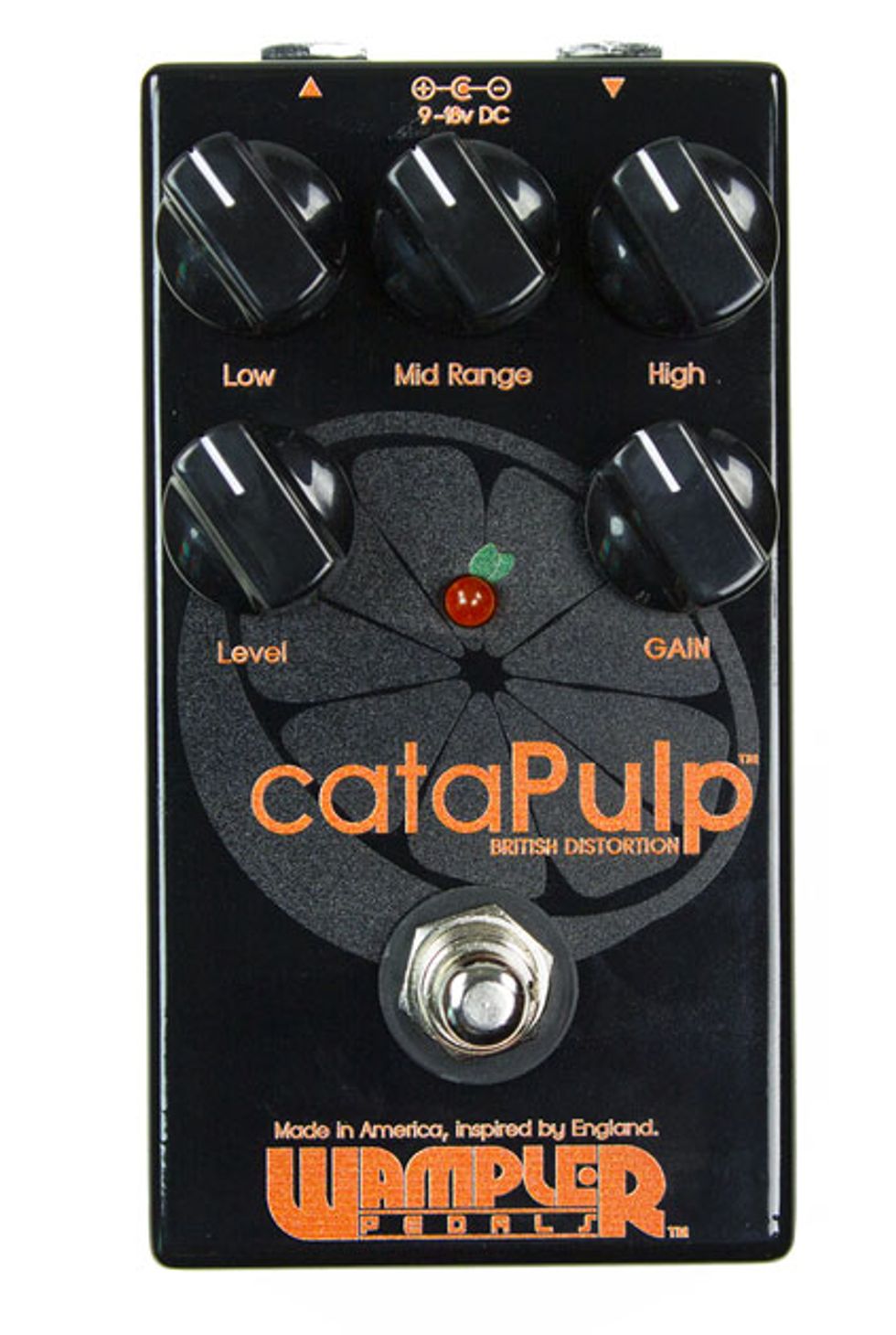 Several months ago Brian was approached to design a pedal that could faithfully reproduce the tones of a specific citrus colored, British amp made famous by artists like Jimmy Page, Weezer, Queens of the Stone Age, and Slipknot. After spending countless hours tweaking the circuit and testing it against those iconic amps – he did it! Introducing – the cataPulp.
The cataPulp's gain structure truly represents what every great amp in a box (AIAB) should be – with super clean tones that get increasingly dirtier after the "12 o'clock" setting. This allows you to cover a lot of ground between those classic rock inspired tones all the way to a thick syrupy metal territory – Use it as a tone shaper or a secondary gain stage – a truly versatile tonal workhorse! The cataPulp also features an active 3 band EQ and top mounted jacks and our soft click electrical relay true by-pass switch. We use a true-bypass relay because it utilizes a quieter and smoother switch that is more reliable than traditional bypass switches. Your original tone/signal will remain unaffected when the pedal is not engaged.
The cataPulp can provide you with everything from pristine cleans to the edgy, aggressive, grittier side of British distortion. It's time to stand back and let your tone do the fighting.
Specs:
Top Mounted Jack
Soft Click True Bypass electrical relay switch
3 band Active EQ
Handbuilt in America
Pricing information:
MSRP $199.97
Watch the company's video demo:
For more information:
Wampler Pedals