Wham, Bam, Thank You, NAMM!
The Sexiest Gear from the Year''s Biggest Show
Score one for the indomitable power of music! Had you done little in 2012 apart from fret over the bells tolling doom for the economy, you might have expected the halls of Winter NAMM 2013 in Anaheim, California, to be strewn with dust and tumbleweeds. But as the Premier Guitar staff 's harried schedule and oft-out-of-breath greetings to company reps proved, the truth—at least in the realm of guitar gear—was something rather different. Winter NAMM was, in fact, teeming with new gear and happy hawkers of guitars, basses, pedals, amplifiers, and accessories. And there were plenty of companies doing anything but playing it safe, too.
Pedal offerings from Z.Vex, Electro-Harmonix, Eventide, and garage-builders like Electro Faustus showcased inventive, bold wares that speak volumes about the musical boundlessness of the guitar. High-gain amps were plentiful, too, suggesting that players are still itching to tear it up loud and proud outside the confines of the bedroom. Old-school looks and sounds were strongly represented, too: One had to look no further than Magnatone's triumphant return, or to guitars like Gibson's gorgeous and numerous Custom Shop offerings, to appreciate the enduring sonic and stylistic power of the classics.
There was a lot to take in at NAMM, so we were pretty gassed by show's end. But each of us came away invigorated by the ample evidence that the creative spirit that drives musicians and instrument builders is very much alive and inexhaustible—and that the goods they'll make available in the year to come will doubtlessly stoke your own creative fires.
Electric Guitars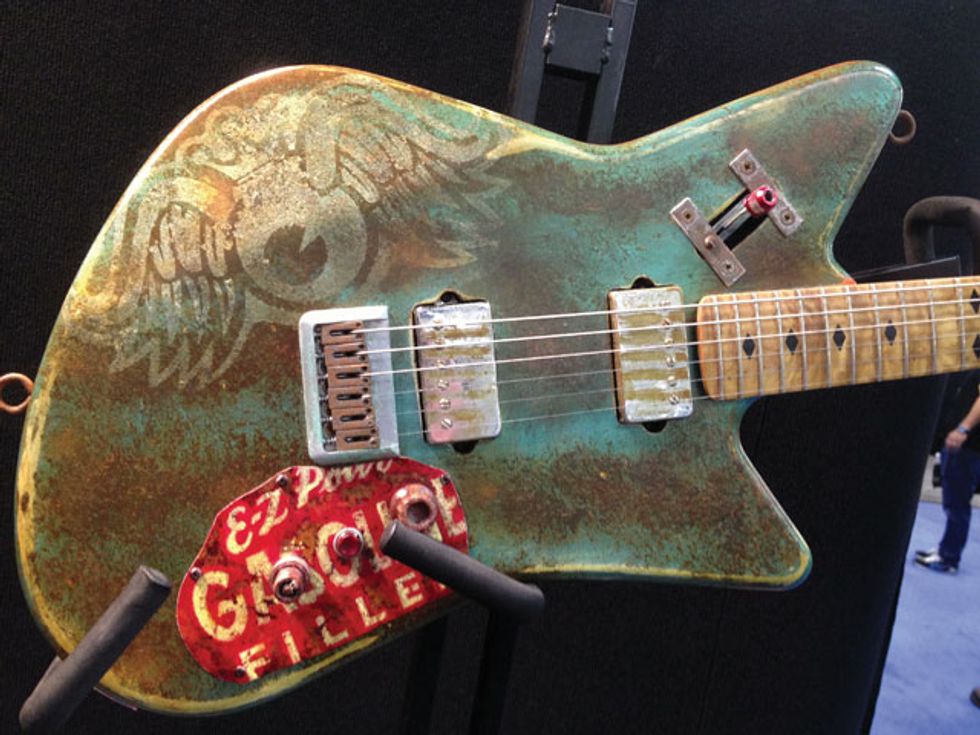 Baudier Guitars
Roadster
A NAMM newcomer, Baudier Guitars brought several head-turning models, including this rad-looking Roadster. It features a custom-painted alder body, a 25.5" scale, body-mounted Baudier humbuckers, a triple-truss-rod maple bolt-on neck, a graphite bridge, a kill switch, and a 4-way pickup selector with split-coil settings.
baudierguitars.com

Epiphone
Genesis Deluxe Pro
Epiphone resurrected this underrated early-'80s import in a new version complete with mahogany body, fl amed-maple top veneer, coil-tappable ProBucker 2 (neck) and 3 (bridge) pickups, and Grover tuners.
epiphone.com

Fano
GF6
The new GF6 knocked us out on numerous levels. The carved swamp-ash top deviates from the usual laminate approach to semi-hollow construction and, paired with Lindy Fralin P-90s, it's got the potential to be a living, twitching, fi re-breathing beast. Lament your lost Starcaster no more!
fanoguitars.com

Fender
Pawn Shop Bass VI
Fender resurrected the 30"-scale Bass VI, which last appeared in the '90s as a Japanese-made reissue, as part of the Pawn Shop series—which accounts for the cool twists on the original. The latest incarnation of the VI includes a stacked-coil, Jazzmaster-style bridge pickup and two Special Design Hot Jaguar single-coils.
fender.com

Kauer Guitars
Starliner
Kauer Guitars' new Starliner succeeds at achieving a look that's at once familiar and unique. It features a Spanish cedar body with a maple cap, and it's available standard with Wolfetone humbuckers or P-90s.
kauerguitars.com

Framus Vintage
5/168 Golden Strato De Luxe
The original Strato De Luxe was cradled by the likes of Kurt Cobain and Thurston Moore, and the maple-bodied new Vintage 5/168 Golden Strato De Luxe reissue is a dead ringer for the early-'60s version. A Tune-omatic-style bridge with a vintage vibrato system mean this version will probably stay in tune much better, though, and there are enough controls—including a spring-loaded, pinky-activated manual tremolo circuit—to make a Vox Starstreamer feel inadequate!
framus.com

Ravenswood by Hanson Guitars
12-String
This new sub-brand from Hanson features individually intonatable saddles for each string, and the solid-mahogany body is based on the company's Cigno model. The set neck features a rosewood fretboard, block inlays, a slotted headstock, and a wider nut than you'll fi nd on most traditional-style 12-string solidbodies. The three DeArmond-style single-coils are voiced for classic '60s tones, and they're controlled by master volume and tone knobs, as well as a 5-way pickup selector that combines neck and bridge pickups in the middle position.
hansonguitars.com

Silvertone
Classic Series 1478
Silvertone revisited a few of the models that have made it a legend among budget vintage enthusiasts. They showed off a new U2, along with this 1478 prototype outfitted with a Bigsby and a beautifully chunky neck that we hope makes it to production versions.
silvertoneguitar.com

Viktorian Guitars
Grace Status
Viktorian Guitars' new, lightweight, and elegant-yet-racy Grace Status features composite construction and a dual-chambered body. Weighing in at about 4.5 pounds, it features vintage-voiced Viktorian humbuckers that yield an almost ES- 335-like voice. Controls include volume and tone, as well as a bass-roll off knob for taming the feedback that plagues semi-hollowbodies at high volumes.
viktorian.com
Guitar Amps

Bogner
Atma 18
The new 18-watt, 3-channel, EL84-powered Atma features a compact aluminum enclosure and has a power attenuator down to 1 watt. Other features include an effects loop, a matching aluminum-and-wood cabinet, and tones that vary from Fender-y cleans to '70s grind and higher-gain realms.
bogneramplification.com

Crazy Tube Circuits
Paradox
Crazy Tube Circuits from Greece made their NAMM debut this year, bringing four way-cool new pedals and this new amp—which was one of the most unique and dynamic-sounding boxes we heard at the show. The single-channel Paradox isn't just powered by EL84s—it uses two of them in its preamp and one as a phase inverter, too. The result is a tone that's articulate, sparkling, and gritty, but with tons of loud headroom. The left-hand input reduces output to 12 watts for a spongier, more laid-back tone, while the right-hand output dishes out 18 watts and also features a rear-panel switch for boosting mids and treble.
crazytubecircuits.com

Immix Eleven Amplification
V-Series 30
The completely redesigned V-Series 30 is powered by four EL84s and features two channels. Channel 1 uses an EF86 preamp tube and has a 6-position tone selector and a brightness cut knob. Channel 2 uses three 12AX7s and a 3-band EQ section. The color control lets you select the shade of the isolated LEDs that illuminate the logo panel as well, which definitely makes it a contender in the most-stylish amp sweeps.
immix11.com

Magnatone
Twilighter
After several years of painstaking research into what made vintage models so unique, Magnatone returned to NAMM with a line of six new amps, each of which sounded spectacular. Pictured here is the 22-watt, twin-6V6-powered Twilighter 1x12 combo. And yeah, it has that delicious pitch-shift vibrato and tremolo. While we were at the booth, the Black Crowes' Rich Robinson stopped in and effortlessly conjured sounds from creamy to crunchy—and loud!
magnatoneusa.com

Phil Jones
AirPulse One Eight
This new little amp that could packs 500 watts of power, a 3-band EQ, and a convection cooling system into a 1x8 enclosure with a handsome slotted-metal grille and classy red covering.
philjonespuresound.com

Peavey
Vypyr VIP-2
With 36 amp models, 36 effects (including the interesting "violin" and "slice" settings), and instrument-modeling presets—including 12-string and resonator—Peavey's new and super-affordable Vypr VIP-2 is bound to be a weapon in bedroom studios everywhere.
peavey.com

Roland
Cube Lite
The newest member of the enduring and ever-expanding Cube family, the Cube Lite, includes iOS interfacing that enables you to play and record using your iPhone, iPad, or iPod touch. The clean, compact design also makes it about the most inconspicuous little amplifier you'll ever sneak into the office, too.
rolandus.com
Guitar Effects

Caroline Guitar Company
Kilobyte Lo-Fi Delay
The new Kilobyte Lo-Fi Delay moves with ease from rockabilly slapback echo to avant textures and enables the mixture of both. It's equally adept at lo-fi and clean voices, or you can hold down the momentary footswitch (right) to craft self-oscillating freak-outs with infinite feedback.
carolineguitar.com

EarthQuaker Devices
Disaster Transport SR.
With tape-like bright (300 ms) and dark (600 ms) delays that can be run separately, in parallel, or in series, as well as reverb and the ability to create multi-head-style delays, the Disaster Transport SR's wealth of delay flavors might keep a lot of echo freaks studio-bound for weeks. And, like so many EarthQuaker pedals, it's just as likely to please forward-looking musicians as vintage-minded guitarists.
earthquakerdevices.com

Dunlop
Mini Fuzz Faces
The new Mini Fuzz Faces—which come in Silicon, Germanium, and Jimi Hendrix versions—address the issue of pedalboard space that's no doubt deterred a lot of space-conscious, would-be Fuzz Face fiends over the years. And we love that Dunlop managed to retain the signature look of what, in our humble opinion, might be the coolest-looking fuzz box ever, all without sacrificing sonics.
jimdunlop.com

Electro-Harmonix
45000
EHX brought several new products to Anaheim—including the 8-Step Program synthesizer, HOG2, and 45000 looper—and some of our favorite NAMM moments include watching their intrepid demo dudes navigate the almost infinite possibilities of a rig with all three. If we have to choose just one, though, we'd probably take the awesome 45000, which uses a multitrack-recorder-style interface to enable complex loop textures.
ehx.com

Dwarfcraft Devices
Surrender Dorothy
Dwarfcraft's new Surrender Dorothy fuzz is ferocious, deep, and muscular but also delivers plenty of the noisy irreverence and anything-but-the-same-old fuzz flavors we've come to expect from designer Benjamin Hinz. The three simple controls—resonance, cutoff, and level—put heaps of fuzz deviance at your disposal.
dwarfcraft.com

Eventide
H9
Eventide's H9 Harmonizer is a crazily powerful multi-effector that consolidates the company's Space, ModFactor, PitchFactor, and TimeFactor effects, and adds a new Ultra Tap Delay. It can be controlled by iPhone or iPad via Bluetooth, but all parameters can also be accessed via the pedal's controls. It's likely to be a bonanza for guitarists who dabble in production, or who play experimental or electronic music.
eventide.com

Hammond
Leslie Pedal
Although the digital Leslie pedal looked a bit diminutive amongst all the hulking speakers and organs at the Hammond booth, it looked sharp nonetheless. And with spot-on emulations of 122, 147, and Model 18 rotary speakers, as well as a model of the PR-40 stationary cabinet—which lends sweet, organic overdrive tones—it sounds incredibly fat and delicious.
hammondorganco.com

Z.Vex
Fat Fuzz Factory
Z.Vex seems to have dredged the new Fat Fuzz Factory up from the molten magma at the center of the Earth. It's got all the muscular fuzz and squirrelly delights of the original, but it adds bowels-of-the-earth low-end capabilities that will freak out guitarists and bass players alike.
zvex.com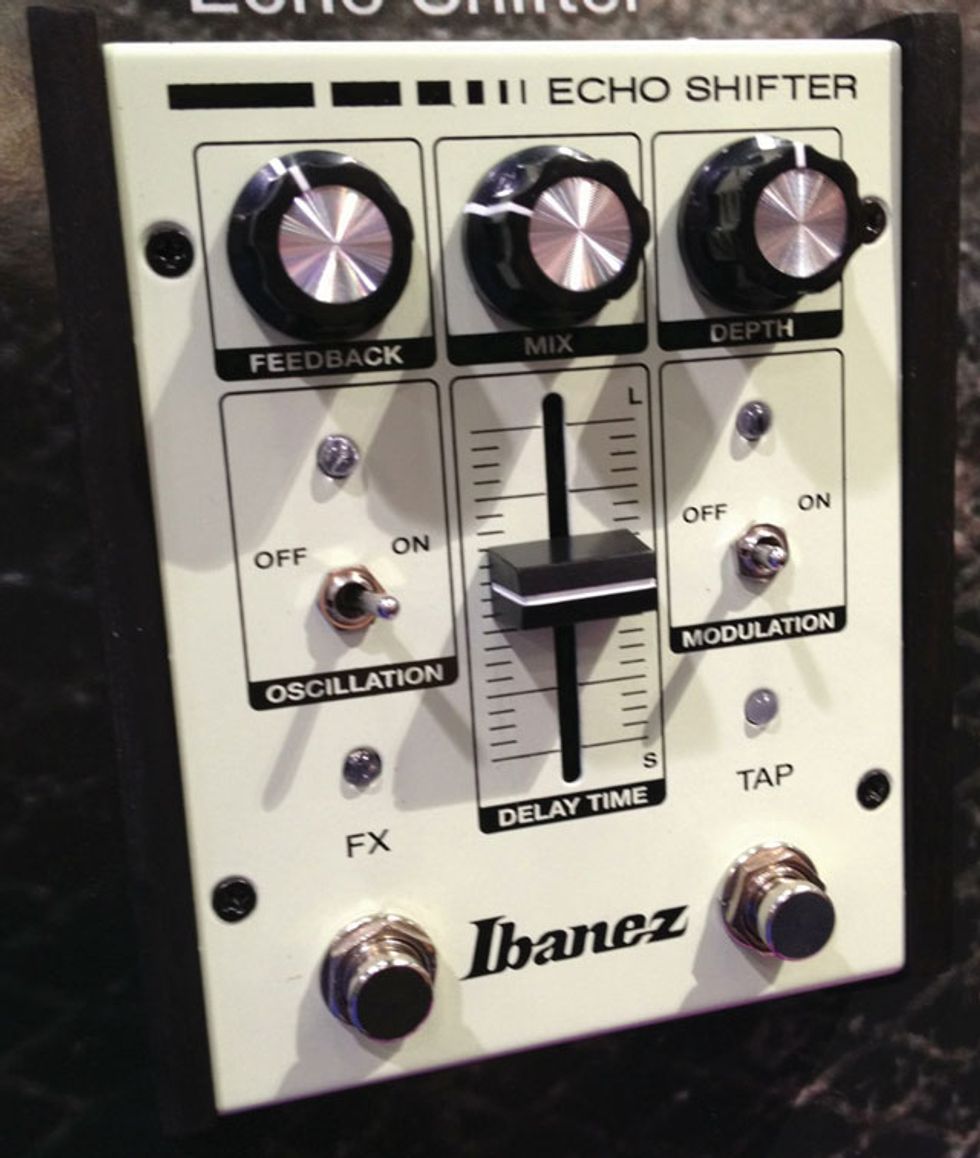 Ibanez
Echo Shifter
Ibanez has often returned to vintage looks with excellent practical results. Visually, the ES2 Echo Shifter delay seems to riff a bit on the old Ibanez Standard Fuzz, which also had slider controls, It has an analog signal path but uses DSP for tap-tempo functions. The tones range from subtle to tape-delay-style mayhem that you can make wilder still with the oscillation and modulation toggles.
ibanez.com
Bass Gear

Diffusion Audio
Quiver Q505A
The new Quiver Q505A amp system is built with bassists and acoustic guitarists in mind, and it features slots into which you can install up to five of 300 available modules from manufacturers such as Moog, Elysia, and Empirical Labs.
diffusion-audio.com

EBS
Billy Sheehan Signature Drive
Sweden's EBS debuted the Billy Sheehan Signature Drive, which was designed in conjunction with the bass master himself. It allows you to mix clean and overdrive tones, and features drive, tone, level, and clean controls, a bypassable compressor with high and mid settings (mid is adjustable via internal trim pot), and two effects loops for adding different effects to the clean and dirty signals.
bass.se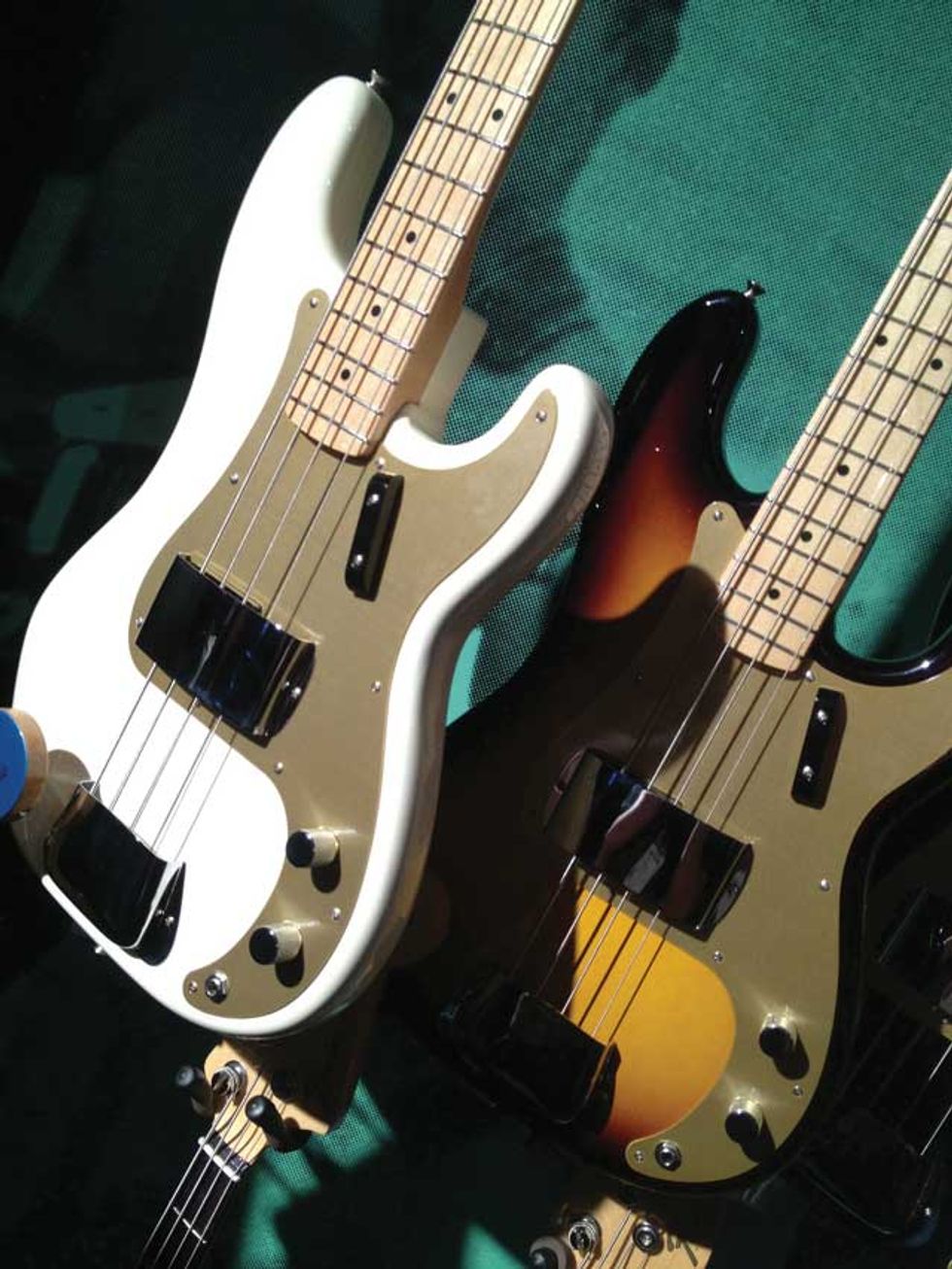 Fender
American Vintage '58 Precision Bass
This bass is outfitted with an alder body (ash for the white-blonde version), a C-shaped maple neck with a 20-fret maple fretboard and a bone nut, a gold-anodized aluminum pickguard surrounding a new vintage-voiced split single-coil, and period-correct chrome covers for the bridge and pickup.
fender.com
Gibson
ES-335 Bass
For the first time in nearly 50 years, Gibson is building an ES-335 semi-hollowbody bass. This gorgeous 4-string features a 34" scale, 24 frets, a pair of humbuckers, and a historically accurate 3-point bridge.
gibson.com
Lakland
Hollowbody 30
The 30"-scale, classic-looking Hollowbody 30 beauty features Lakland's trademark oval stop-tail bridge, a bound rosewood fretboard, and a pair of vintage-style single-coils with a volume for each and a master tone knob.
lakland.com

PRS
Grainger 4 and 5 Basses
Paul Reed Smith was positively bass-happy at NAMM, debuting two 34"-scale, mahogany-bodied rumble machines with flamed-maple caps and a 24-fret maple neck topped with a rosewood fretboard. Both models have dual humbuckers, a 3-band EQ section, and push-pull volumes for each pickup—down selects active circuitry, and up selects passive.
prsguitars.com

Stenback
Bass Interface DI
Combining style with function, this classy-looking direct box has dual footswitches—one for muting and one for bypassing the EQ—level and mojo knobs, and three EQ dials with sliders for selecting the range of the control—45–80 Hz for lo, 400–800 Hz for mid, and 3.5–6.5 kHz for hi.
tomstenback.com

Warwick
LWA 1000 Head
This new 1000-watt (@ 4Ω) class D bass head was designed by Jonas Hellborg and features two channels with independent EQ and compression, and enough horsepower to drive every ride at Disneyland.
warwick.de
Acoustic Gear

Andrew White Guitars
Gypsy Jazz-E
West Virginia acoustic builder Andrew White Guitars brought a whole line of impressive guitars to NAMM. His all-solid import flattops were impressive at less than $1,200, but the Gypsy Jazz-E shown here was what had heads turning the most. It features a solid Italian spruce top, solid curly walnut back and sides, a 1-piece mahogany bolt-on neck, and a fretboard and bridge made of ebony.
andrewwhiteguitars.com

Guild
Orpheum Orchestra
Master luthier Ren Ferguson (who previously helped restore Gibson's acoustic brand to greatness) is now building for Guild, and his latest creations are part of the new Orpheum series. They feature looks and appointments more typical of guitars from 20 years before the company's 1953 debut, including Adirondack tops and bracing, hide-glue construction, and stunning golden-age-of-American-flattops styling. The line includes some very un-Guild-like shapes, including a slope-shoulder dread, as well as this Orchestra with Adirondack red spruce and rosewood.
guildguitars.com

Cole Clark
Angel 1AC and 2A3
Aussie acoustic builder Cole Clark brought the new Angel 1AC (left) and 2A3 to Anaheim. The 1AC features the company's original Dual Input pickup with bass, mid, treble, blend, and volume sliders, and a lovely sunburst or black finish. The 2A3 (right) is the first Angel without a cutaway, and it also features Clark's new 3-way pickup system—which incorporates a small condenser mic that's shelved at 1.25 kHz to eradicate feedback problems while serving up an airy, natural sound.
coleclarkguitars.com

L.R. Baggs
Lyric Mic System
The Lyric acoustic microphone system impressed us with its unobtrusive design and absolutely blew us away with its super-organic tones and feedback resistance. It features TRU•MIC noise-cancelling technology, analog signal conditioning, a discrete mic preamp, and presence and volume controls.
lrbaggs.com

Lowden
Paul Brady
Renowned Irish luthier George Lowden brought the redesigned Paul Brady signature model to NAMM. Because Brady is now using an external mic during live performance, he wanted Lowden to build him a model that would project a little more powerfully. To that end, the new signature model uses figured bubinga back and sides matched to a red cedar top.
lowdenguitars.com

Martin
000-17SM
Unlike the original all-mahogany Martin 000-17, the new-for-2013 000-17SM has a spruce top as well as a 12-fret neck and slotted headstock—making this a sweet amalgam of classic Martin elements and a silky smooth fingerstyle machine.
martinguitar.com

RainSong
Parlor
Available in both 12- and 14-fret versions, RainSong's new Parlor model uses the company's Projection Tuned Layering and is all but bulletproof. This little beauty is stage ready, too, with its Fishman Acoustic Amplification Prefix electronics and built-in tuner.
rainsong.com

Taylor
Grand Orchestra
Taylor's latest series comes in a multitude of tonewood combinations that were knocking out folks right and left with beautiful aesthetics, trademark crystalline responsiveness, and the same silky playability the company is renowned for. The Grand Orchestra shown here features spruce and mahogany and Expression System electronics.
taylorguitars.com
Acoustic Gear

Andrew White Guitars
Gypsy Jazz-E
West Virginia acoustic builder Andrew White Guitars brought a whole line of impressive guitars to NAMM. His all-solid import flattops were impressive at less than $1,200, but the Gypsy Jazz-E shown here was what had heads turning the most. It features a solid Italian spruce top, solid curly walnut back and sides, a 1-piece mahogany bolt-on neck, and a fretboard and bridge made of ebony.
andrewwhiteguitars.com

Guild
Orpheum Orchestra
Master luthier Ren Ferguson (who previously helped restore Gibson's acoustic brand to greatness) is now building for Guild, and his latest creations are part of the new Orpheum series. They feature looks and appointments more typical of guitars from 20 years before the company's 1953 debut, including Adirondack tops and bracing, hide-glue construction, and stunning golden-age-of-American-flattops styling. The line includes some very un-Guild-like shapes, including a slope-shoulder dread, as well as this Orchestra with Adirondack red spruce and rosewood.
guildguitars.com

Cole Clark
Angel 1AC and 2A3
Aussie acoustic builder Cole Clark brought the new Angel 1AC (left) and 2A3 to Anaheim. The 1AC features the company's original Dual Input pickup with bass, mid, treble, blend, and volume sliders, and a lovely sunburst or black finish. The 2A3 (right) is the first Angel without a cutaway, and it also features Clark's new 3-way pickup system—which incorporates a small condenser mic that's shelved at 1.25 kHz to eradicate feedback problems while serving up an airy, natural sound.
coleclarkguitars.com

L.R. Baggs
Lyric Mic System
The Lyric acoustic microphone system impressed us with its unobtrusive design and absolutely blew us away with its super-organic tones and feedback resistance. It features TRU•MIC noise-cancelling technology, analog signal conditioning, a discrete mic preamp, and presence and volume controls.
lrbaggs.com

Lowden
Paul Brady
Renowned Irish luthier George Lowden brought the redesigned Paul Brady signature model to NAMM. Because Brady is now using an external mic during live performance, he wanted Lowden to build him a model that would project a little more powerfully. To that end, the new signature model uses figured bubinga back and sides matched to a red cedar top.
lowdenguitars.com

Martin
000-17SM
Unlike the original all-mahogany Martin 000-17, the new-for-2013 000-17SM has a spruce top as well as a 12-fret neck and slotted headstock—making this a sweet amalgam of classic Martin elements and a silky smooth fingerstyle machine.
martinguitar.com

RainSong
Parlor
Available in both 12- and 14-fret versions, RainSong's new Parlor model uses the company's Projection Tuned Layering and is all but bulletproof. This little beauty is stage ready, too, with its Fishman Acoustic Amplification Prefix electronics and built-in tuner.
rainsong.com

Taylor
Grand Orchestra
Taylor's latest series comes in a multitude of tonewood combinations that were knocking out folks right and left with beautiful aesthetics, trademark crystalline responsiveness, and the same silky playability the company is renowned for. The Grand Orchestra shown here features spruce and mahogany and Expression System electronics.
taylorguitars.com