Silky playability, sublime sounds, and top quality add up to a small-body super value.
 

Ratings

Pros:

High quality and great attention to detail. Excellent playability. Sparkling high-mid tones. Superb tonal balance. Accessible price

Cons:

Some low-mid tones can be boxy.

Street:

$549

Yamaha CSF3Musa.yamaha.com

Tones:Playability:Build/Design:Value:
---
On days where every guitar you touch feels alien, a strum on a parlor-sized acoustic can be a very grounding and elemental experience. In both proportion and sound, parlor guitars are very much human-scale instruments, leading to musical interactions that can feel a lot more intimate and conversational. Yamaha's delightful CSF3M parlor possesses all of those qualities. But it also has an air of refinement and modest luxury, as well as a musical liveliness that surprises when you consider the sub-$550 street price.
A Joy to Hold
There's a real ease about the CSF3M. It's light. It tends to feel like an extension of yourself from the moment you pick it up. And the playability is positively inviting. Each of these virtues seems aided by an attention to detail that's plain to see. The guitar is, for the most part, outwardly flawless. The frets are smooth and seated perfectly. So are the nut and saddle. The gloss polyester tobacco sunburst finish (which has a softer, warmer amber hue than most 'bursts likened to old Virginia's favorite cash crop) seems a bit thick in places, but not egregiously so given the price and the nature of poly finishes.
It's a lovely compliment to the solid Sitka spruce top, too, which doesn't have a ton of figuring or character in the grain, but which assumes honey-toned glow behind the sunburst finish. The solid mahogany back and sides and rosewood fretboard are also very nice pieces of wood. And though the guitar is minimally adorned, the abalone rosette and maple binding add dashes of subdued flash and style. In total, it's a very handsome little flattop that, in many respects, looks more expensive than it is.
Pop and Precision
One of the reasons the CSF3M feels as inviting and approachable as it does is the guitar's near-perfect setup. Action is relatively low—something of a rarity on guitars in this price category. Intonation, meanwhile, is spot-on over the entirety of the neck's expanse. The two factors conspire to make the guitar sound and feel fluid, lyrical, and welcoming to adventurous and extended chord shapes and fingerpicking patterns.
Individual notes tend to pop—even bristle—with clarity and in perfect balance to each other.
Fingerstyle techniques are also rewarded by the Yamaha's sparking high-mid-forward voice, which takes on pleasing harpsichord shades in arpeggiated patterns. Unlike a lot of inexpensive, small-bodied guitars, the CSF3M is more than just midrange-y. It's easy to hear the warm, dry, and naturalistic tones of the solid mahogany back. And the earthy mahogany tone colors both seamlessly compliment and organically contrast the sparkly top end, even when they tend toward the boxy side of the frequency spectrum.
Another welcome byproduct of the Yamaha's cohesive tone signature is the guitar's capacity for detail. Individual notes tend to pop—even bristle—with clarity and in perfect balance to each other. And while some players (who perhaps shouldn't bother with parlor-sized instruments in the first place) will lament a lack of body in the low-frequency range, the trade off is a string-to-string evenness that enlivens fingerpicking patterns and feathery strumming with a light pick.
The little Yamaha's balance also translates to a cool heavy-strumming voice, which, in spite of lacking low-end heft, is punchy and potent without feeling compressed, distorted, or harmonically blurry. In fact, in many ways the CSF3M is an ideal guitar for recording strummed rhythm parts—particularly if you're multitracking rhythm parts or like to situate the rhythm guitar in a specific, focused frequency band. The CSF3M's controlled presence makes this style of arrangement easier. And if it doesn't quite have the tough, outsized dreadnought thump that an aspiring Steven Stills or Neil Young might prefer, budding Jeff Lynnes will love the Yamaha's concise presence in a dense mix.
The Verdict
Though I've encountered some great acoustic guitar values over the years, I can't remember a flattop that betters the CSF3M in terms of bang for the buck. It delivers almost everything you could want from a small-bodied guitar: detail, balance, playability, and comfort that make interaction with the instrument feel natural and effortless. The guitar's shortcomings—most notably some midrange tones that are boxy and dull where they could be a little huskier and characterful—are few, and even typical of a guitar of this size. This little Yamaha's virtues, however, are many. And the ease with which you can imagine it excelling in the studio, onstage, or just as the musical muse on your couch makes it a very appealing proposition, even before you consider the very nice price.
Looking for more great gear for the guitar player in your life (yourself included!)? Check out this year's Holiday Gear Finds!
Flare is a dual-function pedal with a tube-like booster and a 1970s-style ring modulator effect that can be played separately or together.
Flare's ring modulator is based on the iconic tone of the original Dan Armstrong Green Ringer. This vintage classic was made famous by Frank Zappa who loved the unusual modulations created by generating a harmonic octave over notes. Messiah's version offers two control knobs: a "Sparkle" tone attenuator and output Level control. Its taupe-gold body, purple and green knobs and stick-figure rock 'n' roller holding up a flame convey an appropriately rockin'70s vibe.

​In a unique twist, Messiah's Flare pairs the ringer with a warm tube-style boost instead of a fuzz. Flare feeds the booster into the ringer for an extra punch, while preserving the Green Ringerspirit. The ringer side also turns any fuzz into an octafuzz, and it has the ability to quiet signal background noise fed through it.
The booster side features a single Boost knob to control the MOSFET circuit, making it very tube-amp-friendly with a warm, organic boost and gain of up to 32dB.
​The pedal is a distinct improvement over the 1970s pedal that inspired it. "Most ringer pedals don't track well," Tom Hejda, owner of Messiah Guitars. "The player can't rely on repeating the same effect even with the most consistently played notes. We carefully matched the components, so our ringer follows your every move, producing that slightly dirty octave you expect on demand."
Messiah developed this vintage octave pedal with flexible features so that people who love that messy, dirty Zappa-esque sound can get there with ease but there's also something for those who have not fallen in love with fuzz or the Green Ringer alone. Flare offers an array of sonic options while retaining simplicity in the controls.
Each Flair Pedal Includes:
3 control knobs: Boost, Sparkle, and Level
Two effects – Ring Modulator and Boost – can be used together or separately
Space-saving top side jacks
Durable, cast aluminum alloy 125B enclosure with fun artwork
Easy to see, illuminated True-bypass foot switch
Standard 9V pedal power input​
Flare Pedal Demo
Messiah Guitars pedals are designed with an explorative player in mind. Like their custom guitars and amplifiers, Messiah's pedals are hand-crafted in Los Angeles for a long life with guaranteed quality.
Flare retails for $199.00 and can be purchased directly at Messiah Guitars or you can hear it in person at Impulse Music Co. in Canyon Country, CA.
For more information, please visit messiahguitars.com.
This feathery little guy is a joy to play because of its incredibly quick response to your right hand - much faster and more expressive than your typical auto-wah pedal.
​If it looks like a duck, acts like a duck, and QUACKS like a duck, then it must be a duck. That's how we came up with the name for our new envelope filter. This feathery little guy is a joy to play because of its incredibly quick response to your right hand - much faster and more expressive than your typical auto-wah pedal. Trevor explains how this is possible in the launch video, as well as gives a demo on Le Canard's operation.
​The attack control determines how quickly the filter responds to the envelope, and the decay sets how quickly the filter releases afterward. The range controls which frequency spectrum the filter does its magic on. Add to this relay-based full-bypass switching with failsafe, and you've got one crazy little quacky beast. It is so expressive that you'll want to give up on your rocker-wah forever.
The MayFly Le Canard envelope filter features:
Super fast responding envelope follower. Touch it and it jumps!
Range control to dial in the character of the filter
Attack control to control how fast the filter moves on that first touch
Release control to control how slowly the filter slides back to baseline
Full bypass using relays with Fail SafeTM (automatically switches to bypass if the pedal loses power)
Cast aluminum enclosure with groovy artwork
MSRP $149 USD ($199 CAD)​
Introducing the MayFly Le Canard Envelope Filter
All MayFly pedals are hand-made in Canada.
For more information, please visit mayflyaudio.com.
Outlaw Effects introduces their next generation of NOMAD rechargeable battery-powered pedal boards.
Available in two sizes, NOMAD ISO is a compact, versatile tool that offers the convenience of a fully powered board plus the additional freedom of not having to plug into an outlet. NOMAD ISO is ideal for stages with limited outlet availability, quick changeovers, busking outdoors, temporary rehearsal locations, and more.
NOMAD ISO builds upon the legacy of the ultra-convenient and reliable NOMAD rechargeable pedalboard line originally launched in 2018. The brand new NOMAD ISO editions feature eight isolated outputs (1 x 9V DC, and 1 switchable 9V/12V DC) for even more versatility and clean, quiet power. With an integrated lithium-ion battery pack boasting 12800mAh capacity, NOMAD ISO can fuel a wide array of pedals, and will last over 10 hours* on a single charge.
Each NOMAD ISO pedal board includes adhesive hook & loop pedal-mounting tape, eight (8) standard DC connector cables, and one (1) reverse polarity DC cable, giving you everything you need to build your ultimate "off-the-grid" rig. A rugged, road-ready padded gig bag with shoulder strap is also included, to safely protect your gear while you're on the move.
NOMAD ISO S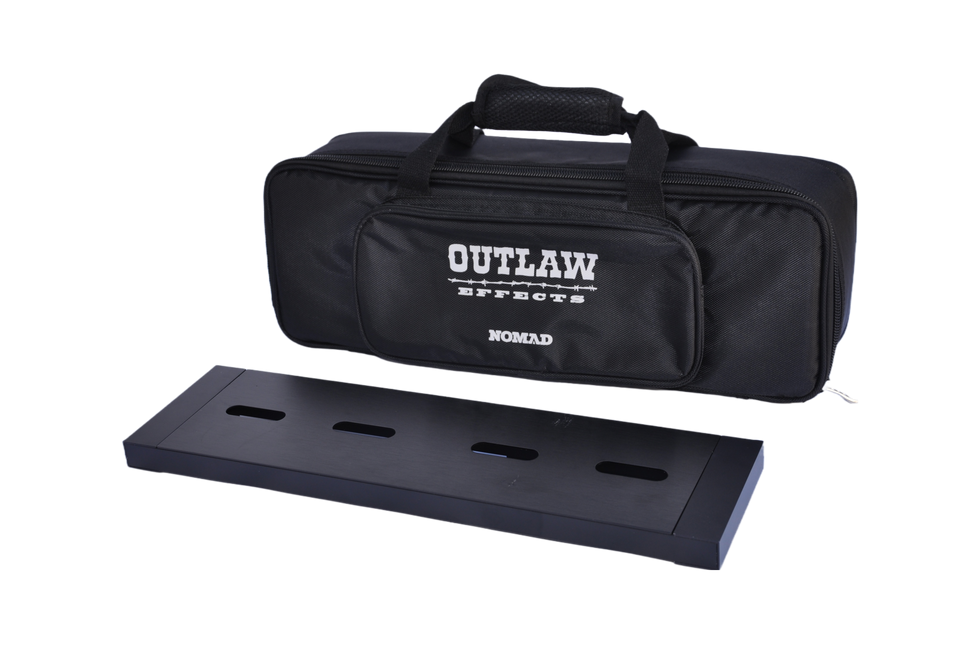 NOMAD ISO S: MSRP $309 / MAP: $249
Dimensions: 19 ¼" x 5 ¼"
NOMAD ISO M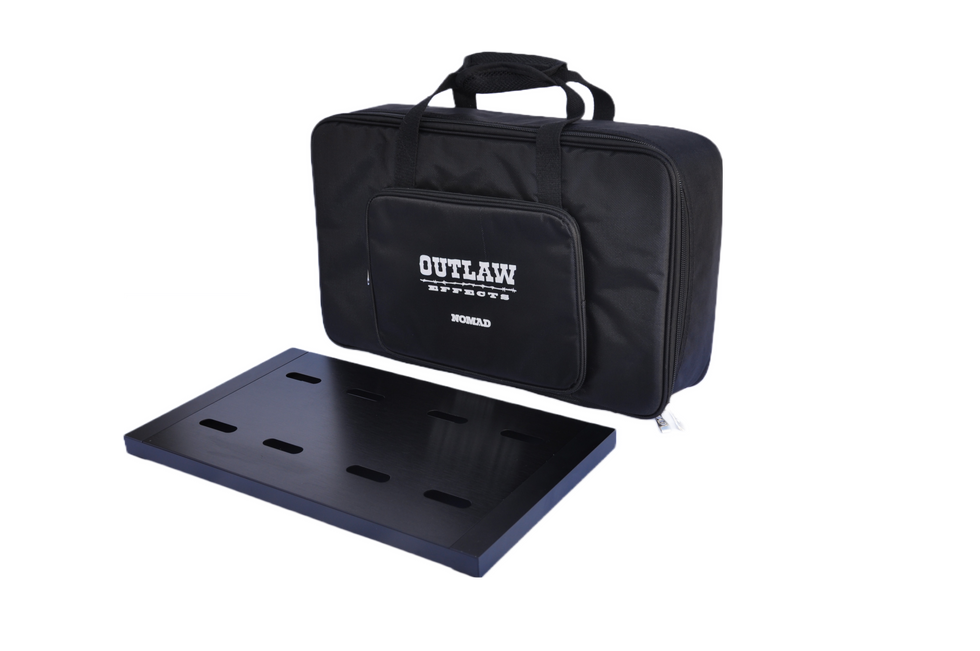 NOMAD ISO M: MSRP $349 / MAP $279
Dimensions: 19 ¼" x 11"
More info: https://www.outlawguitareffects.com.