The Valco-produced English Tonemaster is a rare, lap-steel-inspired gem from the 1950s—when genres and guitar design were fluid.
The 1950s were a peculiar time for the electric guitar. Innovators, designers, and tinkerers were pushing the boundaries of the instrument, while musicians were experimenting with various playing techniques and sounds. There was an evolution of sorts (or de-evolution, depending on your slant) from solidbody "sit-down" guitars, like pedal and lap steels, to "stand-up" or "upright" solidbody electrics. If you look at an early Fender catalog—let's say from 1953—you'll see the Telecaster (and Esquire), the Precision Bass, and then a whole bunch of steel guitars. There was a shift underway, and many manufacturers began to blur the lines of what a guitar should look, sound, and play like.
So, let's examine a guitar from the mid-'50s that had a bit of a personality crisis, born out of the American Valco Company, which also suffered from fits of mania … but in the best ways. I've spoken about the company a lot in this column, but to summarize: Chicago-based Valco made instruments under several different brand names, including Supro, Airline, National, and Oahu. They were a quirky organization with a lot of interesting ideas and build styles. One of Valco's lesser-known brands was English Electronics, which was sold out of a music store/studio in Lansing, Michigan.
Here's a look at the distinctive strings-through bridge pickup.
The English Electronics Tonemaster is a perfect example of this transitional era in instrument production. Half lap steel and half electric guitar, this model was meant to appeal to all sorts of players and was totally unique. There was a similar and more common model in the Supro-branded lineup, the Supro Sixty, which made its appearance in the 1955 catalog and was among the first standard Supro electrics to feature a lap-steel pickup. Both the Supro Sixty and the English Electronics Tonemaster came equipped with similar single volume and tone knobs as well as that same pickup, whose design allowed for the strings to pass through the middle. In the Supro catalog, the pickup was described this way: "The dynamic 'locked-power' unit design provides the sensitive extra responsive punch that Western 'take-off' players are always looking for—each string has its own individual adjustment to assure perfect string output balance."
The English Tonemaster logo on the headstock is straight out of 1950s industrial design.
That lap-steel pickup in the bridge position made for a real treble-laden adventure. I love the "take-off" tone descriptor used in the catalog, because when one of these is dialed in, the guitar surely does have a sharp attack. The Supro Sixty was renamed the 1560S Ozark around 1958, but it kept the unique lap-steel unit at the bridge. The Supro Sixty/Ozark was cool and had a good five-year run. But the lesser-known, way cooler, and way rarer, cousin the Tonemaster was the king-daddy!
Half lap steel and half electric guitar, this model was meant to appeal to all sorts of players and was totally unique for its time.
I've never seen an English Electronics catalog and I don't know anything about the owner, Norman English, but I do know that one reason this guitar was unique in the Valco lineup was that it sported not one, but two, pickups: that lap-steel pickup at the bridge and a proprietary Valco unit at the neck. That neck pickup, which is often confused for a humbucker, is actually an in-house designed, patented single-coil with some amazing tones to offer. With these two units, the sound of the Tonemaster was wide-ranging, going from nasally and thin at the bridge to thick and loud at the neck. The Tonemaster also included a pickup switch, but the one on mine was more like a blender without a detent for each position. I'm not sure if my switch was broken or if it worked as intended. Thankfully, Valco used a serial number plate, often found on the back of the headstock, and that number put this guitar in the 1957 range.
The bridge pickup cover is on in this shot. The neck pickup is a single-coil, despite appearances.
Stuff like this makes me ponder the era when electric guitars and lap steels were transitioning to different styles of music and playability, and there weren't many definitive lines between country & Western, rock 'n' roll, swing, and rockabilly. Things were blurred and woven into one another, as they are in this guitar!
1950s English Electronics Tonemaster Guitar Demo
OFF1 by Mastro Valvola pedals features three analog stand-alone circuits in a series: Octave, Fuzz, and Ladder.
OFF1, the newest product by Mastro Valvola pedals offers Octave and Fuzz, which can be used individually for a more canonical approach of the two effects, or combined for more experimental results. The first effect in the internal signal chain is the Octave and then in series come the Fuzz and the ladder Filter. By applying the Fuzz's high octave and Filter on the low octaves, ordinary sounds can shift towards moods closer to synthesizers.

Mastro Valvola OFF1 Octave Fuzz Filter - LADDER filter on synth.
Features
3 analog circuits
Synth-style ladder filter
2 footswitches
Both buttons can be used in latching or momentary mode
Expression pedal / CV input
Orange Amplification introduces the Guitar Butler, a dual channel guitar preamp designed to give guitarists a comprehensive service to their signal chain.
The Guitar Butler can be used either as a stand-alone or as part of a rig. It is intended for musicians looking to get preamp tones from their pedalboard straight into either a power amp / speaker cabinet combination or into a PA system.

The vintage-voiced Guitar Butler has been created to make it easy to place pedals up front, it has top, mid, and front controls in its tone stack and the precise control offered by its sweeping E.Q adds further warmth to humbuckers and brings out the sparkle in your single coil pickups.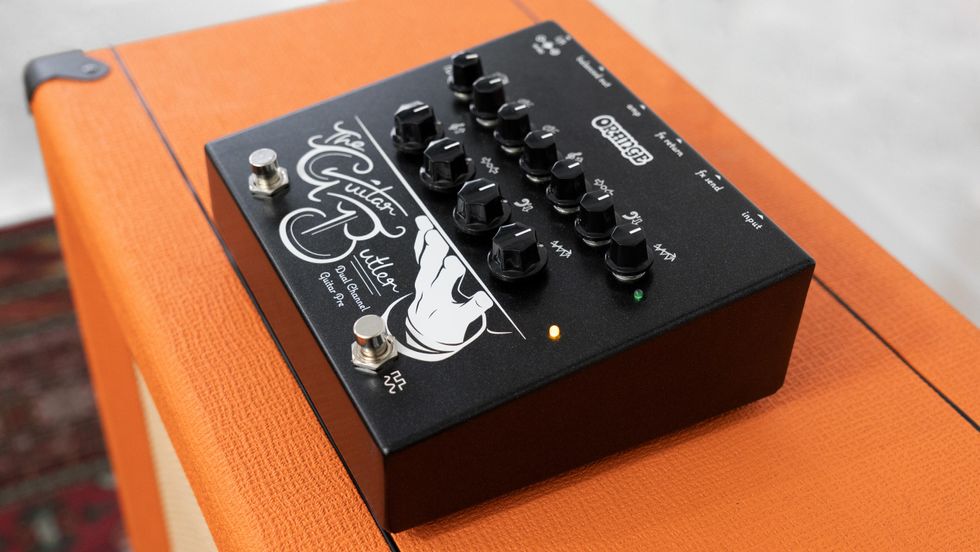 The JFET circuitry of the classic overdrive Dirty Channel means it behaves in a similar manner to a valve amp. Push the volume and the resulting sound has the same dynamic feel usually associated with valve rectifiers. The controls for this channel are volume x 2, treble, middle, bass and gain. The gain is like a classic amp, bright and tight, not totally clean like a Rockerverb. It saturates and gets fatter the more it is turned up.

The Guitar Butler has an array of connections: The Buffered FX loop allows time effects like modulation, delay and reverb to be added after the preamp. There is an Amp Out without Cab Sim and a Balance Out with it, plus a Ground Lift switch to stop any earth loops.
New Gear! Developer Ade Emsley introduces The Guitar Butler