Acoustic Soundboard: Dreadnought Days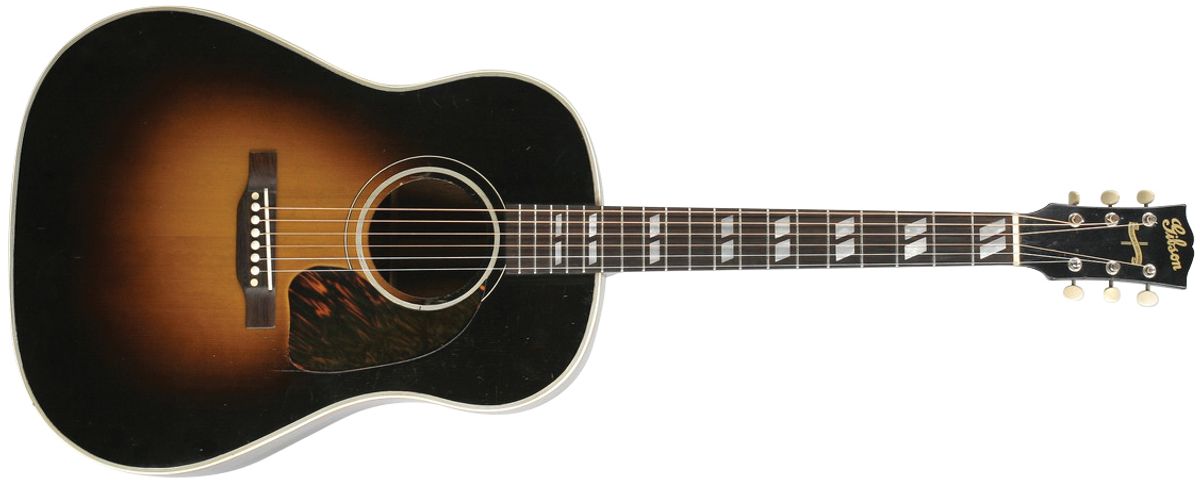 Hip to be square or bound for round, it's all about the shoulders.
The dreadnought is one of the most instantly recognized guitar shapes of all time, primarily because it's so distinctively different than any other type of guitar. The dreadnought was first introduced as a Hawaiian guitar over a century ago, and by the time inexpensive imported instruments began flooding the U.S. market in the late '60s, they were everywhere and used for every kind of music played on steel strings. Regardless of where they came from or what they cost, however, virtually all models shared the same square-shouldered shape as those made by C.F. Martin. That's just what a dreadnought was.
Over the last 20 years, another version has begun crowding the stage. These versions often lack a "D" in the model code, but the deep sides with a shallow waist sure look dreadnought-y, even if the more-rounded upper bouts are distinctly different. Once reserved for the pricier end of the acoustic-guitar market, this round-shouldered version now appears in virtually all guitar catalogs and websites, alongside the square-shouldered versions that old-timers think of as the "original dreadnought." What gives?
Guitar fans may not realize this second dreadnought shape—now commonly called a "slope-shouldered" dreadnought—has actually been around for as long as the Martin shape most are familiar with. First made exclusively for the Ditson music stores (and only in mahogany), Martin's original 12-fret dreadnoughts were redesigned in 1934 with the upper bout squared off to allow a neck with 14 frets clear of the body. By this time, Martin was also making a more expensive version in rosewood, but the company was slow to include either the D-18 or D-28 in its catalog. Gibson's experiment with a similar deep-bodied Hawaiian model—the HG-24—began in 1929 and ended in 1933 with only a handful made. But Gibson immediately tried again with a more conventional version in 1934, and here's where the Nazareth versus Kalamazoo rivalry gets interesting.
Gibson and Martin seemed to have an unwritten pact to not use key terms originated by the other. Martin never used the word "sunburst" for its shaded-top finish option until the '70s, instead calling its version "shaded" or "dark top." Gibson simply called its new deep-bodied guitars "Jumbo," a term already used for their other bigflattop shapes as well. Odd as it may seem, the words "sunburst" and "dreadnought" wouldn't appear together in the same guitar catalog until at least 25 years later.
Odd as it may seem, the words "sunburst" and "dreadnought" wouldn't appear together in the same guitar catalog until at least 25 years later.
Gibson clearly had its eye on Martin's dreadnoughts and during the Great Depression offered mahogany Jumbo models at lower prices than the cost of a D-18. Primarily an archtop maker, Gibson had never relied on rosewood, but made an exception for its higher-priced flattops and soon introduced a rosewood slope-shoulder dreadnought to compete with Martin's D-28. Introduced in 1936, Gibson's Advanced Jumbo is now considered a high point in the company's flattop guitar line, in terms of both sound and its distinctive style. Along with its sunburst top, this deluxe model had a distinctive art-deco, diamonds-and-arrowheads inlay design that wasn't used on other Gibson models. Discontinued in 1940, the Advanced Jumbo's mythical status was further enhanced by its short lifespan, making it one of the most sought after—and, later, most valuable—vintage Gibson flattops. In fact, "AJ" became a code term that almost every guitar fanatic recognized, and these rare Gibsons ranked with pre-war herringbone D-28s and were even harder to find.
Gibson abandoned the use of rosewood for its acoustic guitar bodies after WWII, and throughout the late 1940s and '50s, the two guitar companies stayed in their respective corners. Martin relied on its mahogany D-18 and rosewood D-28 models, while Gibson used mahogany and maple for its flattops, yet stuck with mahogany for all its round-shouldered dreadnought models.
Dreadnought lovers got more options in the 1960s when Guild became a strong competitor in the acoustic-guitar market. In 1963, Guild abandoned its long allegiance to curvy, conventional guitar shapes and introduced the mahogany Bluegrass D-40 and the rosewood Bluegrass Special D-50. These new Guilds utilized the square-shouldered Martin shape. Around the same time, Gibson introduced its Dove and Hummingbird models, which were also shaped like a Martin dreadnought. Even more telling was that Gibson changed its popular Southern Jumbo (SJ) to the square-shouldered shape as well, which meant throughout the remaining years of the '60s, their only round-shouldered dreadnoughts were the sunburst-top J-45 and its blonde-faced twin, the J-50. (Gibson-made Epiphone models like the Texan are the exception.) The final blow came as the '60s ended, when Gibson switched those models to the square-shouldered shape as well. And throughout the 1970s and most of the '80s, Gibson's original round-shouldered Jumbo outline was essentially forgotten in the new-guitars market, despite steadily increasing demand for vintage examples.
It should also be noted that Martin offered its original dreadnought shape (S models) in the late '60s and '70s, but these wide-neck, 12-fret models had little effect on contemporary guitars. The same goes for the few round-shouldered dreadnoughts that were offered by independent luthiers in the '70s and '80s.
Stay tuned for my next column. We'll discuss the remarkable comeback of the slope-shouldered dreadnought.
---