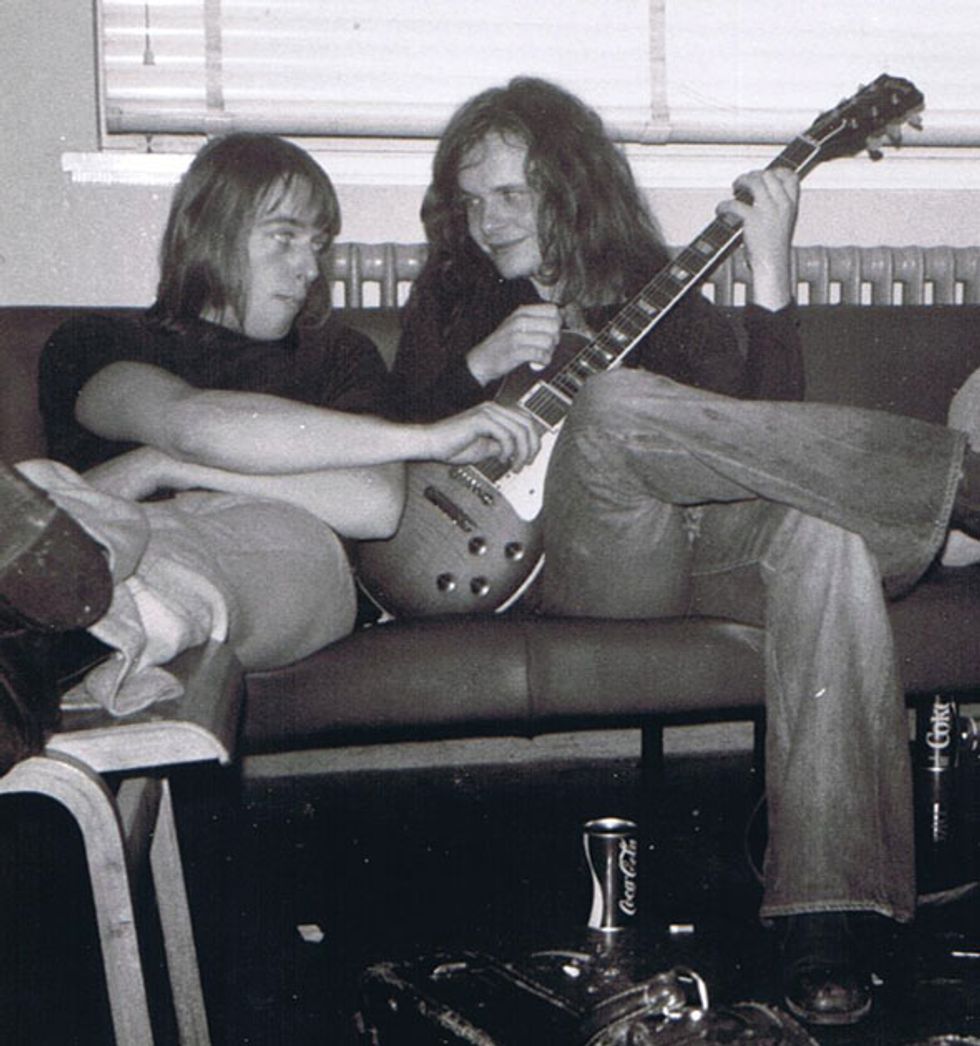 Free drummer Simon Kirke (left) drinks a Coke backstage with Free guitarist Paul Kossoff (right) in 1970.
Photo by Lucy Piller
In the 1960s, England was up to its eyeballs in white-boy blues bands. This was the golden age of the guitar player, when people like Clapton, Beck, and Page became recognized names the world over. But for every Cream, Yardbirds, or Led Zeppelin, there were scores of other groups working the same circuit, trying their damndest to break through. Free was such a band.
Between Paul Rodgers' wailing, Simon Kirke's tremendous backbeat, and the steady bass lines of Andy Fraser, Free had more than enough talent. And they had another weapon: Paul Kossoff, a player who brought it all together and elevated their music into the stratosphere.
Kossoff didn't have the dexterity of Clapton, the finesse of Beck, or the bombast of Page, but he had an innate knowledge of how to do more with less, an instinct to make each note matter musically and emotionally. Sadly, Kossoff died from a drug-related heart attack at 25 during a flight from L.A. to New York, robbing the world of a unique talent. His memory lives on through his music and through the longtime anti-substance abuse efforts of the Paul Kossoff Foundation.
"He started playing some chord stuff like in 'Little Wing,' and the salesman looked at him and couldn't believe it. Just seeing him really freaked me out. I just loved him to death. He was my hero." — Paul Kossoff on Jimi Hendrix

Chance Encounters
Paul Kossoff was born on September 14, 1950, in Hampstead, a London suburb. He was gifted with the performance gene from birth. His father, David, was a well-regarded film and television actor who would go on to win Most Promising Newcomer to Film at the 1955 BAFTA award ceremony.
Kossoff took to music early, commencing classical guitar lessons at age 10. "My dad said that if Paul wanted to play guitar, which he did of course, he had to learn to do it properly," recalled Paul's brother Simon in an interview with Gibson. "He went to a teacher in Golders Green, in North London, who taught him to read music, but he was partially dyslexic and wasn't actually reading the music—he was mirroring her and remembering everything. He definitely had an innate talent for guitar."
As much as Kossoff loved the guitar, the classical lessons grated on him, and he gave them up after a few years. His guitar sabbatical was short lived, however. Kossoff caught a performance by Eric Clapton at a John Mayall gig in 1965, and after seeing what Clapton was doing with the blues, his passion for the guitar was reignited. He resumed lessons, this time with noted session musician Colin Falconer.
Clapton became a looming figure in the young guitarist's mind, and Kossoff went out of his way to emulate Slowhand. Kossoff's first electric guitar was a cheap gold knockoff model made by the Italian manufacturer Eko that simply wouldn't do. Looking to upgrade, Kossoff took a job at the venerable London music shop Selmer's, where he came face to face with some of the day's leading players.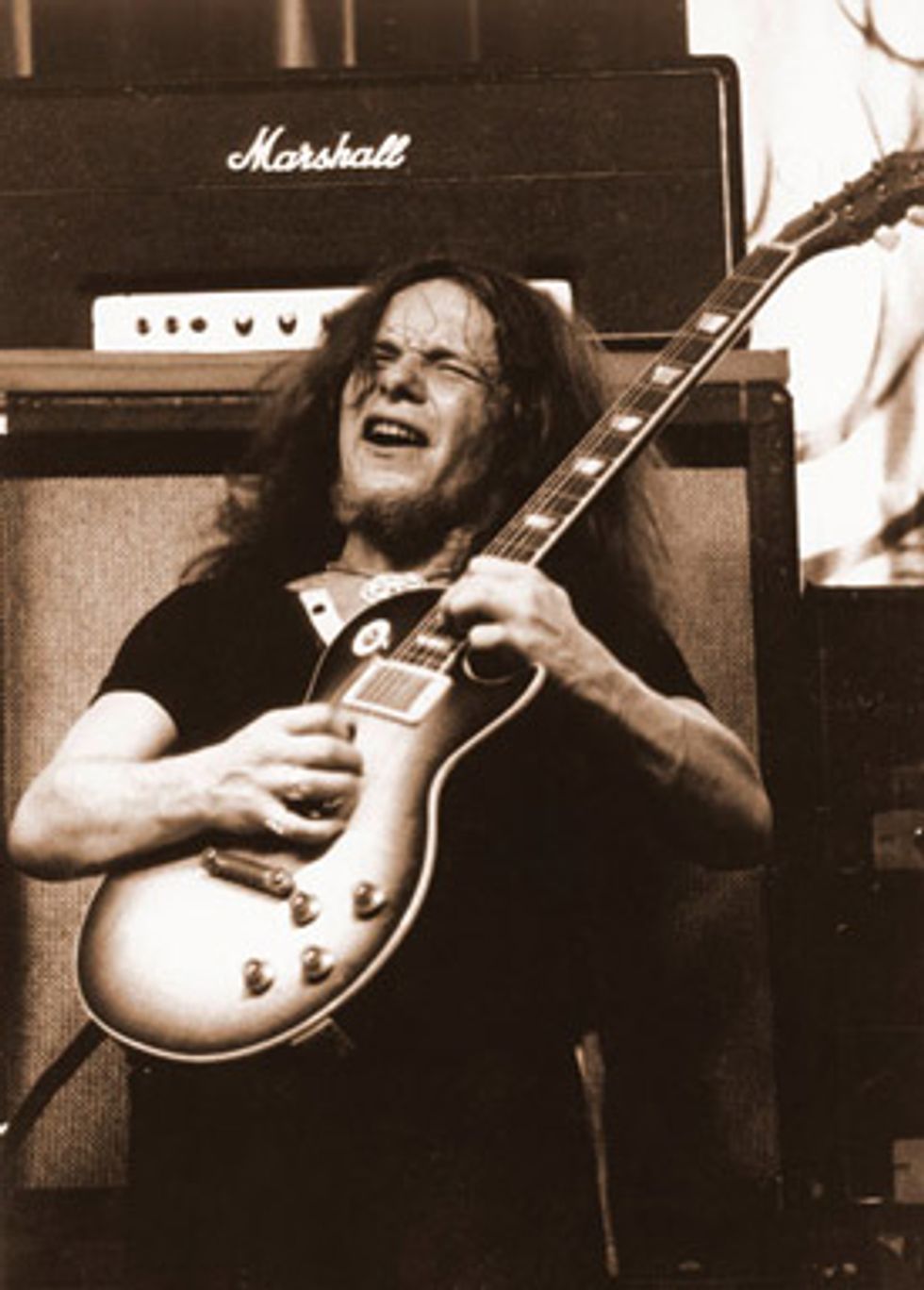 Paul Kossoff kept it simple with a Les Paul, Super Lead heads, and 4x12 cabinets. He did as much to popularize the defunct 'burst line of LPs as Eric Clapton, Jimmy Page, and Keith Richards.
Photo by Graham Lowe
While manning the floor one day, he happened to meet a hot new prospect fresh off the plane from America: Jimi Hendrix. "He had an odd look about him and smelled strange," Kossoff recalled in interview with Steven Rosen for Guitar Player in 1976. "He started playing some chord stuff like in 'Little Wing,' and the salesman looked at him and couldn't believe it. Just seeing him really freaked me out. I just loved him to death. He was my hero."
Kossoff was eventually able to purchase his first Gibson guitar. "I got myself a Gibson Les Paul Junior, which was the cheapest Gibson around at the time," he said. "Then I had this obsession about getting a 'real' Les Paul after seeing Jeff Beck and Eric Clapton play them." The real Les Paul he eventually acquired was a black 1954 Custom equipped with dual P-90 pickups, an instrument allegedly owned and played by Clapton himself. The guitar became his prized possession, and he spent hours bent over it, mastering the many blues licks and solos he'd come to love.
Kossoff started his own blues band called Black Cat Bones in 1966 and hit the London club scene. In the early years, the band had trouble breaking through to the mainstream, and the lineup changed often. Most importantly for Kossoff though, was the experience of playing the music he loved in front of people willing to hear it. Even more vital were the dates where Black Cat Bones supported another up-and-coming blues act called Fleetwood Mac. Kossoff spent many hours jamming with Fleetwood Mac founder/lead guitarist Peter Green and picking his brain, a significant experience in Kossoff's development as a player.
In 1968 Kossoff and his band were in search of a new drummer when they came across Simon Kirke, who was in the audience at a Black Cat Bones gig after hearing through the grapevine that the group might be interested in his services. "I saw them and collared Paul Kossoff at the bar. I was overjoyed at being in a real live professional blues band," Kirke told Jo Rishton for The Beat Goes On and On. "He was a bit of an artful dodger back then—he was funny, witty, full of life," Kirke said of Kossoff in a separate interview with Get Ready To Rock.
With Kirke providing the backbeat, things started to move. In 1968 the group was given the plum assignment of backing acclaimed blues pianist Champion Jack Dupree for the record When You Feel the Feeling You Was Feeling, and subsequently joined him on a U.K. tour. After the tour Kossoff and Kirke decided to part with Black Cat Bones and form a new outfit all their own.