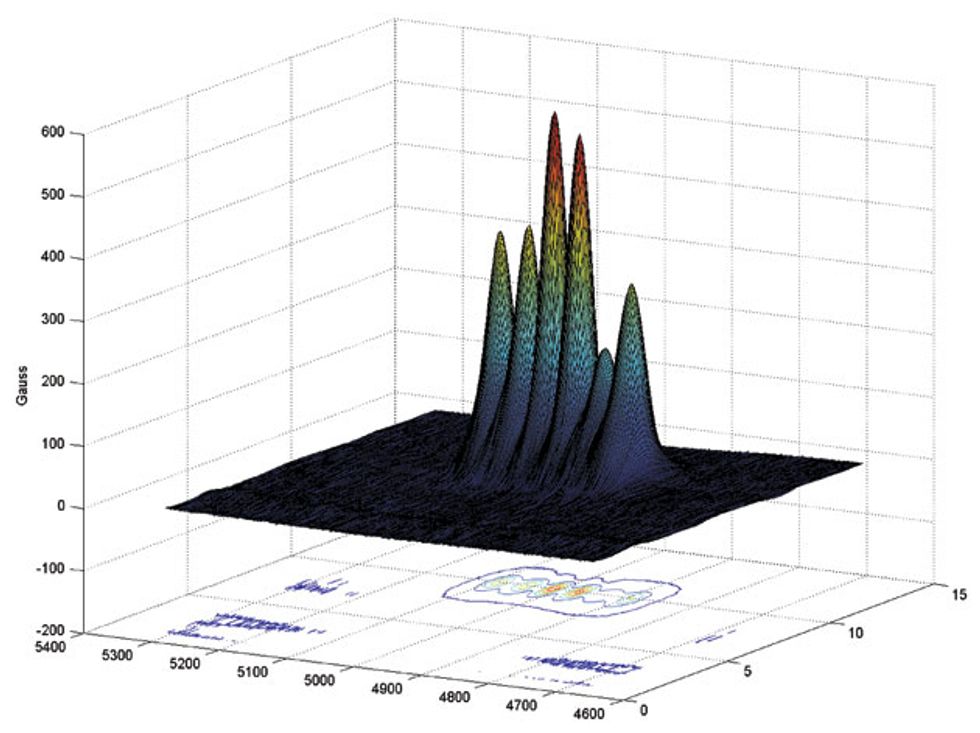 Ching-Yu's magnetic "fingerprint" of a particularly great-sounding hot Texas-style Strat pickup. The magnetic pull affects not the just the tone, but the physical dynamics of the string/magnet interaction.
Better Batteries
So it all sounds promising, right? Well, there's one potential issue: To replicate the sounds of various pickups, Fluence requires a preamp for filtering and gain. And preamps require batteries.
The Fluence team was well aware that most guitarists prefer passive pickups (including all the team members). A battery can be a deal breaker for many players.
The team concluded that the things guitarists dislike most about batteries are their brief lifespans, the hassle and cost of changing them, and the need to carry spares. Their solution was to make the Fluence battery rechargeable via a standard mini-USB plug. The battery runs for 250 hours on a single two-and-a-half hour charge. Unplugging the instrument cable turns Fluence off, conserving juice. (The "off" feature means you may have to replace your existing output jack with a stereo jack.) With a 250-hour charge, you could forget to unplug your guitar, go away for a week, and still have three continuous days of non-stop playing before recharging.
This is what Ritchie Fliegler, Larry Fishman, and the rest of the team are especially excited about.
Fluence: The First Generation


Fluence pickups, single-coil and humbucker versions.
Fishman will unveil its Fluence pickup line at the 2014 Winter NAMM show. There are five initial models, each capable of two contrasting sound images:
·
Strat-sized
(single width): Voice 1 = vintage single-coil. Voice 2 = hot "Texas" single-coil.
· Classic Humbucker (neck position): Voice 1 = vintage PAF. Voice 2 = clean, airy chime.
· Classic Humbucker (bridge position): Voice 1 = vintage PAF. Voice 2 = classic hot rod.
· Modern Humbucker Alnico (neck position): Voice 1 = modern active metal. Voice 2 = crisp, clean, and fluid.
· Modern Humbucker Ceramic (bridge position): Voice 1 = modern active metal. Voice 2 = classic hot rod.
A Fluence Test-Drive
I spent an afternoon auditioning the Fluence system. The Fishman team created modified guitars that allowed us to plug in different pickups from the back. (Using the same guitar means that tonal differences are strictly attributable to the pickups—a super-fun experiment in itself.)
We played single-coil and humbucker versions of the Fluence pickups using a Stratocaster and Les Paul, respectively, switching between classic Marshall and Fender amps. Rob Ketch at Fishman took charge first, putting the pickups through their paces. The guitars sounded absolutely great, and consistent at every volume setting.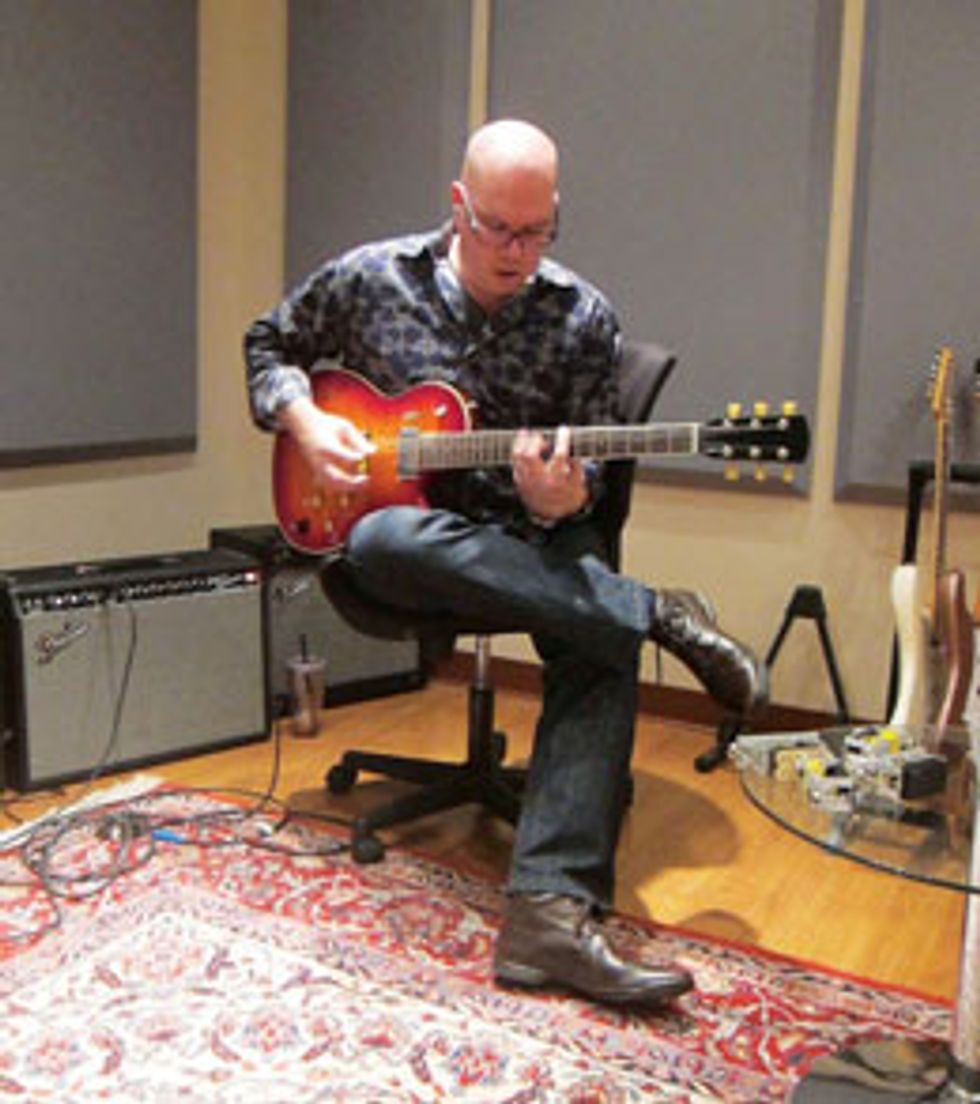 Rob Ketch, Fishman's VP of OEM Sales, demonstrating a Fluence pickup popped into the bridge position on a guitar modified for quick pickup changes. Turning down the guitar's volume has no effect on the tone.
My turn came next. I had a difficult time putting the guitars down, gushing over every note. Within minutes I was completely caught up in the enthusiasm. It was a tonal love-fest.
However, as Martin Mull once said, "Writing about music is like dancing about architecture." The next step will be for guitarists to audition Fluence pickups themselves. I'm looking forward to hearing their reactions, as is, of course, everyone on the Fishman team.
All members of the Fishman team emphasize that they are not rethinking the way pickups should sound, though they are reimagining the way pickups are manufactured in pursuit of that sound. "Our goal," says Larry Fishman, "is to drive all amplifiers to happiness."
Ritchie Fliegler admitted in our first conversation that he wouldn't remove the original pickups from his '54 Stratocaster anytime soon—that would be blasphemy! But he says he's excited that many of us can get that sound in our guitars and reap additional sonic benefits—and then get back to making music.