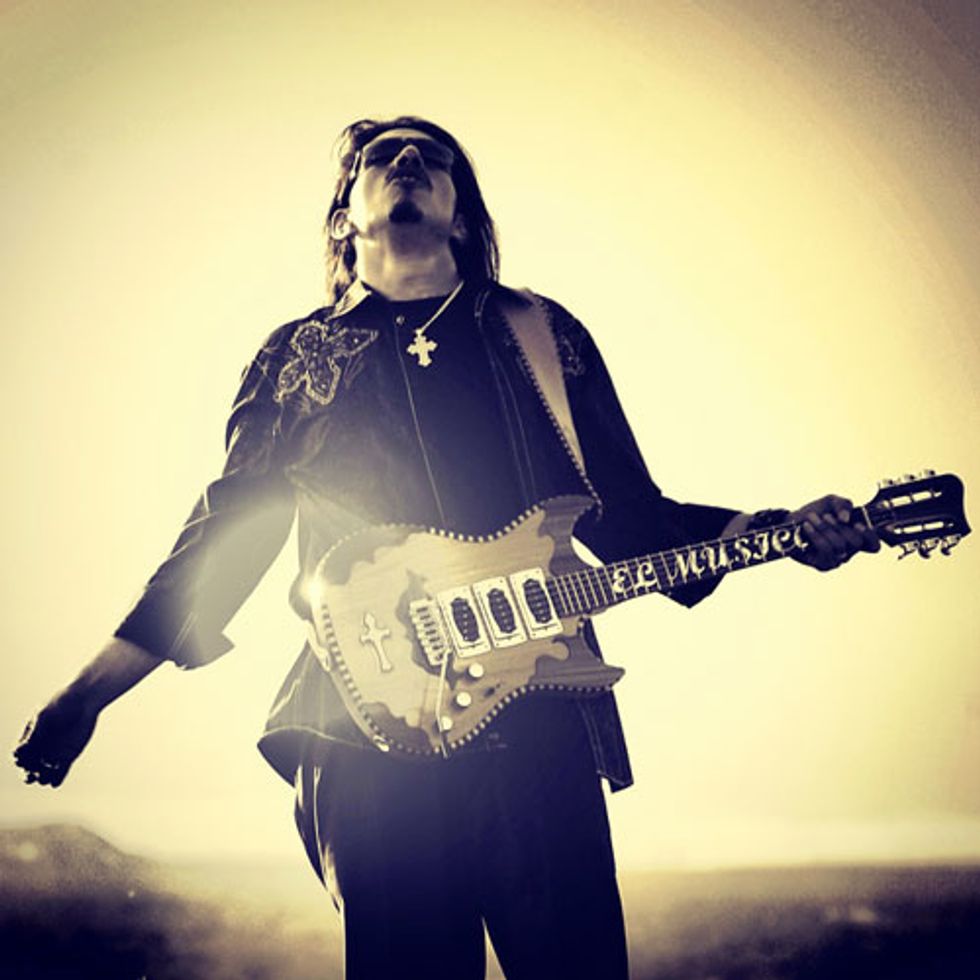 "I was never really into the whole Eddie Van Halen style of playing growing up. It's not that I couldn't do it—I just wanted a more Stevie Ray Vaughan or Jimi Hendrix vibe," says Garza.
The last year has been a difficult one for guitarist Henry Garza and his band of brothers, Los Lonely Boys. During an early 2013 L.A. show, Garza walked to the front of the stage to greet some fans and took a horrific fall.
"I wasn't sure if I was going to be able to walk or play guitar again, or even do anything again," remembers Garza. At the time, the band was working on a new album (their first since 2011's Rockpango), and then everything was put on hold. "It was pretty scary," Garza says. "I'm getting better everyday, although I'm not the same. I have to be careful, but nothing's going to keep a good man down."
While he recovered the band returned to the studio to finish Revelation, their first album where they used a producer and even collaborated with other songwriters. "We normally don't write with anybody, but we knew that putting this project together with writers and different producers would get some attention," says Garza. The group's self-described "Texican rock 'n' roll" is equal parts Beatles, Willie Nelson, and Stevie Ray Vaughan, with some Texas Tornados thrown in for good measure.
The group hooked up with producer Don Gehman, who boasts a résumé full of multi-platinum albums, including Hootie and the Blowfish's Cracked Rear View and three of John Mellencamp's biggest albums (Uh-Huh, Scarecrow, and The Lonesome Jubilee). Even with all of that street cred, the LLB sessions weren't without their difficulties. "Normally, we don't work with a producer, so it was a little awkward at first," remembers Garza. "We made it clear to Don that we wanted each song to sound like the song, not so much like Los Lonely Boys." The "song-first" attitude allowed them to move from Texas pop to Stax soul effortlessly and without a drop of irony.
It seems like the songs on this album are less about jammy guitar solos.
Exactly. That was the whole point. I didn't want to just throw some guitar out there. The songs we had called for this. From a guitar player's standpoint it doesn't bother me—I just want to get some good tunes out there for people to jam out to. If we wrote songs that had guitar all over them we probably would have stretched them out more.
Do your songs change shape once you get a chance to take them out on tour?
You know it, man. Playing them live always changes things, since you never play the same song the same way twice.
YouTube It
In front of a huge crowd in Austin, Garza let's his Texas blues roots shine with a shuffle while his brother Jojo helps out at 3:48.
This was the first time you brought in a producer. Why the change, and how did it help this album?
In this business you've got to concoct some different plan or project to get more people excited and involved. I wrote some songs with some cats from Nashville, and Jojo wrote some stuff with people from L.A. We knew when we got together with these people it would raise some eyebrows. Don Gehman has been in the music business for a long time, as were the cats we wrote with, like Radney Foster, who's a big songwriter out of Nashville. We figured if we worked with these producers and songwriters, people would take notice. It was a pretty cool experience for us.
Some of the acoustic textures on this album show a different side of the band. What acoustic guitars did you use?
I used my Martin OM-28 Marquis and a Taylor 716 that I had in storage. My brother Jojo played some acoustic on this album as well, and he played a traditional Mexican instrument called a bajo sexto. It's like a 12-string Mexican guitar.
Tell me how you tracked "There's Always Tomorrow." There are a lot of guitar parts on that song.
You know it. The Beatles were a big inspiration to us. Jojo wrote that with Matthew Gerrard out in Los Angeles. When we were trying to get it together, it was like, "Wow, it sounds like the Beatles and Queen had a baby." There's a bunch of guitars all over that song, man—little fills and stuff. I played a Gibson ES-335.