Joe Bonamassa
The signal from bluesman extraordinaire Joe Bonamassa's guitars finds its way onto his pedalboard via a signature Dunlop Cry Baby wah feeding a Fulltone Supa-Trem and then a Tone Merchants/Rack Systems LLC splitter controlled by a Lehle 1@3 A/B/C box. From there, the signal goes to his Dunlop Bonamassa Fuzz Face, a Way Huge Pork Loin, an original Ibanez TS808 Tube Screamer (his primary effect for gain), an MXR Micro Flanger, and a signature MXR FET Driver. Another Tone Merchants/Rack Systems box hooks a Boss DD-3 digital delay and Hughes & Kettner Rotosphere into the effects loop of Bonamassa's Marshall JCM 2000 heads.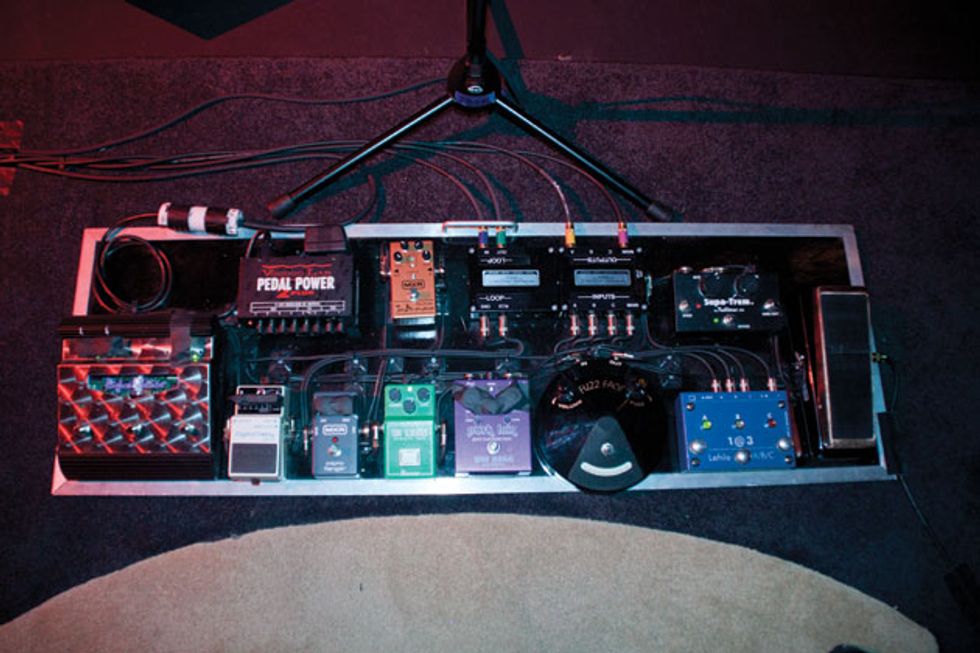 Watch the Rig Rundown:
Living Colour's Doug Wimbish
Considering the diversity of Doug Wimbish's work—he's played with such big-name acts as Mick Jagger, George Clinton, Joe Satriani, and Depeche Mode—it's no surprise he's got one of the largest, most out-there boards we've ever seen, particularly for a bassist. The signal starts in the "noisy" section, which has a Tech 21 SansAmp Bass Driver DI, Pigtronix Disnortion, Source Audio Soundblox 2 OFD Bass microModeler and Hot Hand 3, and Pigtronix Mothership. The "bendy" section has a Dunlop Cry Baby wah and DigiTech Whammy, followed by the "filter" section's Pigtronix Envelope Phaser, Boss BF-3 Flanger, DOD FX25 envelope filter, DigiTech Synth Wah, Source Audio Soundblox Pro Bass Envelope Filter, and Way Huge Ring Worm. Finally, the "delay" section has a quartet of Boss units—a DSD-2 digital sampler, DD-6 and DD-7 digital delays, and an SL-20 Slicer—a TC Electronic Nova delay, an Eventide PitchFactor, and a Pigtronix Infinity Looper. Wimbish also uses a Keith McMillen 12 Step MIDI controller to command a laptop rig.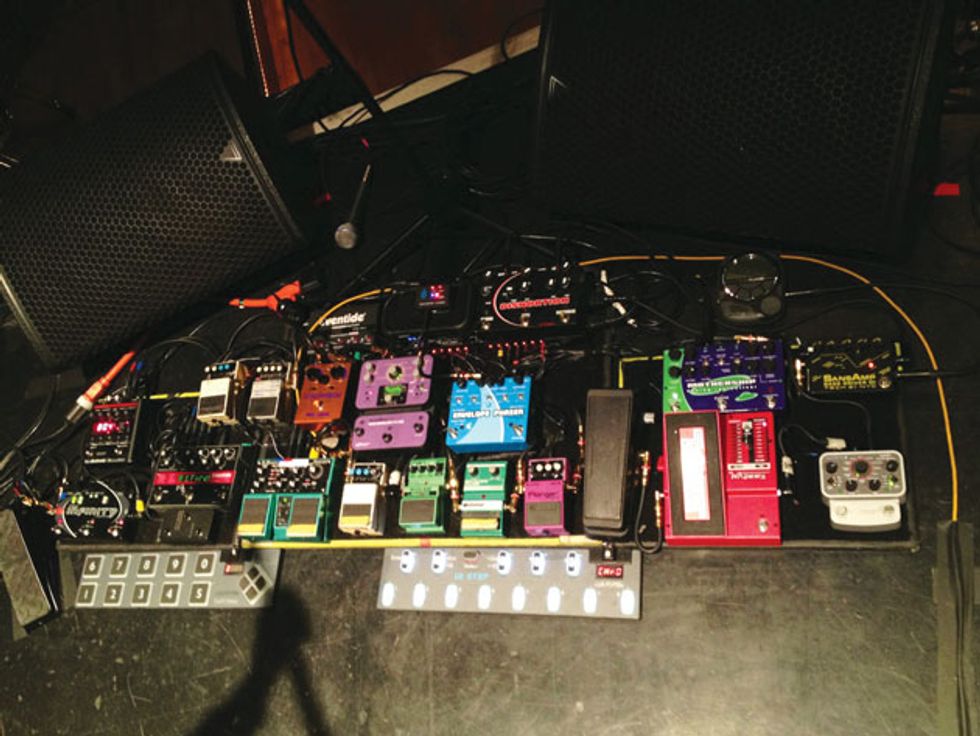 Watch the Rig Rundown:
Minus the Bear's Dave Knudson
Known for his intricately tapped rhythms and two-footed, Achilles-tendon-abusing looping techniques, indie-rocker Dave Knudson is an avid fan and collector of Line 6 DL4 Delay Modelers—he's always got four of them on his board. In addition to using them for looping, he also uses the DL4s to add modulation to samples saved in two Boss RC-3 Loop Station pedals. Knudson uses a Barber Tone Press to smooth out tapped parts, while a Line 6 M5 Stompbox Modeler approximates tones originally achieved in the studio using an Electro-Harmonix HOG and DigiTech Whammy. Knudson also uses a Boss DD-20 Giga Delay, Boss CS-3 Compression Sustainer, a Z.Vex Box of Rock, an Ibanez TS9 Tube Screamer, and a Dunlop Cry Baby wah.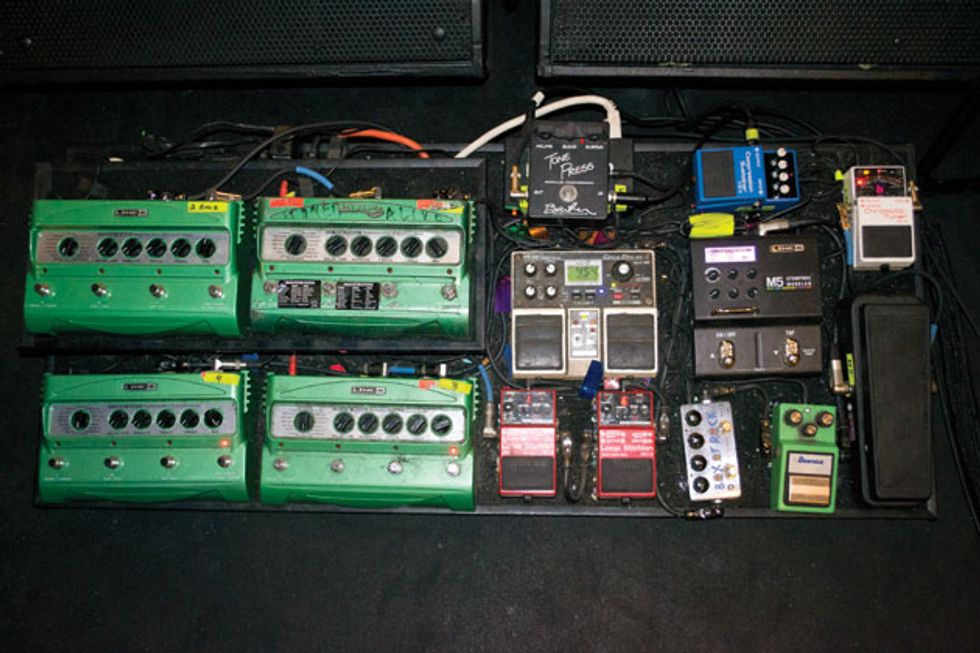 Watch the Rig Rundown: