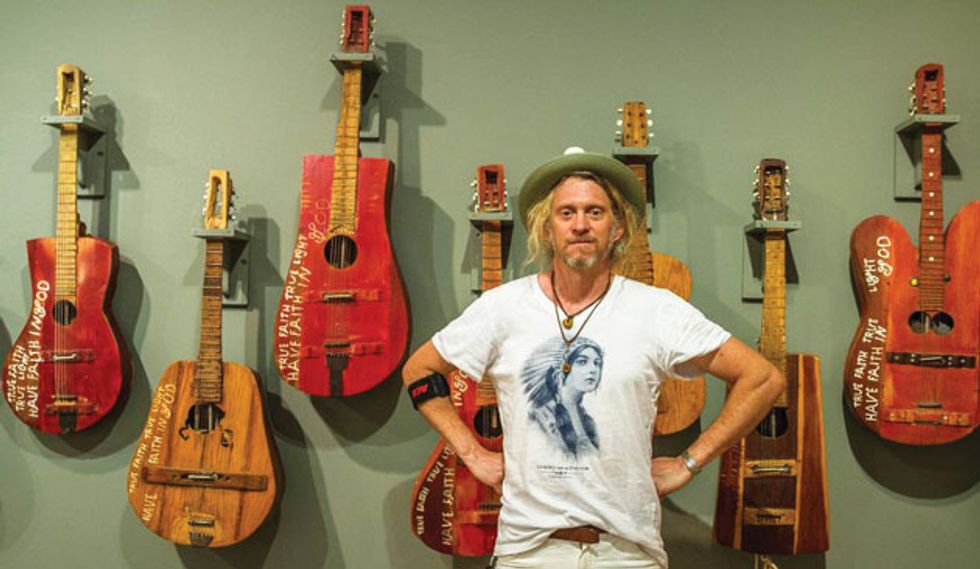 Don't look for gloss on the latest release from veteran singer-songwriter/guitarist Jimbo Mathus and his band the Tri-State Coalition. Starting with the body-punch impact of the opening title track and carrying on for eleven more songs, Dark Night of the Soul delivers American rock 'n' roll with a raw intensity rare in an era when every note is tweaked to so-called perfection.
For the Mississippi native—who first came to fame as leader of the swing-revival band Squirrel Nut Zippers—the sound of Dark Night of the Soul mirrors the process of writing and recording. Working with producer Bruce Watson at Dial Back Sound studio in Water Valley, Mississippi, Mathus says he brought to life ideas he may have ignored or set aside in the past. He's also quick to credit the members of the Coalition.
"There's no way to cut a record like this one without a good band—it starts with them." By "them," he means co-guitarists Matt "Pizzle" Pierce and Eric "Roscoe" Amble, bassist Matt Patton, keyboardist Eric Carlton, and drummer Ryan Rogers. But before they could bring their intensity to the tracks, Mathus had to write—and that's where our conversation started.
I'm never not writing a song.

Where do your songs start—do you come up with something on guitar first?
Very rarely do I find anything on the guitar, though it does happen. They just usually hit me like a bolt of lightning. I've been writing for so long that I can hear the music in my head. Usually they just come to me in my imagination, and as soon as I get to a guitar or a piano I can bust it out.
The album's themes are very personal—and powerful. What's your goal as a lyricist?
I've been doing it so long and so habitually that it's just a part of my thought process. I mean, I'm never not writing a song. I think about a lot of things, I read a lot, and I talk to a lot of people, and certain things just leap out at me as worthy topics. I don't like to over-say things. I believe in simple phrases that have a lot of different meanings.
Jimbo Mathus' Gear
Guitars
1960 Gibson B-25 acoustic
Guild D-35 12-string acoustic
1972 Gibson Les Paul
Amps
1954 Fender Champ
How do these songs reflect you today, compared to what you would have written 20 years ago?
I'm able to say so much more. There are themes on this record, like this first song, "Dark Night of the Soul," involving heavy philosophy, history, archaeology. I attempted to write a song when I was 18 about an ancient mystery in Mexico, and failed miserably. Over the years, I'm still fascinated by mysteries and still want to write about them, but I feel like the practice has paid off. I feel satisfied with my direction in writing.
Do you try to leave room for the listener to bring in their own interpretation of the songs?
That's the way I've learned and trained myself to write. Like romantic poetry, for example, where words are packed with meaning and can mean myriad things. I've studied with a poetry teacher from University of North Carolina, and he taught me the philosophy of the English language. You say a lot with a few words, and you understate it in order for it to be passed on, open to interpretation. That's what I like in writing, movies, art—that space where you jump in.
Who are your influences—beyond your guitar heroes?
The 1950s Charlie Parker recordings on Savoy Records are my favorite things to listen to. I get most of my lyric ideas from the Romantic poets. Charlie Patton is one of my main influences. Keith Richards. Captain Beefheart's Trout Mask Replica. I like folk music, all of that "old, weird America," as they say. It's hard to narrow it down. I am a Southerner and an aficionado of the Deep South, so I draw my influences from [William] Faulkner, Charlie Patton, Muddy Waters—these types of things.
How did the actual recording process take shape?
It was quite simple: Every song was demoed once, with me on my own. Songs like "Casey Caught the Cannon Ball," "Tallahatchie," "Burn the Ships," and "Medicine" were done in one day. The demo is what you hear on the record. I'd have an acoustic guitar and a live vocal mic. Bronson Tew would be on drums. Then I'd drop in a bass, or Bronson would drop a bass and I'd slap on some lead guitar. If Eric Carlton happened to be the there, he'd drop a keyboard on. Bruce [Watson, producer] was like, "I refuse to let you touch these—they're done." I was like, "Cool—you like 'em, I like 'em."
The other eight songs were partially finished demos with just guitar and drums and vocal. The band had the demos for two or three months, and we cut all those songs in just two or three days. We cut them live, with live vocals. And "Dark Night of the Soul" was a brand-new thing the band had never heard. You are listening to the first or second take on the record, and Bruce had the balls to make it the first song on the record.