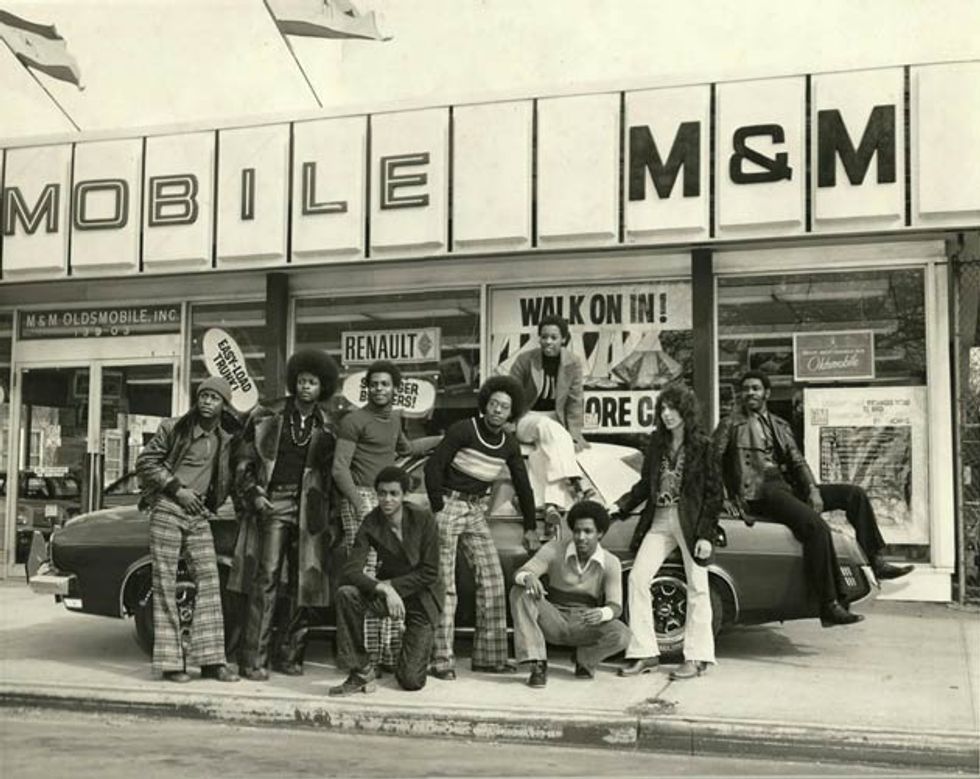 This rare, never-seen-before image was recently found by Joe Satriani's management. Taken in 1973, the photo shows Satriani with the disco band he went on the road with for his first paid gig. Photo Credit Unknown / Joe Satriani Archives
Joe Satriani is one of those rare artists who has sold guitar instrumental albums in pop music quantities. His releases of the last two-and-a-half decades have become must-haves for more than one generation of guitarists. It's fitting then that Sony's Legacy Recordings has released a box set, Joe Satriani: The Complete Studio Recordings on 15 CDs, as well as in a limited edition USB drive housed in a metallic bust of the maestro.
Simultaneously comes the publication of an autobiographical history of those recordings: Strange Beautiful Music: A Musical Memoir (BenBella Books). As immediate and engaging as his music, the book details the creation of each studio record, and this makes it a perfect read while listening to the box set—or your own Satch collection.
Satriani grew up playing and teaching in Westbury, New York, later continuing that dual path in Berkeley, California. His teaching inspired a notable roster of students, including Steve Vai, Kirk Hammett, and Charlie Hunter, while his jaw-dropping playing won him the lead slot in a Bay Area band, The Squares, and introduced him to producer/engineer John Cuniberti. After the Squares' dissolution, Cuniberti began recording Satriani's instrumental vision, Not of This Earth.
I started rethinking the way I played, making the plain note as beautiful as possible, being more deliberate, using each kind of vibrato to create a specific feeling. Otherwise, it is like someone who puts salt on food before tasting it.
By the second record, Surfing with the Alien, the guitarist had achieved something as scarce as a Yeti sighting: guitar instrumental radio hits. Virtuosic enough for guitar fans, Satch's sound also proved accessible to folks with no interest in the whys and wherefores of whammy bars. With a style as rooted in the blues of Chuck Berry, Buddy Guy, and Billy Gibbons as in the guitar pyrotechnics of Eddie Van Halen and Jeff Beck, this 6-string wizard has conjured up platinum records and a loyal legion of fans.
Somehow Satriani still finds time for the occasional sideman gig with Mick Jagger or Deep Purple, G3 and G4 tours, and Chickenfoot, his ongoing side project with Van Halen alumni Sammy Hagar and Michael Anthony. He also made room in his schedule to tell PG about lessons learned from his teacher, jazz legend Lennie Tristano, playing with drum god Vinnie Colaiuta, and the fickleness of feedback.
What did you learn from Lennie Tristano that you still use in your music?
He discouraged me from living in the "subjunctive mode," which he explained as a disease of suburban kids worrying about what they should, would, or could have played, while never playing what they want to play. He got me to not be judgmental—that is the essence of improvisation. To get there he insisted you learn everything completely and never make mistakes. If you made a mistake it was because you played without thinking, or before you were really committed—he had a million Zen reasons to explain why you screwed it up.
On a more practical side he said, "People use vibrato like a nervous twitch, without thinking about it. He asked, "Are you capable of playing a note and making it beautiful without doing anything to it?" I started rethinking the way I played, making the plain note as beautiful as possible, being more deliberate, using each kind of vibrato to create a specific feeling. Otherwise, it is like someone who puts salt on food before tasting it. There is magic in the way your finger hits the note; you would be surprised how many people, especially young students, make a horrible sound because they have never focused on that.
Did you study singers' vibrato?
I wouldn't say I studied them, but I grew up at a time when rock was a vehicle for vocals. The instrumentalists were secondary to the bands I really liked. Later, I began to appreciate classical, jazz, and every kind of instrumental music from around the world. That coincided with the Tristano lessons where he had me scat singing solos note for note. The idea was to make it part of your whole body by singing it, rather than just teaching your fingers how to play it. Every time I play a melody there is a vocal quality, but it isn't like I set out to imitate singers.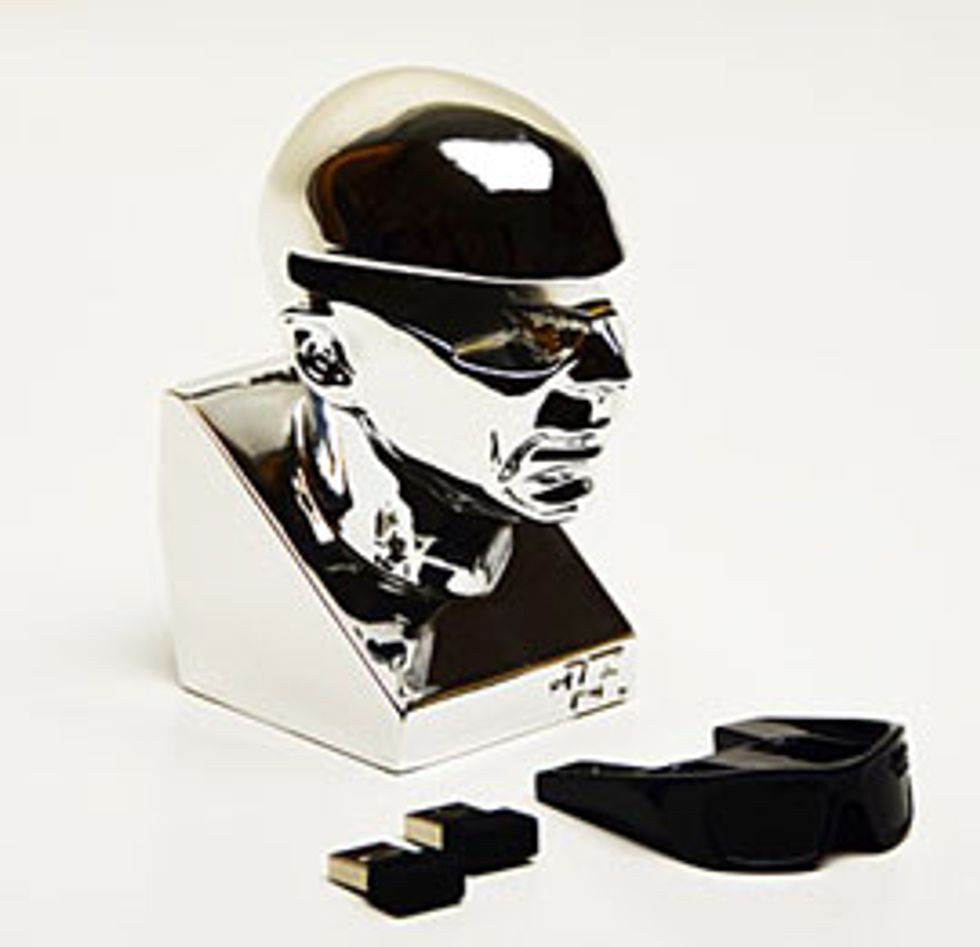 The limited edition of Joe Satriani: The Complete Studio Recordings comes with a USB drive housed in a chrome dome of Satch's head.
How has your playing evolved over the years?
That's a good question. I have gotten a handle on a lot of the physical roadblocks. I realized through teaching that some people can play really fast, but don't know what they are playing; others can't play very fast, but have a good handle on what they are playing—they deliver quality phrases. Some people can't play in tune but they can stretch their fingers. Some people can play the most complicated stuff but it sounds like sour milk when they play. Everyone has a set of pluses and minuses. The last tour I was marveling at the fact that I had been consistently taking care of these things decade after decade. It takes that long to relax enough to focus on all the aspects of playing.
Another side is your perception of yourself and what you think is necessary. When you listen to the box set you hear a very different musical personality from the first record to the later records. That personality affected how I tuned my amp, and how frenetically or subtly I chose to play. The albums are like diaries: You are letting people into your life. There were times when I wanted to ratchet it up, times when I wanted to chill out, and times when I got fascinated with a certain kind of sound, or had a particular ensemble around me.
When we remastered the records, John Cuniberti and I were struck by the change in production values—how primitive the early recordings were because of low budgets, but how much we accomplished with what we had. When we were doing Not of This Earth and Surfing with the Alien, there was a feeling that I might never get to record again [laughs]. I decided not to worry about being commercial and go against the grain. If I wanted to write a song in the Enigmatic mode and put the kick drum on the off beats, I would just do it.