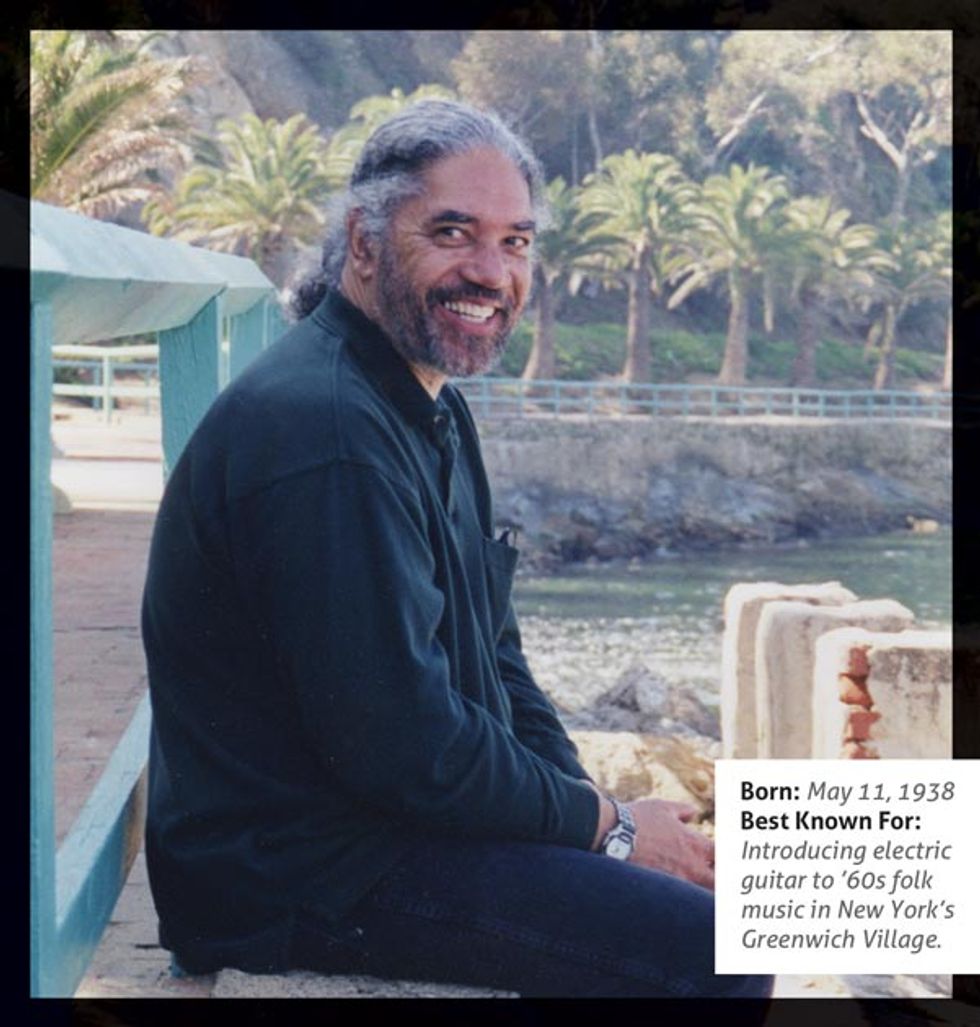 You may well be asking, "Bruce who?" That's why Bruce Langhorne qualifies for the "forgotten" part of Forgotten Heroes. But talk to Bill Frisell, Steve Earle, or Jonathan Demme—or just read on—to understand why the guy is a guitar hero. His best-known claim to fame is his fretwork on a couple of early Bob Dylan records, but Langhorne's importance goes beyond that. His sensitive, call-and-response accompaniment on seminal records by Joan Baez, Odetta, and Richard and Mimi Fariña contributed heavily to the lexicon of licks used by sidemen ever since. Moreover, his decision to place a pickup on his Martin acoustic and plug in to a Fender Twin helped herald the transition from folk to folk-rock and change the face of popular music forever.
Early Days
Bruce Langhorne was born in Tallahassee, Florida, in 1938. His father was head of English at the Florida Agriculture and Mechanical College for Negroes. His parents split when he was four, and his mother raised him in Spanish Harlem, where she was in charge of the Harlem library system. She played piano until a young Bruce took it apart to see how it worked.
"The connection I had with Bobby was telepathic, and when I use that word, I mean it." —Bruce Langhorne on recording
with Bob Dylan

Both parents were light-skinned African-Americans, and young Langhorne got into fights for looking too white, too black, or too Puerto Rican. He attended the prestigious Horace Mann Prep School in New York until he was expelled. He has claimed that he was in gangs and stabbed someone as a teenager, requiring him to escape to Mexico for two years.
At 12 he was a budding violin prodigy, but a concert hall career was not to be. When Langhorne lit the fuse on a homemade rocket, he hadn't calculated how fast the powdered magnesium propellant would burn, and the rocket exploded. His mother raced to Bruce's room to discover that her son had blown off a significant portion of his right hand. Apparently his first words were, "Well, at least I won't have to play that stupid violin any more."
Langhorne didn't start playing guitar until he was 17, when he performed alongside a caricaturist in Provincetown, Massachusetts, who would sketch those who stopped to listen. Having lost most of his right hand's thumb, index, and middle fingers, he basically picked the strings with two fingers and the nub of a third. "I had to rely on communication and empathy," he said. "Which is why I really liked working with Bob Dylan."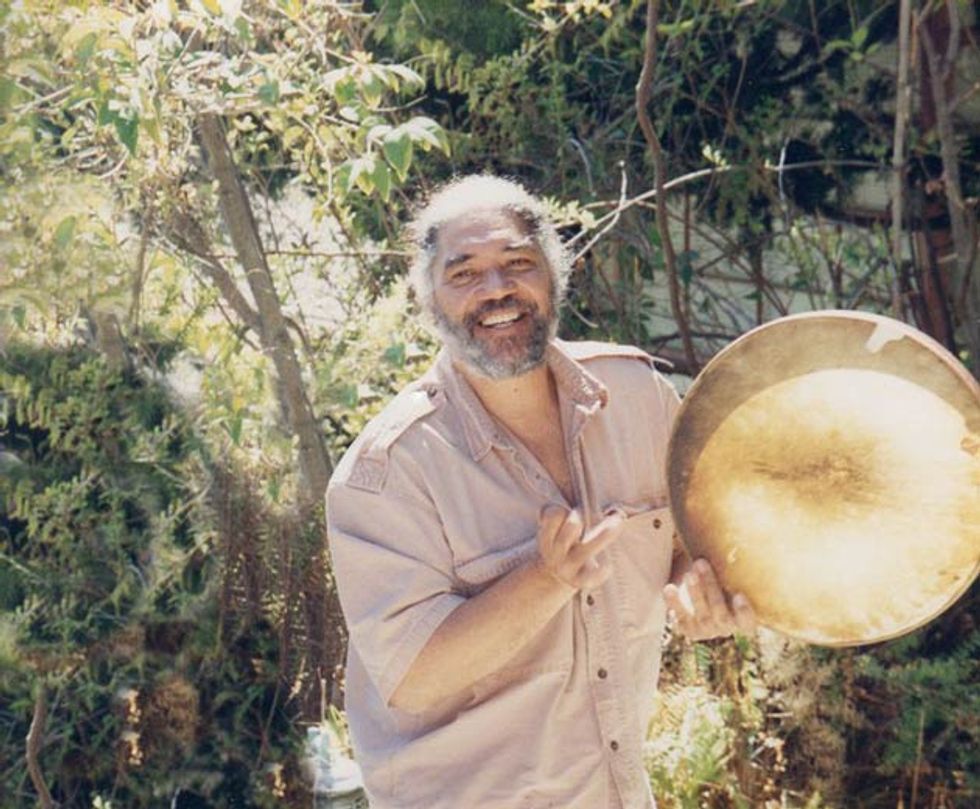 According to Bob Dylan, Langhorne and his oversized tambourine inspired the name "Mr. Tambourine Man."
The Seeds of Folk-Rock
It was in the burgeoning Greenwich Village folk scene that he eventually met the songwriting legend. Langhorne began as an accompanist to folksinger Brother John Sellers, then working as an emcee at the original Gerde's Folk City on Mercer Street. That gig allowed Langhorne to sit in with numerous Village musicians and eventually led to work as a live accompanist and in the studio.
An early recording session was for Carolyn Hester's first Columbia album in 1961. According to David Hajdu's book Positively 4th Street: The Lives and Times of Joan Baez, Bob Dylan, Mimi Baez Fariña, and Richard Fariña, Hester and her producer decided to add a second guitarist and chose Langhorne, who had become a "one-man house band" at Folk City. That session also saw a pre-fame Bob Dylan on harmonica. Other sessions included dates for the Clancy Brothers and Chad Mitchell Trio.
Langhorne's first impression of Dylan was less than stellar. "I thought he was a terrible singer and a complete fake, and I thought he didn't play harmonica that well," he says in Hajdu's book. "I didn't really start to appreciate Bobby as something unique until he started writing."
Dylan's masterful writing was in full force on 1963's The Freewheelin' Bob Dylan, but the only tune featuring Langhorne's playing is a cover of the traditional "Corrina, Corrina." Around the same time he contributed electric guitar (though mixed so far in the background it sounds acoustic) to an obscure Dylan single, "Mixed Up Confusion," which was barely distributed.