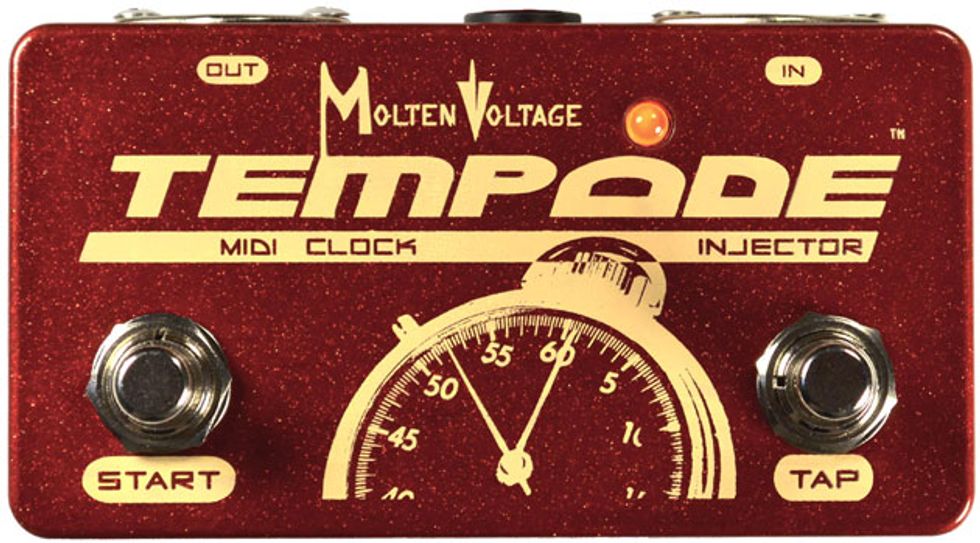 Cascade Range, OR (May 29, 2014) -- The recent eruption of guitar effects that sync to MIDI Clock has yielded over 50 pedals from 20 different manufacturers, including Strymon, TC, Zvex, Source Audio, Eventide, and MOOG.
Tempode, Molten Voltage's sparkly new MIDI Clock Generator let you harness the potential of these pedals by syncing them all to one clock, one compact device.
Gone are the days of tap dancing on different effects, or worse, becoming a knob goblin on stage! Finally, every delay, tremolo, phaser, flanger, and filter in perfect time! Tempode
Tempode is Clock-Solid. Its only goal in life is to sync, so musicians can swim. Using a dedicated device eliminates the problems inherent in jittery laptop clocks. Updating over 25,000 times a second, ensures Tempode's unparalleled accuracy.
Tempode not only works as a stand-alone pedal, but is designed to enhance clockless MIDI controllers like Rocktron's MIDI Raider, VooDoo Lab's Ground Control, GigRig's G2, and any others. Tempode allows a tapped tempo, and stores the tempo for each MIDI preset.
Tempode is shipping now. MSRP $175, $140 Street.
Watch the company's video demo:

For more information:
Molten Voltage