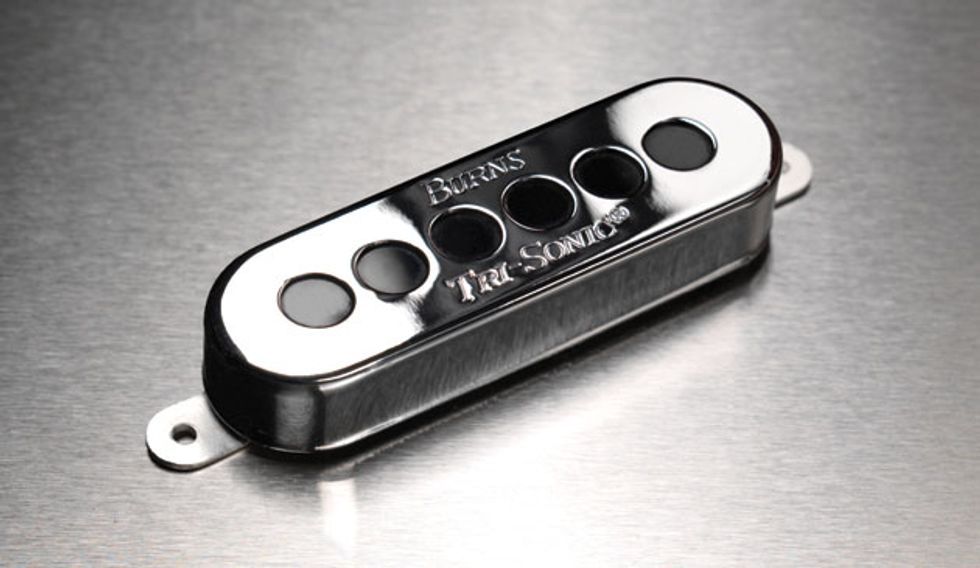 Burns Tri-Sonic
There's a fine line between gimmick and innovation, and James Ormston Burns was often on the border. Ormston Burns Ltd. started guitar production in 1960 with the Tri-Sonic- equipped Vibra-Artist model. He continued producing guitars, many quite futuristic-looking, throughout the decade.
Burns on YouTube
Cliff Richard & The Shadows Live from Belgium. The Shadows play Tri-Sonic-equipped Burns through their Vox AC30s. Check out lead guitarist Hank Marvin on "Sleepwalk" at 34:00.
1963 was a busy year at the newly opened Burns showroom in London's St. Giles Circus. Burns refinished John Lennon's honey-colored Rickenbacker 325, making it black and adding Burns knobs. (The Beatles' George Harrison can be seen playing a Burns Nu-Sonic Bass during 1966's "Paperback Writer" and "Rain" sessions. Not having a right-handed bass, the band rented the instrument for the sessions.)
Burns on YouTube
Cliff Richards, "On the Beach"
Also in 1963, Brian May and his dad built the iconic Red Special, the guitar May would eventually play with Queen. After an unsuccessful attempt to make his own pickup, May purchased three Tri-Sonic pickups for his homemade guitar from a rather skeptical Burns sales clerk.
Burns on YouTube
The Searchers, "When I Get Home"
That same year the company launched their Split Sound pickups. These incorporated separate coils for the pole pieces of the upper and lower strings, allowing independent bass/treble adjustment. They also struck a deal with Ampeg to export Ampeg-branded, Burns-made guitars to the States. However, shipping costs made the guitars pricey, and the agreement ended by 1965. That was the year Baldwin took over Burns, leading to a reduction in quality and the brand's 1970 demise.
Burns's marketing was as unique as their pickups. In one 1964 promotion, 70 Burns guitars were given away to breakfast-munching rockers who responded to a contest posted on Kellogg's Rice Krispies boxes.
Burns on YouTube
Queen "Somebody to Love" Official Video. Check out Brian May's solo at 2:10.
Burns Guitars is currently run by one of James Ormston Burns' biggest fans, Barry Gibson. He formed Burns London Ltd. to revive the brand's former glory. He's particularly enthusiastic about Tri-Sonic pickups, which appear on many current Burns models. According to Barry Gibson, "The most unique feature of the Tri-Sonic, and the reason for its name, is that it picks up sound from three points: the top and both sides." This means that the pickup "hears" a longer-than-usual length of string. The result, claims Gibson, is a uniquely "big, round sound." We don't know whether this was a design feature or an unintended byproduct, but if it was an accident, it was certainly a happy one.
Burns on YouTube
Queen "We Will Rock You." Guitar enters around 1:30.
One reason Tri-Sonics remain "sleepers" today is because of their size. You can't install one in a Strat, for example, without enlarging the pickup rout. That's why Barry Gibson and his company have created the Tri-Sonic Mini, which they say offers the original sound in a Strat-sized footprint. Burns has been making Minis in small production runs for several years, and they're currently gearing up for heavier production in hopes of "waking up" this sleeper.