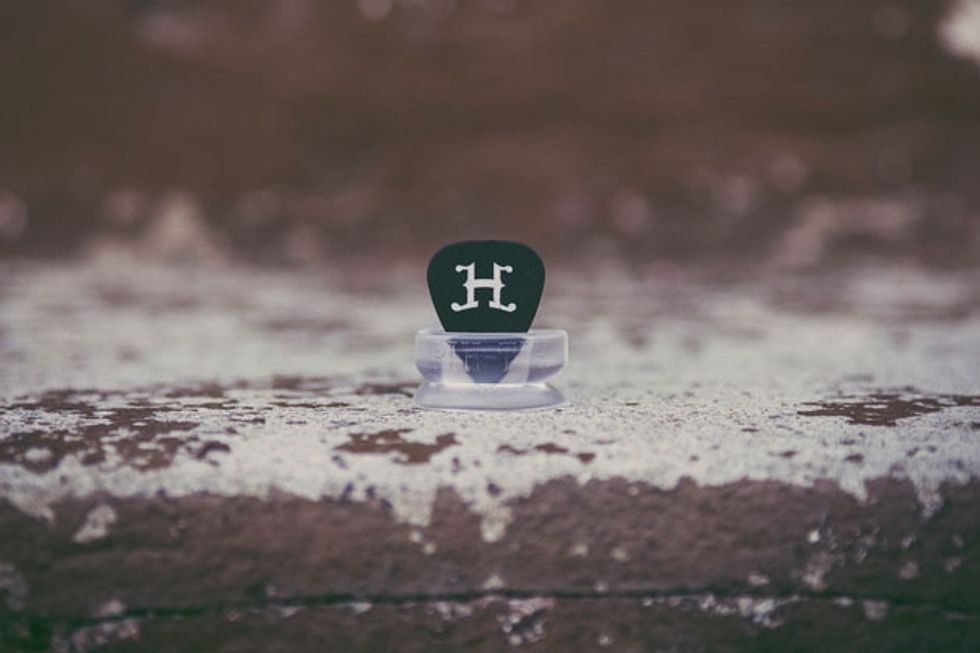 Wyoming (July 25, 2014) -- Hogjim's Pik Tik is a patented pick holder that allows a guitarist to seamlessly transition from strumming to fingerpicking, tapping or any other type of pickless play. The Pik Tik adheres to the guitar pick guard by suction, allowing a pick to be held perpendicular to the guitar's surface.
Whether you insert the pick one millimeter or the full five millimeters, it will remain secure. The Pik Tik can be removed after playing or remain on the guitar as a pick holder; either way it will not damage the surface. With the ability to improve a guitarist's skill set, the Pik Tik is both practical and functional. It offers a quick and easy way to master the technique of transitioning from finger-style to flat-picking. This skill, which previously took years to master, can now be learned in a matter of days. Phil O'Keefe, senior editor at Harmony Central, wrote in a review: "It does what Hogjim says it will, and it does it very well."
Hogjim founder, Kyle Koster stated, "We are truly excited that we've been able to bring this product to market and are confident it will improve the play of many guitarists. Although music accessory innovation is our main goal, we believe that having a vision larger than the dollar sign is more important. Hogjim means music in Mongolian. That's where the idea for the company was founded and also where we plan to send a portion of our profits."
Hogjim also offers a guitar strap with a quick connect system and has more innovative products in the development process.
For more information:
Hogjim