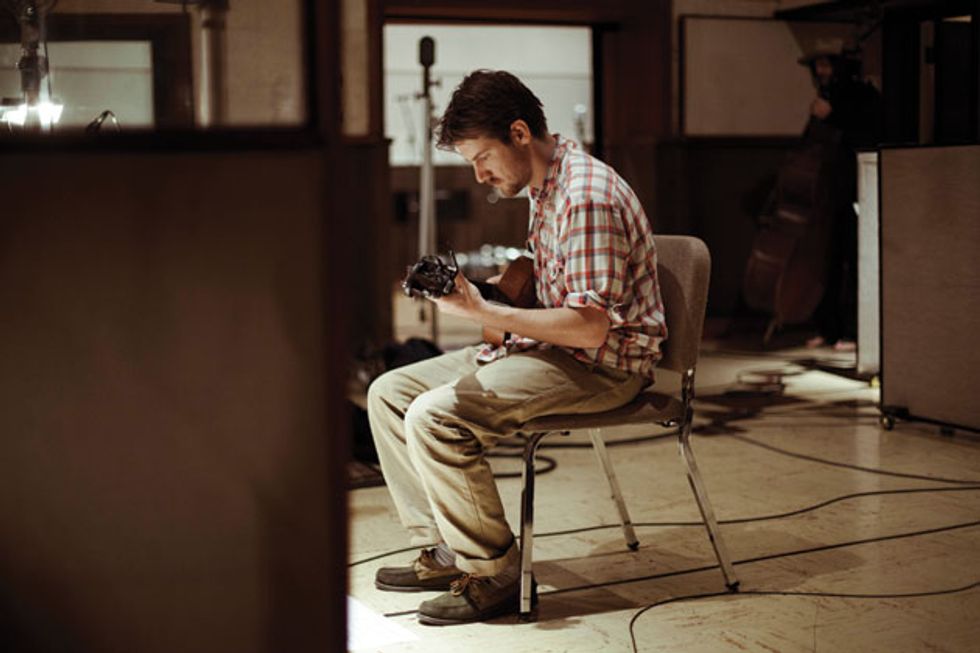 Blake Mills is comfortable being a man-of-all-trades: sideman, guitar player, producer, singer-songwriter.
If you haven't yet heard of Blake Mills, the odds are strong he'll make your playlist before the year is out. A founding member of the Malibu rock band Simon Dawes, Mills released his brooding solo debut Break Mirrors in 2010. He's been in demand ever since as one of L.A.'s most inventive and versatile backing guitarists—in the studio and on the road with such heavyweights as ZZ Top's Billy Gibbons, Lucinda Williams, Beck, Fiona Apple, Jenny Lewis, Norah Jones, Kid Rock, Band of Horses, Danger Mouse, and many more. Barely 28, he's also turning heads as a singer-songwriter and producer (Alabama Shakes have him onboard for their next album) with a quirky, romantic flair for rootsy influences from all over the map.
Put simply, Mills is a musician's musician with riffs, licks, slides, and fingerpicking tricks galore. In early 2012, he caught the attention of none other than Eric Clapton, who heard Mills' slide work on a cover of the Beach Boys' "God Only Knows" and called Derek Trucks, thinking Trucks was the guitar slinger in question. That in turn prompted an invite to the 2013 edition of Clapton's Crossroads Guitar Festival, which Mills gleefully accepted just as he was starting to write songs for his latest studio outing, Heigh Ho.
As its title suggests (in the key of Disney, to be sure), a lot of work went into crafting the new album. "I was after a sound that I don't really get to hear on a lot of records made today, at least by people my age," Mills says thoughtfully. "There's a tendency to get fucked-up, lo-fi sounds—and that's great, and I love that, and some of my favorite records sound that way—but I think there's a real mystery now to sonic depth in recording. It's like the depth of field in an impressionist painting that's meant to look realistic. There's a parallel for that in recording, and it's about making a sonic experience that will transport the listener into the room, with what's going on, and into a different environment."
Largely tracked in Studio B at Hollywood's fabled Ocean Way Studios, Heigh Ho channels an after-hours, introspective, and distinctly California folk-inspired palette of emotions. (Mills even parked by the beach late at night to cut some of the lead vocal tracks with a laptop setup in his car.) Mills stretches out with equal abandon on electric and acoustic guitars, including a legendary '52 blackguard Telecaster owned by Jackson Browne, as well as a tiny century-old, gut-string acoustic that weaves through half the album. Fittingly, he plugs into a fleet of exotic amplifiers and cabinets, most of them custom-built by local amp tech and electronics whiz Austen Hooks, who also designed Mills' stage rig for his current tour [see diagram].
But what really makes Heigh Ho the complete package is the band—specifically, the core trio of Mills, Don Was on bass (Mike Elizondo grabbed the bass on two songs), and veteran session ace Jim Keltner on drums.
I think there's a real mystery now to sonic depth in recording.
It's like the depth of field in an impressionist painting that's
meant to look realistic.

"We always tracked live as a trio," Mills explains. "We'd set up and I'd play through the tune for them, and then we'd just start doing takes. I wanted the basic tracks, those live performances, to have a lot of space in them, so sometimes we would whittle down and simplify, but there weren't a lot of 'parts' to begin with. This is a performance space record, and the spirit of the performances is definitely influenced by economy, I think. We did what we all felt was appropriate for the song, but other than that, there was a pretty high ceiling as far as what was allowed."
Heigh Ho brims with a lush, wide-open sound that in some instances recalls touchstones like Jackson Browne's For Everyman, George Harrison's Living in the Material World, or even Led Zeppelin's Houses of the Holy. From the sparse, vintage Magnatone vibrato figure of the lead-off single "If I'm Unworthy," to the infectiously tuneful shuffle and flawless picking of "Don't Tell Our Friends About Me" (with Fiona Apple taking a riveting guest turn on harmony vocals), to the beautifully string-washed "Half Asleep," it's every bit the rich sonic experience that Mills sought to capture.
I first caught you in a YouTube clip playing Lucinda Williams' "I Just Wanted to See You So Bad," and you struck me as a player who wasn't enamored of the spotlight, but the spotlight would find you eventually.
[Laughs.] It's been an interesting last few years. Things have really started to pick up around my songwriting and making solo records, and producing and session work. But I feel like it's all fed by just being a guitar player and a musician. When I first started playing guitar, it was because I was watching way too much MTV and was completely obsessed with Kurt Cobain. But at some point within the first year or two of learning how to play Nirvana songs, it kind of clicked over into something else.
Around that time, I heard Bob Brozman play guitar. I think my dad took me to see him at McCabe's guitar shop in Los Angeles. Bob was always kind of a purist in terms of the acoustic-ness of the resonators he played, and after that show, I was completely hooked on these influences that came from world music and acoustic music. There was a part of me that still really loved Nirvana and Soundgarden and Metallica, and then at the same time, this other part of me couldn't get enough of [sarod master] Ali Akbar Khan or Djeli Moussa Diawara—the kora player that Bob made a record with.
It wasn't until quite a while later that I just accepted it was okay to like both things, you know? I didn't have to make a decision about who I was, or what kind of musician I was. I think it took a load off my back, because I don't really feel like today I have any more responsibility to make a decision as to whether I'm a guitar player or a producer or a singer-songwriter. I can just allow myself to be all these different sides of the same coin.