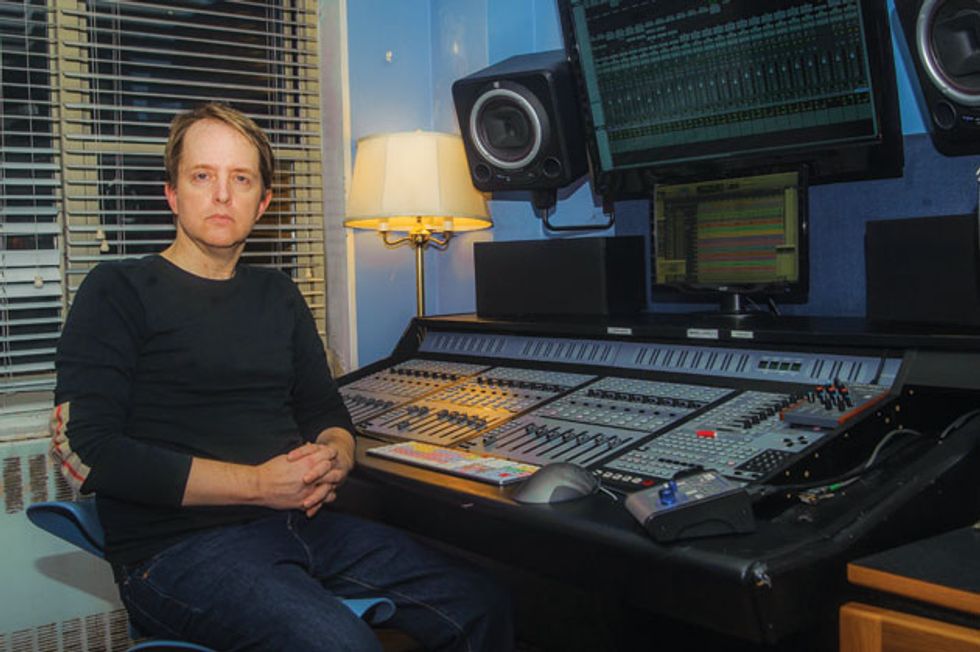 Legendary recording engineer John Siket works out of his Manhattan home studio. Photo by Annie Atlasman
John Siket's musical footprint is massive. As a producer and engineer, his resume reads like a who's who of cool, influential, and creative musicians. Bands as disparate as Sonic Youth, Phish, Dave Matthews Band, moe., and Helmet have recorded with him. He's worked with legendary producers like Butch Vig (Nirvana, Sonic Youth, Helmet, Garbage) and Steve Lillywhite (U2, Peter Gabriel, the Rolling Stones). And he may be the only producer/engineer to have an album named after him (Phish's The Siket Disc).
Siket's first serious gig was a summer internship in the mid 1980s at Bearsville Studios in upstate New York. "I was relegated to the shop," he said. "I got to solder miles and miles of cable. But it was fun. I was in the studio, technically." After a short stint substitute teaching and painting houses, Siket landed a job at Water Music in Hoboken, New Jersey, in 1988. "I think they hired me because I knew how to solder really well," he said. "I didn't care. I was in a studio and I just had that fever." He worked his way up the ranks, from assistant to house engineer, and cut his teeth recording acts like Yo La Tango, Freedy Johnston, and Fountains of Wayne.
But New York City was calling. "Engineers came over from New York and displayed cool studio wizardry that we knew nothing about," he said. "I decided that I needed to see that firsthand." He got a job as assistant engineer at midtown's Sound on Sound in 1992. It was a commercial studio— elite, state-of-the-art, high-pressure, and corporate—that recorded jingles and worked with New York's first-call session players, arrangers, and producers.
Siket made it his business to be at work when Butch Vig came to check out Sound on Sound for Sonic Youth. "At that point, Butch was the hottest producer in the country," Siket recalls. Vig had just produced Nirvana's Nevermind. "I told him, 'We're the greatest. You have to record here.'" Siket worked those sessions with Vig (for Sonic Youth's Dirty) and continued to work with him on Freedy Johnston's critically acclaimed This Perfect World, Sonic Youth's Experimental Jet Set, Trash and No Star; Helmet's Betty; and many others.
"If the drummer was dragging, we could somehow take the late snare drums and pull them up into time, just from taking out minute slivers in the tape."

That was just the beginning. Siket went on to build a diverse and extensive discography doing sessions with Steve Lillywhite, Phish, moe., and a small army of festival headliners, and also started teaching at New York's School of Audio Engineering. He's still at it. "One thing I always dreaded was waking up and seeing a recording console," he says, referring to the small studio that currently doubles as his Manhattan apartment. "I spend 12-14 hours a day looking at one now, anyway. I see it all day long."
Premier Guitar spoke with Siket about working with great producers, Phish's unorthodox approach to the studio, the death of tape, the pros and cons of digital recording, capturing great guitar tones, and window-shopping with Thurston Moore.
You're sometimes credited as either the engineer, mixer, or producer. How do you define those different responsibilities?
An engineer is the guy who gets the sounds. He or she sets up and chooses microphones, employs equalization, compression, delay and reverb—and basically does the recording. The mixer balances the final recording to two tracks, consolidates all the tracks, whether it's 4-track, 8-track, 16-track, 24-track, 48-track—or now in the digital age, unlimited, ad nauseam tracks—to a stereo file or an analog 2-track. The producer is responsible for how a record comes out. He or she hires the engineer, decides to work with a band or gets hired by a band, and chooses the songs. How involved producers are varies. Sometimes they cowrite and change a lot of stuff. Sometimes they don't. They hopefully coax a great performance. They choose the takes. They can be hands-on in the mixing. I've had producers push me aside, grab the EQ, and say, "No, no, no. Do it like this." Others don't touch the console, they are there just as an objective ear. Producers are also responsible for keeping it on budget, perhaps hiring session musicians, choosing the studio, and they are the liaison with the record company. But basically, the producer is responsible for how the record turns out.
Let's talk about some of the different producers you worked with. What are some things you learned from working with Butch Vig?
I knew how to edit tape, but he showed me tape editing on a whole other level. If the drummer was dragging, we could somehow take the late snare drums and pull them up into time, just from taking out minute slivers in the tape.
Manually, with a razor blade?
Yeah, but you had to be late. If you were early we couldn't do anything about it because you can always take time out, but you can't put anything in [laughs]. I learned a lot from Rob Grenoble [from Water Music in Hoboken] about the importance of finding the right tempo. I learned a lot about editing from Rob, too. But Butch took editing—and especially fixing things in post-production—to another level. Like tuning vocals with the Eventide Harmonizer. We didn't have Auto-Tune back then. We would use the Eventide Harmonizer, bounce vocals through it, sharpen or flatten them to get them into tune, and reference them to a Peterson Strobe Tuner. We had to figure out how to set the harmonizer, how many cents flat or sharp, in order to get it into tune. And that was real grueling, laborious, syllable-by-syllable work—depending on how heavy it had to be—but at the end you could transform a performance pitch-wise. It sounded really good, but it took a while.
I really absorbed editing and I got so good at it. I took that skill with me and used it until we weren't using tape anymore. But I apply some aspects to how we do it now. It wasn't just the skill of editing, it was the art of editing. For example, I did a record two weeks ago and listening down I liked all the verses from one take and the rest of the song from another take. I didn't have to do a test edit—it was just that sense of tempo—I made the edit and the band was flabbergasted. I was 95 percent sure it was going to work.