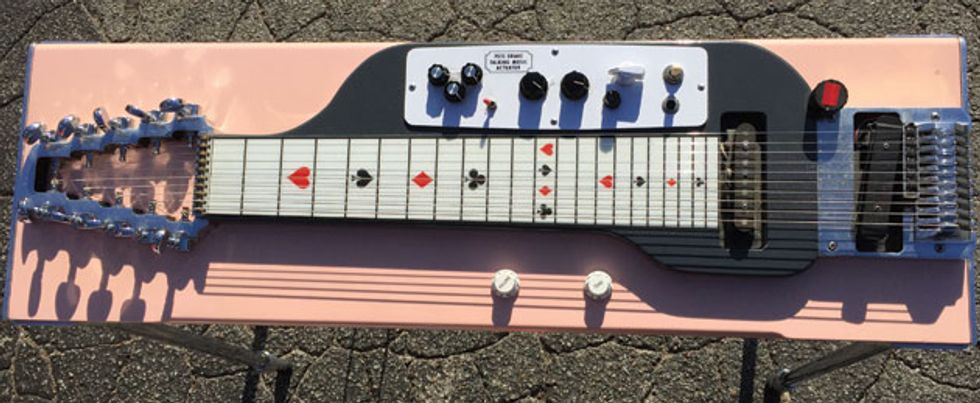 Sonic innovator Russ Pahl plays a custom single-10 rigged with onboard effects and Strat- and Tele-style pickups.
The Steels of Progress
While there are many pedal steel heroes, when it comes to advancing the art, Buddy Emmons stands out. In addition to his mechanical innovations, Emmons expanded the instrument's harmonic boundaries by venturing into more modern jazz, notably on the two-volume Redneck Jazz Explosion with guitar wizard Danny Gatton. During his time in California, Emmons pioneered the use of pedal steel in modern pop on discs by Nancy Sinatra, Carol Channing, the Carpenters, Judy Collins, and Henry Mancini.
The California country boom of the '70s produced such great players as Dan Dugmore ("Blue Bayou") and "Sneaky" Pete Kleinow, who helped form the Flying Burrito Brothers and experimented with fuzz and tape echo. Kleinow's sonic explorations influenced other California steelers, including Jerry Garcia, Al Perkins, and Buddy Cage of the New Riders of the Purple Sage.
In 1972, "It's So Nice to Be with You" by a pop band named Gallery was an AM radio hit. It featured a pedal steel prodigy named Paul Franklin. On an instrument that takes many until middle age to master, Franklin was accompanying pros around Detroit by age 9, and at 16 was touring with another fine pedal steel player: country star Barbara Mandrell.
Franklin's rapid progress was aided by his father, who built his instruments. Through the years, father and son created new versions of this classic instrument. Featured on Randy Travis' "Forever and Ever, Amen," the Pedabro offers a Dobro sound with the advantage of pedals, and their baritone model is tuned an octave lower than a traditional pedal steel.
Through his technical tinkering, creativity, and prodigious technique, Franklin has inherited Emmons' mantle as the preeminent pedal steel player. He has added his genius to the music of such traditionalists as Jerry Reed, Dottie West, Lynn Anderson, Donna Fargo, and Mel Tillis, as well as pop and rock artists like Dire Straits, Sting, Megadeth, Barbra Streisand, and Peter Frampton.
The pedal steel is an instrument of infinite potential, only a fraction of which has been tapped.

Steel Wheel
The 6-string guitar, once a poor relation in jazz, went on to usurp the saxophone during the fusion era. Dance music drove pop guitar to the background again, while alt-rock seems to be bringing it back. Similarly, the pedal steel has cycled around its own wheel of fortune.
"When I moved to Nashville, pedal steel was hardly being used," says session ace Bruce Bouton. "It was largely 'countrypolitan' then—mostly watered-down pop. Sonny Garrish was doing much of the pedal steel on records. He had a chorus pedal and he would just double the keyboard or add little parts, as opposed to solos."
Fortunately, Bouton arrived just in time for a shift. "In the late '70s Ricky Skaggs came along, and I was lucky enough to get the gig in his band," he relates. "He led the charge of the New Traditionalists. You started to hear more real pedal steel on the radio, not just as a pad or color." Other New Traditionalists featuring pedal steel included Bouton employers Kathy Mattea and Foster & Lloyd. There was even room for the instrument on the country-pop records Bouton cut with Reba McEntire, Brooks & Dunn, and Garth Brooks.
The pedal steel began to have a new attitude. "You had younger players who grew up with a rock sensibility, but appreciated the old style," Bouton explains. "Guys like Buddy Emmons, Lloyd Green, Pete Drake, and Weldon Myrick came out of the Jerry Byrd and Herb Remington Western-swing era. The next generation started with Sonny Garrish, who used some effects. I came along with a Beatles approach—I knew about the Beatles before I knew about Merle Haggard."
The New Millennium saw pedal steel recede into the background once more as country music became, in the words of one wag, "bad '80s rock with a fiddle." You might see a pedal steel onstage, but the player would contribute more guitar or "ganjo" (a 6-string banjo) than steel, and you wouldn't hear a solo. At the same time, the pedal steel began appearing more frequently outside country, on record or onstage with My Morning Jacket, Bill Frisell, and the Kings of Leon. British steel player B.J. Cole, whose pop pedigree goes back to Elton John's Tumbleweed Connection, began appearing on records by Blur's Graham Coxon and Björk and on his own electronica-based excursions. Daniel Lanois offered up his unique take on the instrument, both solo and when producing other artists. Bouton himself added beautiful non-idiomatic colors to Maxwell's cover of Kate Bush's "This Woman's Work."
Future Steel
In the last five years, the pedal steel has once again rotated into the Nashville country lineup, thanks largely to one man. Russ Pahl has been in Nashville for 30 years, playing traditional pedal steel with the likes of Vince Gill and Patty Loveless. But over the past decade he has been developing a unique sound and language on the instrument, aided by winding his own pickups and building in effects. This forward-thinking attitude helped him become the pedal steel guitarist who played on the most No. 1 country records in 2014.
"Ten or 15 years ago I decided I could not beat guys like Paul Franklin—he is the best at what he does," says Pahl. "I needed to find something I was the best at. I realized guitar players don't sound like Charlie Christian today because they've been changing their sound for the last 50 years. Pedal steel guitar hasn't changed sonically since 1975—they still use the same big pickups through clean amps. I use a two-pickup guitar built by Sho-Pro with a Strat-style neck pickup and a Tele-style bridge pickup in the same position along the scale as a guitar. I treat pedal steel more like an electric guitar—more of a texture thing. I use tube saturation with lower-output pickups. That gives the distortion a more pleasing sound. It lets guitar pedals work like they were designed to work."
Sometimes Pahl treats the pedal steel as a kind of synthesizer. "You're starting with essentially a sine wave," he notes. "Then, if you run it through a Fuzz Face, you get a sawtooth wave. I use a wah pedal like a filter. When I run the neck pickup with the tone rolled off through the automatic swell setting on the Strymon Mobius and a pitch/vibrato I built, it sounds just like a Mellotron."
This willingness to experiment and seek out new sounds has endeared Pahl to Nashville artists on both ends of the country spectrum, from the "bro-country" of Florida Georgia Line, Luke Bryan, and Jason Aldean, to alt-darlings Kacey Musgraves and Nikki Lane. He has also become the go-to guy for Dan Auerbach's productions, playing on records by Lana Del Rey and Ray LaMontagne.
The pedal steel is an instrument of infinite potential, only a fraction of which has been tapped. There are glimmers of hope: Pahl, Susan Alcorn (who uses it in a free improvisation context), and Fats Kaplin, who is part of Jack White's latest aggregation. Still, for the most part, pedal steel players remain more conservative than their 6-string counterparts.
"Don't get me wrong, there are amazing players around, but they look at my guitar and go, 'Why would you do that?'" says the 60-year-old Pahl. "Well, why wouldn't you? Look at what guitar players have done. My biggest influence on pedal steel has been Jeff Beck. The steel guitar is waiting for some young kid to come along and be its Jimi Hendrix."
Special thanks to Carter Vintage Guitars for access to their Franklin S-12.