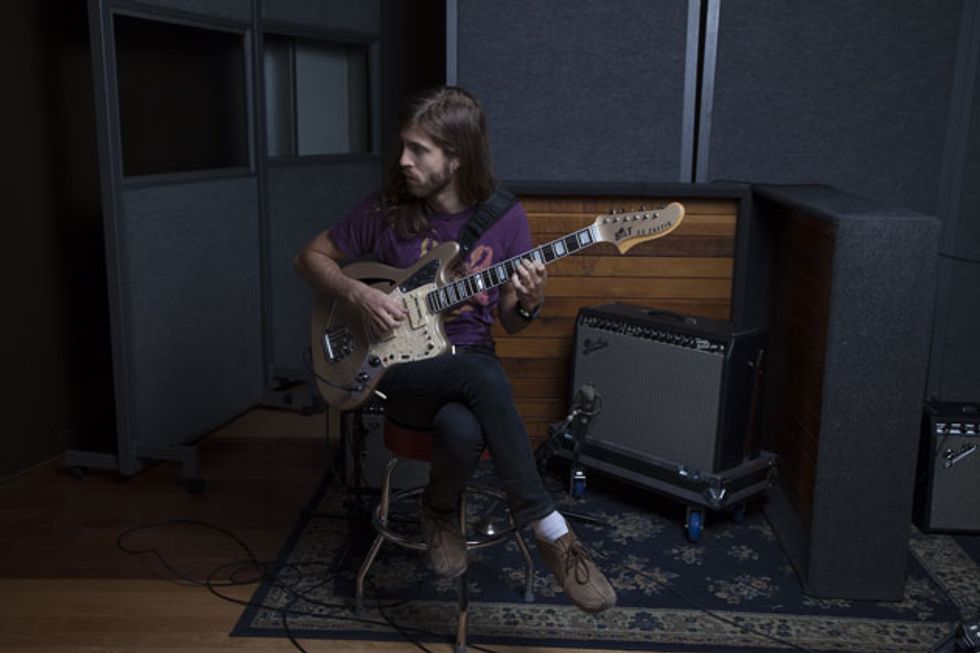 Sermon has developed an affinity for Bilt Guitars' offset, effect-laden wares. "Instead of finding ways to say no to things, they find ways to say yes," says Sermon. Photo by Nick Walker
Growing up in Salt Lake City, Wayne Sermon was surrounded and entranced by music of a different time. While his millennial friends consumed the hits of the day, Sermon dug deep into his dad's record collection and became enamored with the classic rock hits of yesteryear. "He had a pretty awesome vinyl collection and a really nice tube amplifier, like audiophile quality," remembers Sermon. "When I was 6 or 7, I'd grab a tennis racket, put on a Boston record, and mimic one of Tom Scholz's amazing guitar solos. That was my introduction to guitar—to music, really."
Once Sermon got a taste of huge hooks and intensely melodic solos, he began exploring the music of über-shredders Joe Satriani and Steve Vai. "I'd buy all of the notation books and learn a lot of the shredders solos," he says. "I could do note-for-note Satriani solos from Surfing with the Alien when I was 19, but there's no chance I could do that now."
After graduating from Berklee College of Music, Sermon moved back to Utah and met up with singer Dan Reynolds. Soon after, Reynolds invited Sermon to move to Las Vegas to form a band that evolved into Imagine Dragons. Now seven years in, that quartet has become one of the few acts in recent memory to combine guitar-fueled dance-rock with a Top 40-level of success. In 2012, Imagine Dragons released Night Visions, a hook-filled call to action that spawned the insanely successful single "Radioactive" and led to a globe-crossing tour.
While on the road, the band began writing songs for their latest album, Smoke + Mirrors. "This album was done on tour buses, hotel rooms, and green rooms across the world," says Sermon. The resulting songs cover everything from trippy EDM-style grooves with huge anthemic choruses to the stomping percussiveness that is a cornerstone of their live shows. PG spoke with Sermon about his shred-guitar phase, his live rig, and how studying jazz has influenced his musical development.
I'm intrigued by how you sneak guitar parts into songs on the new album. In some ways, you use effects to mask the natural sound of the guitar.
I think there are a lot of sounds on the record that you probably wouldn't identify as guitar. As a whole, there are a lot more guitars on this record—which I'm pretty excited about—than our last record [Night Visions] because of the way it was written. I have a little Apogee Duet, and I'd use Guitar Rig or something to craft these really simple ideas and then send them to Dan [Reynolds]. Once he sang over them and added some other instrumentation, they became songs like "Shots," "It Comes Back to You," and "I'm So Sorry." There were a handful of songs that started with a very simple guitar part and that hasn't been something we've done in the past, so it's kind of exciting.
"I feel like I succeed in some ways on this record, because on a few of the tracks there are only one or two guitar parts."

So the idea of a melody really hit you more than some flashy riff.
For sure, yes. I figure, if you can't really sing along to it … don't get me wrong, I went through a phase where I learned Joe Satriani and Steve Vai stuff, but that was more of a phase. For me, it all comes down to a strong melody. I think that's not only true for the main melodies of what I'm singing, but also my guitar playing. I don't really play anything that you can't sing back. That has been my rule as a guitar player. I'm probably a worse guitar player, technically, than I have been in the past, but I feel like I'm getting a little tighter with time and rhythm. Hopefully, my choices are a little better and I'm a little more tasteful as I get older. I understand what I want to hear and what other people want to hear.
Was that phase important?
Yeah, for sure. It comes back to my time in college. I had a huge jazz phase as well, where everything was about jazz for four years when I went to Berklee. It's almost like you learn these things so you can then forget about them. There's something about acquiring the skills and then being able to let them go.
It must have opened your mind at a young age to the vast amount of musical possibilities.
Definitely. There are players who can play leaps and bounds over what I'll ever be able to play. There's a place for all different kinds of musicians. In Imagine Dragons, I found that sometimes what resonates most with people is simpler or more melodic.
I hear the influence of guitarists who were more about a sound than a riff. When did more textural players, like The Edge and Andy Summers, catch your ear?
It was ingrained in me as a kid. Before I listened to jazz or any shredder stuff, I listened to classic rock from the '60s, '70s, and '80s. For me, it all comes down to that. George Harrison, Eric Clapton, Jimi Hendrix—all the classics. The Edge is incredible. He has such a defined sound and I think that influenced a lot of guitar players. At the end of the day, it's about serving the songs. As I grow older, it's something I think about more and more.
For this album you apparently had a ton of demos. What happens once you present a demo to the band?
Some bands can go into the studio and write 10 songs that are all incredible, and that's just a lucky gift they have. But when you write 100 or 150 songs for an album cycle, there's not a lot of pressure on any single song, so you can write a lot more freely. The kind of output we have reduces those feelings of self-doubt when you write.
After such a huge debut album, did the band feel the pressure of trying to write a follow-up on the road?
We knew we didn't want to come to the studio with nothing. There are bands that come into the studio with no ideas, and they write together and that works for them. We knew that wouldn't work for us. We have to have a starting place—we don't like to go into the studio with a blank canvas. We like to have etchings and sketches of ideas to work on.
Once you begin tracking, does the process of crafting individual parts become more collaborative?
For Night Visions, there were moments of collaboration with all four of us in the room, but not nearly as many as on this album. On the first album, I cut a lot of my guitar parts alone and then brought in the band to pick them apart, talk about the sounds, and maybe improve on some parts. Somehow I felt a little more self-conscious or, for some reason, more unwilling to collaborate in a face-to-face way. I needed isolation or seclusion to write.
But on Smoke + Mirrors, most of what I wrote was with everyone in the room. We were bouncing ideas off of each other and that made the parts better. If I'd been alone in the studio, there are things that just wouldn't have happened. For me, it has been cool to have everyone else's input. You learn how to swallow your ego a little bit and listen to other ideas.