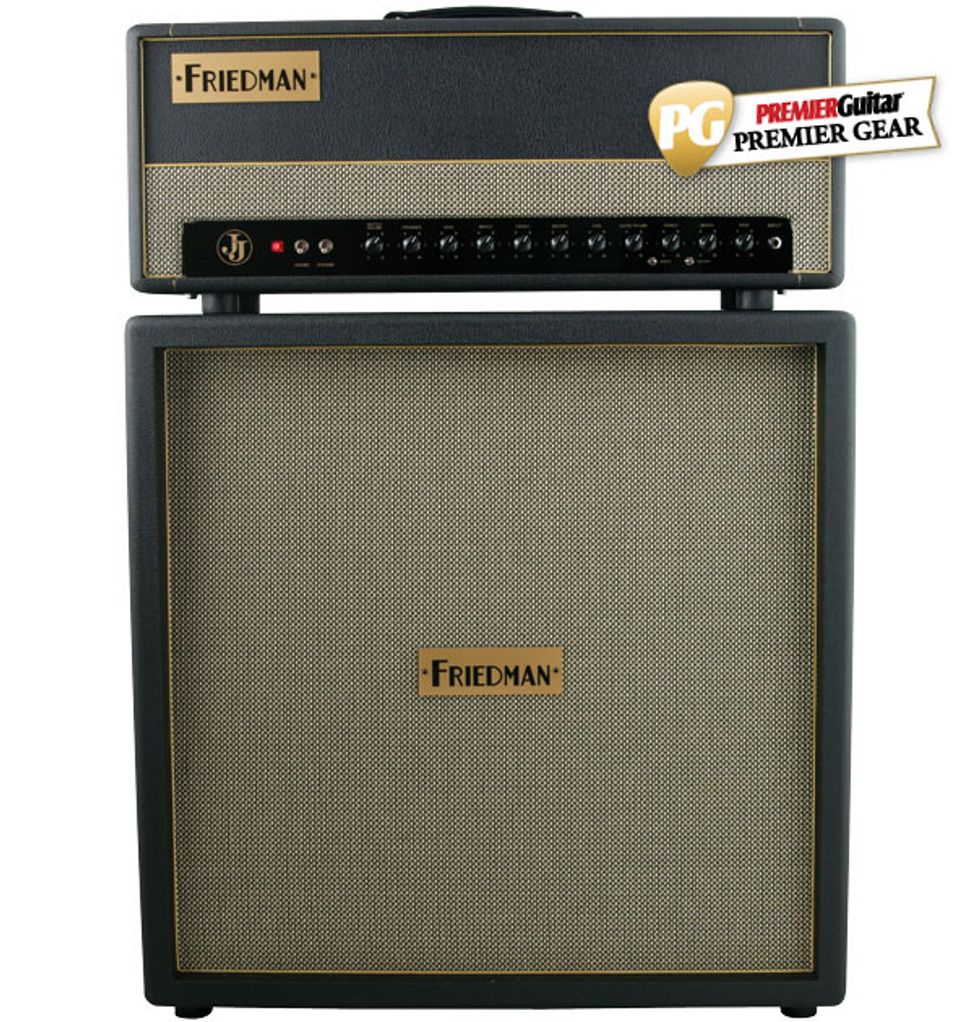 Friedman Double J Jerry Cantrell
Key Features
Tubes: Four EL34 power tubes, four 12AX7 preamp tubes.
Output: 100 watts.
Channels: Clean and dirty.
Controls: Dedicated 3-band EQ and controls for preamp gain and channel volume on each channel, 3-way brightness switch for clean channel, presence and JBE Brown Eye mode switch for dirty channel, global master volume control.
Additional Features: Tube-driven serial effects loop, line out jack with level adjustment, two speaker outputs with 4-, 8-, and 16-ohm options.
The Double J amplifier is the result of a partnership between Alice in Chains guitarist Jerry Cantrell and boutique amp engineer/Rack Systems founder David Friedman. Cantrell was one of the first artists to join Friedman's roster of endorsees, using some of the earliest versions of the Brown Eye head for touring in support of 2009's Black Gives Way to Blue, as well as for 2012's The Devil Put Dinosaurs Here.
Cantrell has never been one for complicated rigs, and the Double J's straightforward design reflects that mindset. The 100-watt power section is fueled by a quartet of EL34s, and sitting at the heart of the amp's dual-channel preamp section are four 12AX7 preamp tubes. The amp is voiced for Friedman's Vintage 4x12 16-ohm cabinet that's loaded with two Celestion G12M Greenbacks on top and two Celestion Vintage 30s on the bottom for stronger projection.
Ratings
Pros:
Highly responsive and easy to use. Spectacular three-dimensional cleans. Arguably some of the richest and most complex British high-gain overdrive tones available.
Cons:
Expensive. Using the JBE mode robs volume without an optional mod.
Tones:


Ease of Use:


Build/Design:


Value:



Street:
$3,699 (head) and $1,199 (cabinet)
Friedman Double J Jerry Cantrell
friedmanamplification.com
Channel 1 is tailored for clean tones and has its own 3-band EQ, gain and volume controls, and a 3-way brightness switch. Channel 2 is a customized Brown Eye channel with a 3-band EQ and knobs for gain, volume, and presence. A master volume governing both channels sits at the far left on the front panel. Flipping the rear-panel "JBE" switch activates Cantrell's custom distortion circuit, which adds more saturation and gain, and a tighter bass response. The back panel also has a serial effects loop and line out with adjustable level control.
With a Les Paul Custom, the Double J's cleans have velvety-smooth highs that are supported by a woody midrange and blooming lows. Raising the treble knob past 2 o'clock introduces a bristling Vox-like edge to the attack, and pulling back the midrange to 10 o'clock yields a clear, authoritative tone that's perfect for gloomy arpeggiated progressions.
Unlike treble controls used for clean channels on many other high-gain amps, turning the knob up seems to thicken the highs instead of thinning them out, and this is helpful for copping full-bodied plexi-esque cleans at lower volumes. And the brightness switch does a brilliant job of adding a perfect amount of harmonic complexity to the highs—a very useful tool for livening up dark-sounding pickups.
Fans of Cantrell's distinctively chewy and gargantuan tones will not be disappointed by Channel 2's thick distortion. The overdrive is absolutely flooring, and the note separation within full and complex chords is impressive too. With a Les Paul in dropped C# tuning, the bass and mid knobs at 2 o'clock, treble and gain at 3 o'clock, and a fierce-yet-controlled picking style, the amp easily delivers the hair-raising grind of Cantrell's Dirt-era playing. Dialing back the bass, setting the presence to a little higher than 1 o'clock, and adjusting the gain to around 2 o'clock gets scarily close to the juicy, hot-rodded tone of the guitarist's Facelift years.
The overdrive channel isn't solely limited to delivering Cantrell's ideal sounds. The channel cleans up exceptionally well if you dial back the guitar's volume, and along the way it sweeps through a rich palette of throaty Marshall-flavored tones that are perfect for British blues and classic rock styles. On the other end of the spectrum, the channel's responsive EQ and gobs of gain on tap enable seriously brutal modern rock and metal tones. The most intense of these happen when you flip the JBE switch, which not only adds just enough gain to push it over the edge, but a ruder and more aggressive voicing to the midrange. There's an unfortunate volume drop (a Cantrell preference) that's pretty noticeable when using this circuit, but for an additional fee, Friedman is happy to install an extra volume control to compensate for the loss.