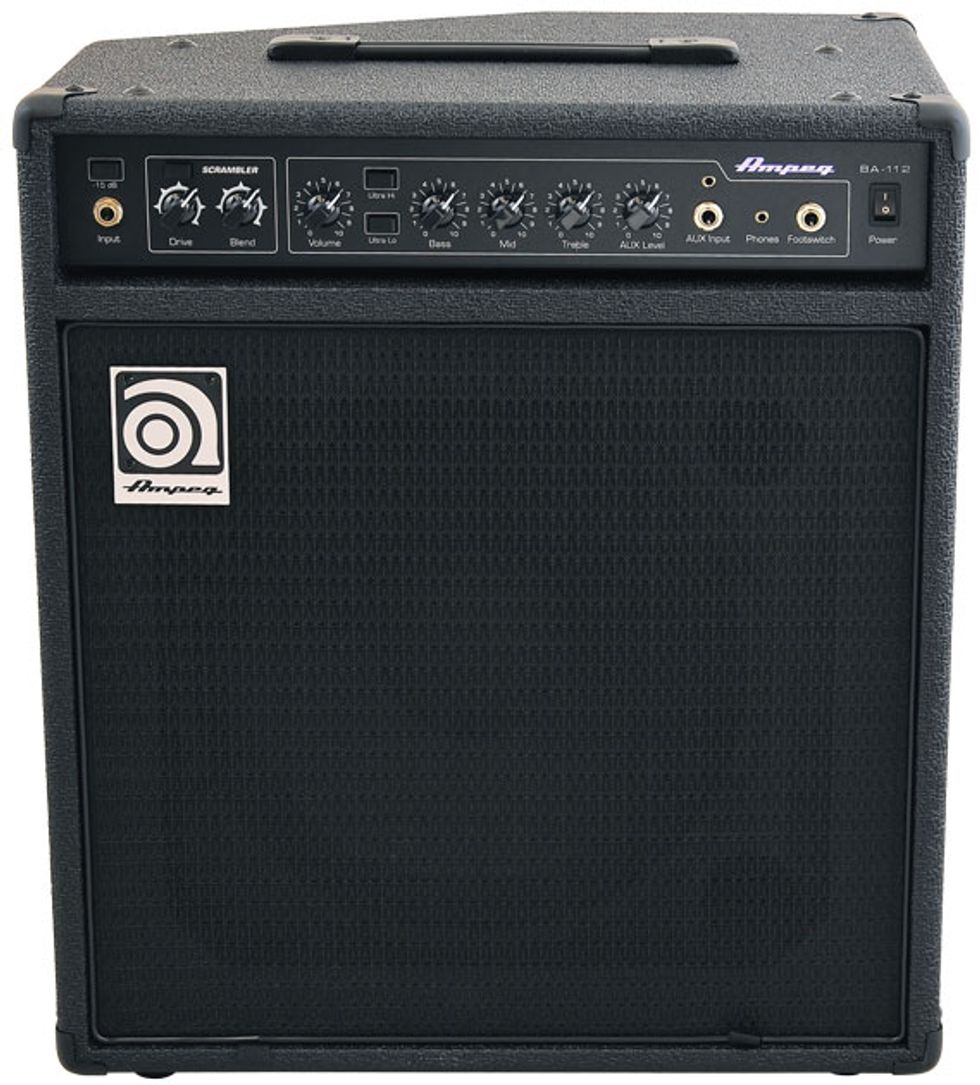 Ampeg BA-112
Ampeg has long been famous for its iconic, all-tube bass amps—specifically, the vintage "flip-top" B-15 and various iterations of the thundering SVT head. But for many years the company has also offered the BA series of smaller, more practical alternatives for working musicians with humbler means and needs. The entire BA line was recently revamped, and here we're taking a look at the newest edition of the BA-112, an affordable, 75-watt 1x12 combo that packs a punch with smart, usable features—including a taste of the signature SVT tone.
Ratings
Pros:
Big tones. Impressive feature set. Dirt on demand—including SVT-style tones—with the Scrambler circuit.
Cons:
A little heavy for its size. No DI or tuner output.
Tones:


Ease of Use:


Build/Design:


Value:



Street:
$249
Ampeg BA-112
ampeg.com
Tilt Back and Fly
The BA-112 features what the company calls its Legacy preamp, a 3-band EQ with ultra-hi and ultra-lo pushbuttons, as well as a Scrambler circuit whose name might confuse some vintage-stompbox aficionados: It's intended to emulate an overdriven SVT, not the short-lived Scrambler fuzz pedal that Ampeg released in 1969 (and reissued about nine years ago). The BA-112 also has a -15 dB input pad for active basses, and both 1/4" and 1/8" auxiliary inputs, with a single front-panel level control.
The amp weighs 42 pounds—a little heavy in my book—but its footprint is not much bigger than your typical live monitor wedge. Interestingly, the BA-112's cabinet also features an angled design that lets you turn it horizontally and lean it back to a 60-degree angle for stage-friendly monitoring. I've played many a small stage with my amp primarily blasting away at my knees rather than my ears, so kudos to Ampeg for this practical design feature.
Scrambled and Rocked
I tested the BA-112 with a '75 Fender Jazz reissue, and with the EQ set flat the amp's character had a lot of what many players envision when they think "Ampeg"—it's bold and unapologetic. The Scrambler circuit, which is activated via a front-panel pushbutton, features drive and blend controls. Blending just a hint of the overdrive signal is key to getting SVT-ish tones (higher settings can sound pretty harsh). For me, the sweet spot was with drive at noon and blend at about 10 o'clock. This gave my bass a big bottom end with the perfect amount of grit. I was also impressed at how the ultra-lo switch helped me coax even more oomph from my J.
The Verdict
The BA-112 has a lot of Ampeg attitude wrapped up in a svelte, solid package. The all-steel chassis and solidly braced cabinet seem ready to endure a long life of being schlepped from rehearsal to gig and back home again. Of course, big tone and punchiness are just as important, and this amp's got both. Considering the BA's humble power rating, it's no surprise it doesn't move mountains, volume-wise. However, it is well suited to its purpose: It's a really good rehearsal amp at a fair price. The Scrambler overdrive is a nice bonus, but even without it this is one great little combo. Tilt it back and let it rip!
Watch the Review Demo
Ashdown Rootmaster RM-C112-220
Fender Rumble 100
Hartke HD75