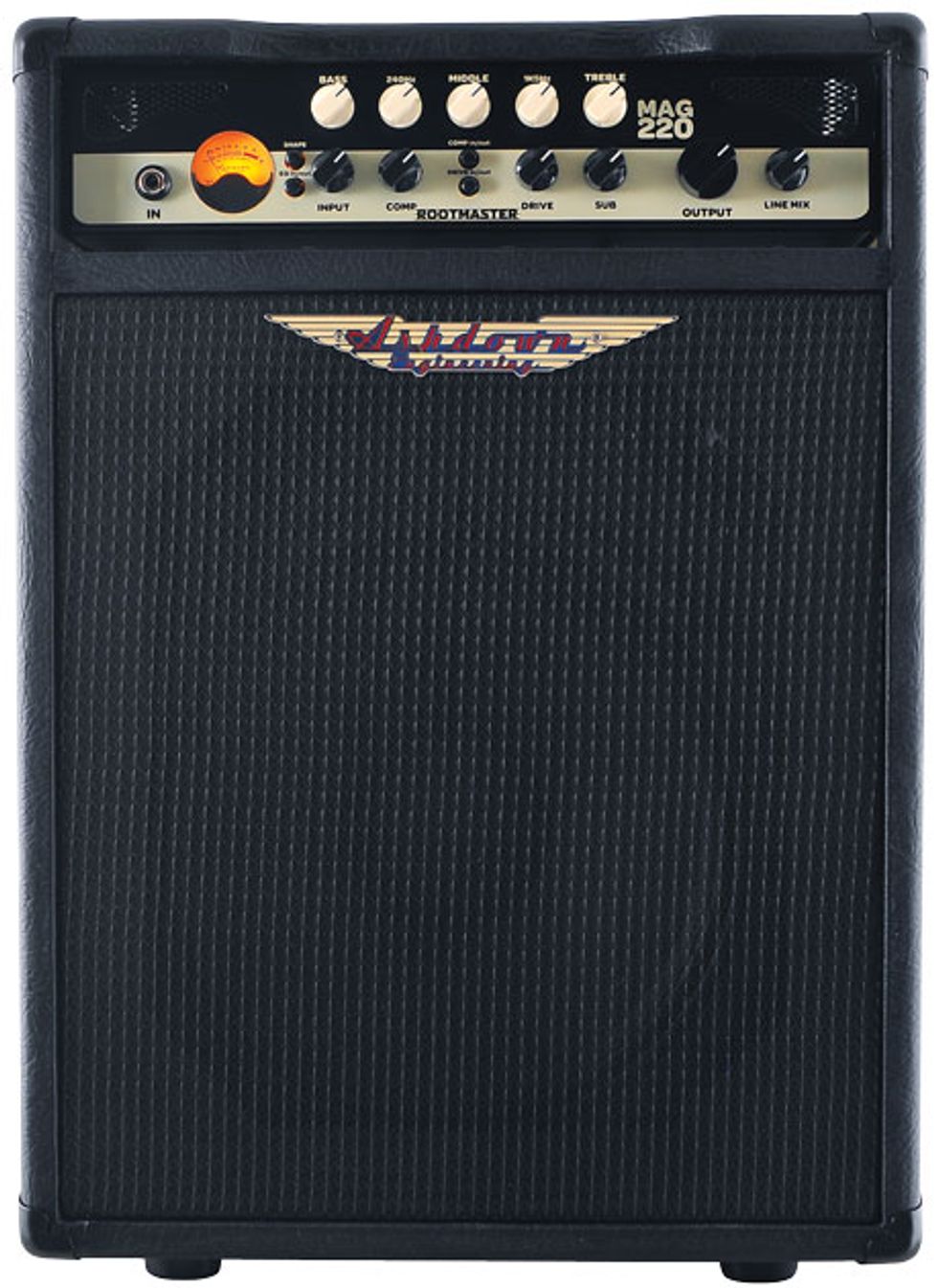 Ashdown Rootmaster RM-C112-220
Ashdown Engineering has been anchoring the low end on some of the world's biggest tours for the better part of two decades now, boasting such notable artist endorsees as Foo Fighters' Nate Mendel, U2's Adam Clayton, and Pino Palladino (the Who, John Mayer). In addition to their high-end ABM line and all-tube custom-shop designs, Ashdown offers the Rootmaster series of amps and combos for everyday players. The new RM-C112-220 we're checking out here packs beauty and features inspired by high-end Ashdown amps into a compact, affordable package.
Deep Roots
At almost 50 pounds and 220 watts, the 220 is a stout bugger in every sense. (Ashdown says they have since brought the weight down to 36 pounds.) It's loaded with a single 12" Ashdown speaker and a full-featured front panel. Top-row dials control the 5-band EQ, while the bottom row governs more nuanced functions. At far left, the shape button engages a scooped-mid EQ response, while EQ in/out completely bypasses the top-tier knobs to serve up the amp's bare, foundational tones. Both options are great, though I wish you could control them with the optional footswitch. Next in line are dials for input gain, compression level, compression and drive on/off buttons, drive level, sub harmonics, output level, and line mix (which governs the rear-panel 1/8" aux input).
Ratings
Pros:
Great tonal range. Speaker and DI outs are mighty practical.
Cons:
Onboard effects sound good but could use more controllability.
Tones:


Ease of Use:


Build/Design:


Value:


Street:
$499
Ashdown Rootmaster RM-C112-220
ashdownmusic.com
The rest of the back panel is worth mentioning, too, because Ashdown provides useful expansion and output options: a 1/4" DI output, effects send and return, and a Speakon connector that lets you add an extension cab to make this a true small-club amp.
Rooting for Rumble
The 220 made it easy for my Yamaha BB1025X to get a great, full tone right out of the box. The shape control proved to be a quick flavor enhancer, and pairing it with deft top-row EQ tweaks made it even more useful. I gave the low end a healthy bump and the amp still handled the Yamaha's 5th string with ease.
As you'd expect from its control set, the 220 offers up a heap of tonal options—from edgy to round and everything in between. At its core, the amp is all Ashdown: midrange-y and warm. It's pretty easy to get a mix-friendly tone in no time. The sub-harmonic feature is great to have, although you have to crank it all the way up to get full-on, octave-dive coolness. The drive control is useful when you want some edge to your sound but don't want to bring a separate overdrive pedal. I dug the range I could achieve while working the circuit in tandem with the EQ, as I was able to muster everything from subtle grit to nasty lead tones. My only warning is to not get too taken with all the bells and whistles: Too much of a good thing can be bad, and with everything on the great tones can go away rather fast.
The Verdict
The Rootmaster RM-C112-220 is one of the more complete bass combos I've encountered—especially in this price range. Ashdown has jammed about 8 pounds of hammers into a 7-pound sack. And if you're just getting into effects like overdrive and compression, this amp could be a great place to try them out without having to shell out cash for extra devices. All said, the 220 will carry you from rehearsal to a small-venue gig with ease.
Watch the Review Demo