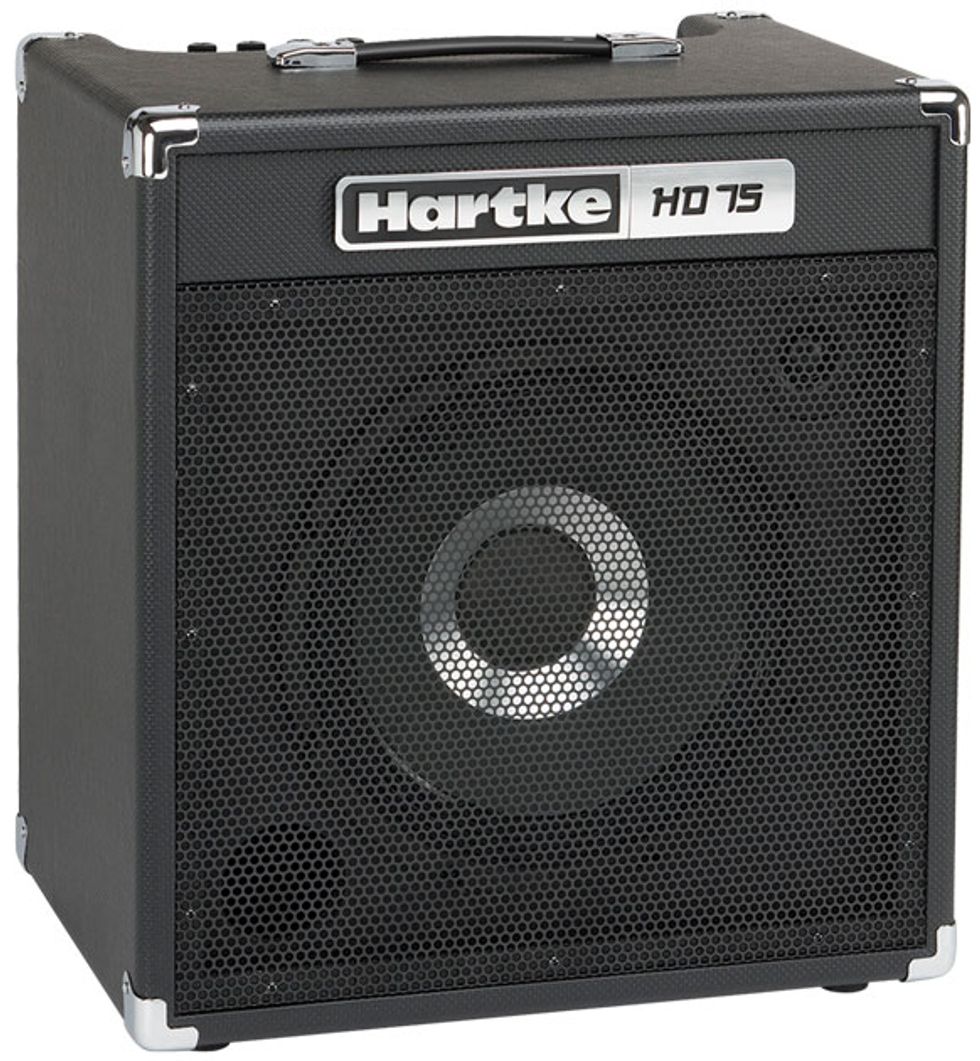 Hartke HD75
In 1985,
Back to the Future
was a box-office hit, the Live Aid concerts were huge successes, and Larry Hartke introduced aluminum-cone speakers to unsuspecting bassists shortly after building a cab with the drivers for Jaco. Hartke's new HD-series combo amps sport an even more radical speaker design. Let's look at the compact HD75.
Hartke the Herald Angels Sing
The HD75 is a straight-ahead 75-watt amp with a single 12" HyDrive speaker. The HyDrive isn't all-aluminum, but part metal and part paper cone. The goal is a speaker with the snap of aluminum and the warmth of paper.
Without effects, a tuner, or superfluous functions, the HD75 does one simple job: amplifying your bass. Some players prefer built-in extras, but I'd rather have an amp that sounds great with no distractions than a mediocre rig with clutter.
At a little over 48 pounds, the HD75 it is a touch heavy for a smaller amp. With little on the back panel beside a power plug and on/off switch, a balanced DI out would have taken the amp one step further, and a top-panel power indicator would be more convenient than having to look around back. But on a $250 amp, these are small-beans issues.
Ratings
Pros:
Flexible EQ. Attractive vintage-meets-modern tones.
Cons:
No DI. A bit heavy. Power-indicator light on rear only.
Tones:


Ease of Use:


Build/Design:


Value:



Street:
$249
Hartke HD75
samsontech.com
The top-panel controls are straightforward: There's a master volume control, and then two EQ sections: a modified tone-stack design with bass, mid, and treble pots, and 7-band graphic EQ with a +/-12 dB slider for each frequency. Next come an 1/8" auxiliary input, 1/4" effect send (which can also serve as a line out) and return jacks, and a 1/4" headphone jack that mutes the speaker for private practicing.
Rock and a Hartke Place
I plugged in a stock Fender Squier Precision Bass and started with the bass, mid, and treble controls at noon and the graphic EQ zeroed out. The first tones out of the HD75 did not disappoint. I happen to be a paper-cone guy, so hearing the sound as advertised with no EQ was impressive. Tones have nice attack, and while there's a little more bite than I'm used to, the wide-ranging EQ section helps tremendously. Just turning the bass pot up to +3 (1 o'clock) made the combo feel warm and familiar.
The HD75's EQ controls are fun and effective, but they may be a bit daunting for the untrained. Boosting too much of any one thing can quickly make the amp too harsh or too boomy, and novices might mix themselves right out of rehearsal if not careful. But even with the high-frequency EQ controls pushed way up, the feared shrillness of an aluminum speaker never appears—just über-crisp tones.
Despite its size, the HD75 shouldn't be relegated to the bedroom. It's got enough oomph for jazz-brunch and coffeehouse gigs or small rock rehearsals. (I did try pushing the HD75 to the edge, but its built-in limiter ensures safe levels, protecting the gear.)
The Verdict
I like this sharp-looking, no-nonsense combo. Its blend of modern and vintage sounds via the hybrid speaker gives the amp a unique identity. It's a great option for beginning players, who can practice, rehearse, and play small gigs without needing to upgrade.
Watch the Review Demo

Ampeg BA-112
Ashdown Rootmaster RM-C112-220
Fender Rumble 100