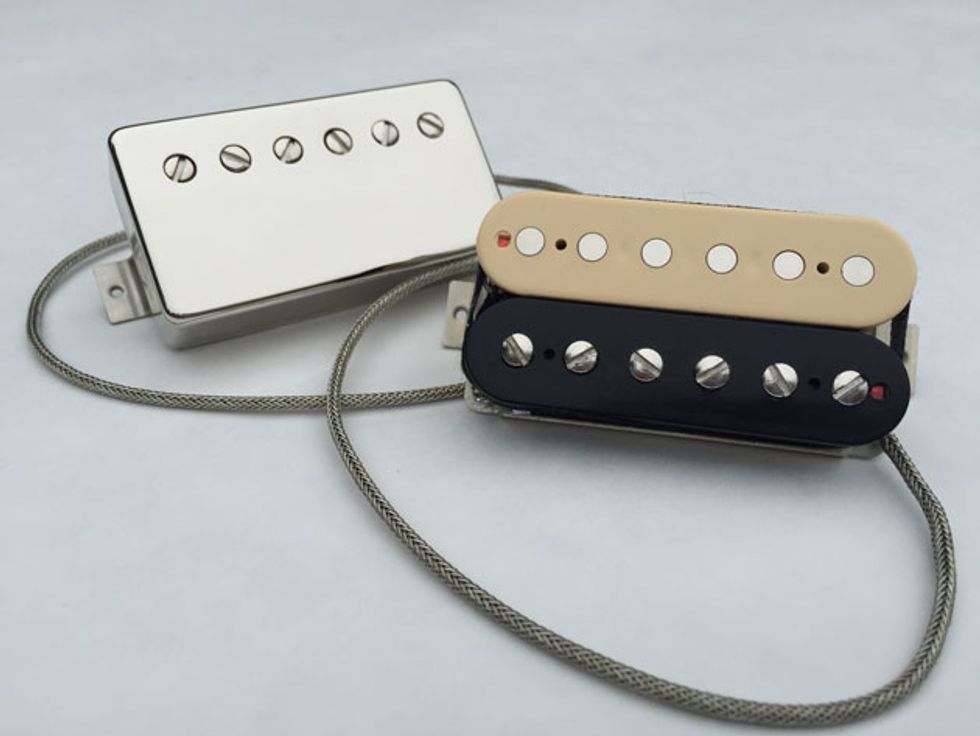 Akron, OH (May 26, 2015) -- The Revolution is Guerrilla Warfare's Signature Humbucking Pickup. This beautifully crafted dual Humbucking Pickup set accurately replicates the P.A.F. pickups from the Gibson guitars of yesteryear. What makes the Revolution Pickups sound so remarkable? They are wound by machine just like the humbucking pickups created by Gibson back in the 50s and 60s. This pickup set features an Alnico II magnet in the neck pickup and Alnico III in the bridge pickup. We use period correct butyrate bobbins, maple spacer, and plain enamel wire; all firmly attached with brass screws to a 50's spec nickel-silver, long leg frame. Their bright and warm bass response combined with a slightly pronounced mid-range makes for a very dynamic and sweet high end. The upper frequency range has exceptional bloom and a lot of creamy tone due to the unpotted coils. We also offer an antiqued version of these pickups. If you're a tone purist, this is the pickup for you!
Features:
Accurate replica of the 50s and 60s the P.A.F. pickups
Alnico 2 magnet in the neck pickup and Alnico 3 in the bridge
Period-correct butyrate bobbins
Optional Lightly antiqued set
Bridge – 8.0k
Neck– 7.0k
Guerrilla Warfare Pickups Revolution humbuckers cost $135.00 each or can be purchased as a calibrated set for $270.00 directly from the Guerrilla Warfare Pickups.
For more information:
Guerrilla Warfare Pickups