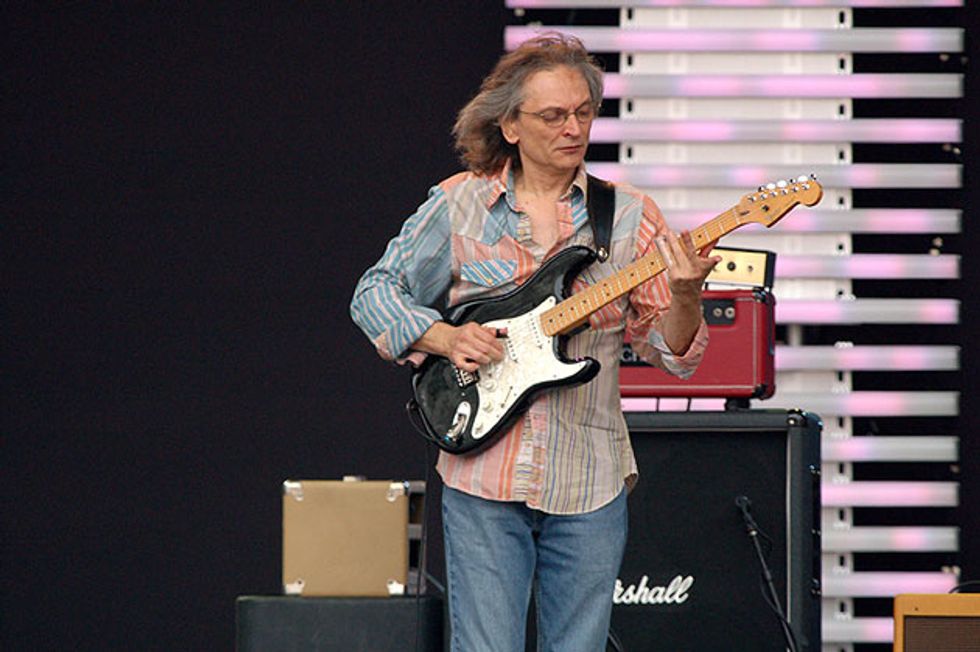 Landreth hits a soaring note at Eric Clapton's Crossroads Festival. "Slide is a wonderful thing—it can really create a sound that emulates the human voice," he says. Photo by Dan Locke of Frank White Photo Agency.
There are plenty of mean slide guitarists, but no one has taken the bottleneck into such uncharted territory as Sonny Landreth. Using unorthodox combinations of slide and three fretting fingers, and an equally idiosyncratic picking-hand technique, Landreth can sound like a Cajun accordion, a searing Chicago blues harp, or a violin plugged into a screaming stack. But while he shines as a solo artist, Landreth is also one of the great sidemen, having toured or tracked with Kenny Loggins, John Hiatt, the late zydeco king, Clifton Chenier, and many others.
Born in Mississippi and reared in Lafayette, Louisiana, Landreth is a product of the South. As a boy in bayou country—a music-rich area that gave him easy access to the deep roots he's always drawn from in his playing—Landreth soaked up Creole and Cajun sounds while studying classical trumpet at school and steeping himself in Scotty Moore and Chet Atkins. It was the perfect storm for Landreth's catholic approach to the guitar.
As with many electric guitarists, the blues has been a catalyst for Landreth's explorations. That soulful sound is always present in his playing, but was especially prominent on his first solo album, 1981's Blues Attack. It's also the focus of his latest record, Bound by the Blues, which Landreth recorded with a stripped-down trio featuring drummer Brian Brignac and bassist David Ranson. Bound by the Blues is a sharp departure from Landreth's previous album, Elemental Journey, which included members of the Acadiana Symphony Orchestra, steel-drum legend Robert Greenidge, Joe Satriani, and Steve Vai.
"I wanted to pay tribute to my heroes: Lightnin' Hopkins, Muddy Waters, Jimi Hendrix."

Speaking from his home in Lafayette, Landreth explained how he uses the slide to tie together his eclectic influences, and how he approached writing and recording Bound by the Blues.
The title track of Bound by the Blues is evocative. What does it mean to you?
It makes reference to blues being the universal language—one that speaks to people everywhere—and to our challenges in the face of adversity.
In making this album, how did you put your own imprint on the blues?
That's a very good question. Therein lies the challenge, and it's exactly what attracted me to taking on this project. I decided to do another blues record because it had been a while, and it was so important to me. The music has always been a big part of who I am. Some of the songs I recorded have been done to no end, so I needed to bring something new to the table.
I love the surprises that can happen when I make an album. After more than 35 years of playing these songs—"It Hurts Me Too," "Dust My Broom," and "Key to the Highway"—with many different players, I found the tunes had taken on lives of their own. I realize how different I'm playing them now than when I first learned them. It struck me that as time has passed, I've subconsciously brought fresh sounds to the songs with new techniques and new discoveries that have happened along the way. It felt quite profound, and it was beautiful to circle back around to this music. It gave me a greater appreciation for who I am.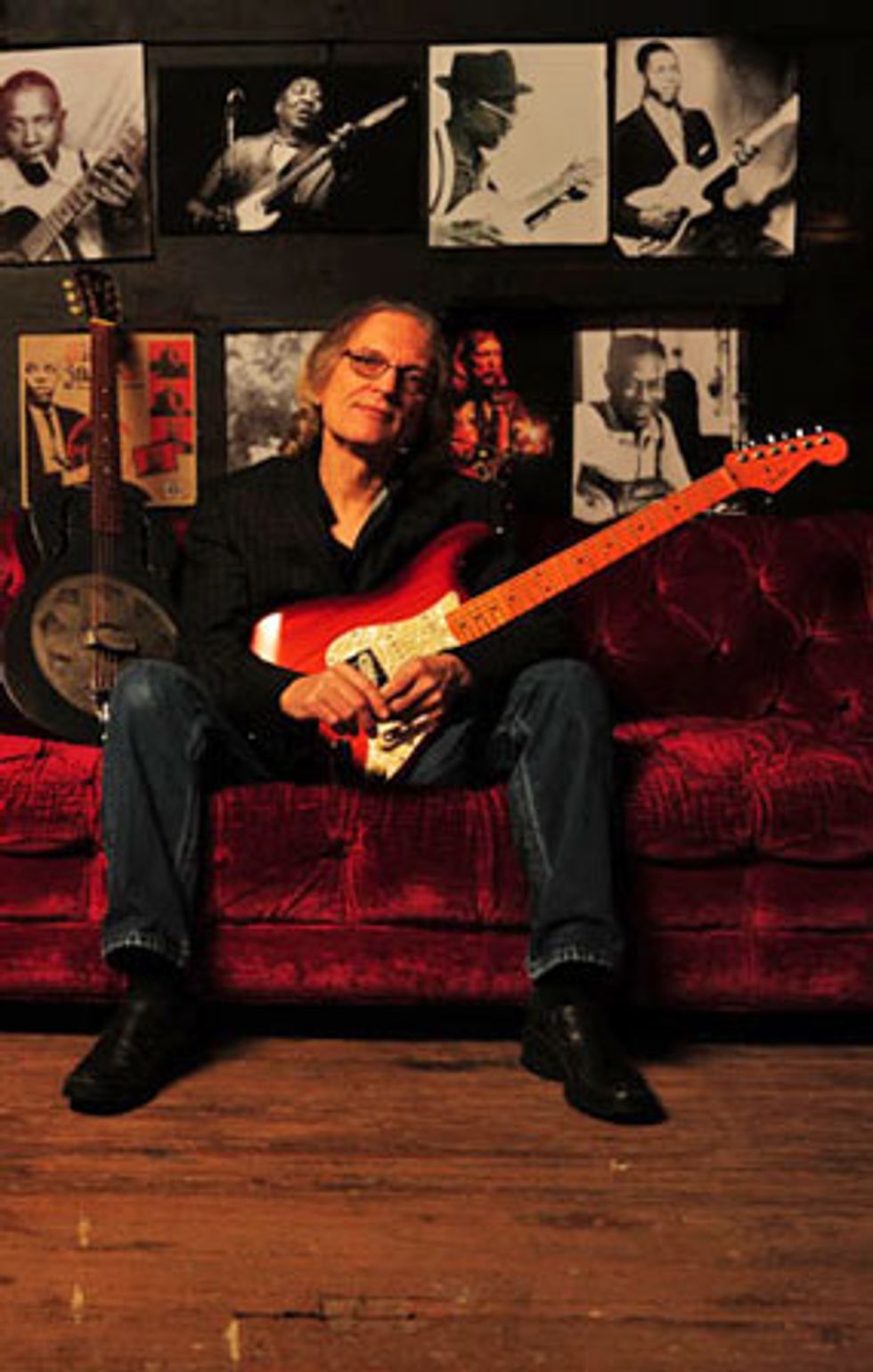 Landreth on the blues: "It was beautiful to circle back around to this music. It gave me a greater appreciation for who I am."
How did you prepare for the recording?
The songs are standards for a reason. I really try to go deep to find out who originally played each one, who recorded it over the years, who ripped the other guy off, and so on. The next thing you know, you're back in Africa, investigating words from tribes and dialects. The music becomes so much more complex and rich as a result.
Who were your musical benchmarks for this album?
I wanted to pay tribute to my heroes: Lightnin' Hopkins, Muddy Waters, Jimi Hendrix. It would take hours for me to tell you about all my heroes. [Laughs.]
On the title track, you also name-check Buffy Sainte-Marie.
I've never really talked about Buffy Sainte-Marie's influence, but she was such an important activist—she was right there with Dylan and all the other folk greats—and she really made different music. She's Native American, and her work often deals with all the history that her tribe has been through, touching on things that are far more profound than what I can wrestle into a song.
Bound by the Blues has an old-school feel.
Not long before making the record I worked with a symphony orchestra for the first time, where I was exposed to very complex array of sounds. For the album, I did a 180-degree turn and used just a bassist and drummer. We went in and cut the record live, just like we play the tunes night after night in concert. Some of the tracks—"Where They Will," for example, which goes back to acid rock—used just the three pieces: bass, guitar, and drums. But for the title track and a few other tunes, we used a little layering to get across the ideas and to build drama in the choruses.
The vocals sound fantastic—did you nail them live in the studio?
Due to allergies my voice was in really bad shape at the time we recorded the songs, so I had to re-sing a lot of the tracks. It was a lot of work, but it resulted in what are probably the best vocal tracks I've ever recorded.