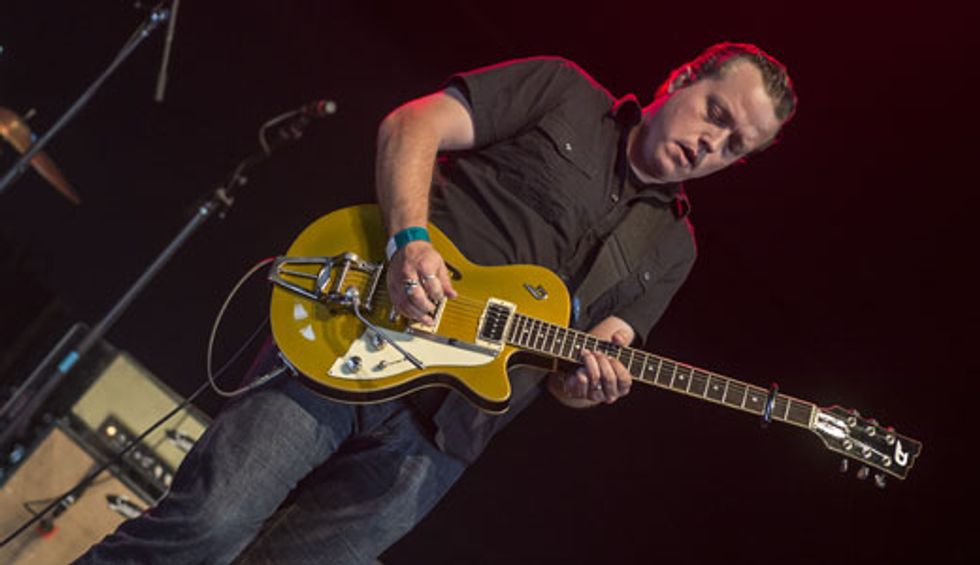 While the songwriting process is different with every song, Isbell believes in hooking the listener early. "If your first line's not working, then nobody's going to listen to the second one," he says. Photo by Brian Glass
The last few years have been life-changing for Jason Isbell. Since departing the seminal Southern rock outfit Drive-By Truckers nearly a decade ago, Isbell created a quintet of studio albums, got sober, married singer/songwriter Amanda Shires, and is expecting a daughter. And since releasing his breakthrough album, Southeastern, in June 2013, he's become a critical darling of the Americana scene.
Southeastern is a heavy album. Isbell tackles topics that could be uncomfortable in the hands of a lesser wordsmith. He captures the essence of Southern culture without playing into stereotypical traps that fuel today's lowest-common-denominator country hits. Imagine Faulkner ghostwriting for the Band, with everything passing through John Prine.
But there's another side to Isbell. His wit and humor are boundless, as demonstrated by his immensely quotable Twitter feed. "You can name a baby Klon Centaur. Boy or girl. I checked," he tweeted shortly after finding out that he and his wife were expecting. When asked how Klon was doing in the baby name race, Isbell replied "Not too well, especially since we're having a girl. That might have worked if we were having a boy. The good news is that my wife is actually picking up a Klon Centaur today. That will have to do."
For his Southeastern follow-up—the just-released Something More Than Free—Isbell gave his band, the 400 Unit, greater freedom and more input on the final product. He also brought back Southeastern producer Dave Cobb. The results range from a stripped-down depiction of requited love ("Flagship"), soulful swamp rock ("Palmetto Rose"), and a heartfelt ode to the breakup of a favorite band, Centro-matic ("To a Band That I Loved"). "I feel like I'm doing the type of music that John Prine made, or Kristofferson, or even the Stones," he says. "It's all folk music, really. And it's all rock 'n' roll at the same time."
Sometimes Isbell is the "token Americana act" at big festivals, but the label could be worse. "It's a better category to be in than country nowadays," he says. "When people hear 'country,' they think of what's on the radio. A lot of great musicians and songwriters have found their way into the Americana community. It's gotta be called something, I guess, and that's about the best you could hope for." We spoke with Isbell about his writing process, new pedal discoveries, and the secret to breaking in a new flattop.
Do you need an album project to focus on writing, or are the creative wheels always turning?
It's pretty constant—I write year-round. I do more work when I have studio time scheduled, or when I'm writing for a certain record. But I take a lot of notes and write whether I'm working on a record or not.
"Outkast is probably the last hip-hop group that used
low end in the right way."

There's more of a band feel to the new album, and it's a bit happier than Southeastern.
Yeah, maybe so. I'm in a better place personally. When I wrote Southeastern, I was still getting used to the world as a sober person and to a new relationship. Things were great, but they were up and down. And there's a lot more band participation on this album. That's probably due to the fact that while touring behind Southeastern, we developed a good way to work. The live show now is not just a band coming out to play a couple hours of songs. Band members come and go. I do some songs on solo acoustic, but in the last minute the band comes in and gradually builds the song. Things like that put a working relationship in a new light, and we put a lot of that energy and focus into making this new record. I really like having a band behind me, and I wanted to use these guys as much as I could while still serving the songs.
Do you do much pre-production with the producer?
No. Nobody hears the songs before I get up and play them right before we record them. I play a song, and then we all sit down at our stations and start playing.
So you try to capture the players' immediate reaction to a song?
Right. Sometimes you get the best takes when people aren't too familiar with the material. I've got really good players in my band and the luxury of not having to record albums too quickly. I don't enjoy spending more than a month in the studio—I probably won't ever do that. Still, three weeks to a month at a studio like the Sound Emporium in Nashville can be more expensive than some bands can afford, so they have to work up those songs in advance, make demos, discuss them, and then go in and knock it out. Luckily, we're at a point now where we can take our time and work on arrangements one at a time. We don't take home rough mixes at the end of the night. We leave it all in the studio, go home and sleep, and come back. Otherwise you fall in love with a mix, or a level, or a tone that might not turn out to be the best thing for the record.
How important is the first line of a song? And does it usually come first?
It happens all different ways for me. The first line is incredibly important. It's like a novel: If your first line's not working, then nobody's going to listen to the second one. I don't always write that first. Usually I start with a chorus or a verse, and in the editing process things get moved around a lot.
Some bands need to let a song develop over a tour before being comfortable enough to commit it to a record.
Yeah, a lot of bands are that way, but I'm not doing this to feel comfortable. That's the opposite of why I do it.
Did any songs take surprising turns in the studio?
Yeah. We recorded this song called "Speed Trap Town" with the full band. About a week later I realized it wasn't working. The lyric was very personal—dark in a lot of ways. There was longing in there, and the rocked-out arrangement just didn't seem right. I've got this Martin '56 D-18 that's all over Southeastern and this record too. It's my go-to in the studio—I use it on just about every acoustic guitar song. I sat down and redid the song in one take. Then I went back and put a slide guitar part on top. I've got an old Gretsch that I played through a Dumble with the SlideRig compressor, which is like an 1176. And that was it, pretty much. When I heard it more sparse and simple it just made a lot more sense.
"24 Frames" has almost a retro '90s vibe. Was that something you had in mind going in?
Yeah, we talked about that a bit in the studio. It wasn't conscious until we all heard the song and felt like that was a good direction. We talked about some R.E.M. records, things that we were all infatuated with in those days.