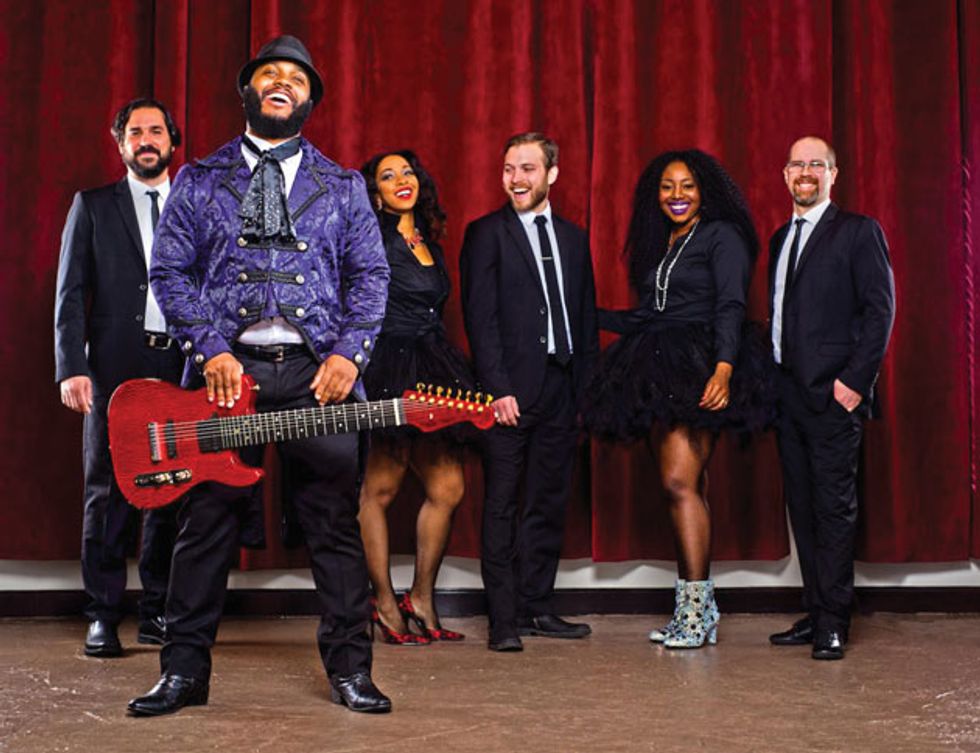 Ghent's custom 8-string, squareneck T-style guitar has a lacewood top and Lollar pickups. A tall nut raises the strings off the Macassar ebony fretboard to accommodate steel guitar technique.
AJ Ghent was born to the "sacred steel" tradition, where gospel music is accompanied and played instrumentally on lap and pedal steel guitars. AJ's father, Aubrey Ghent, great uncle, Willie Eason, and grandfather, Henry Nelson, are all pioneers of the sacred steel sound. Though AJ was first exposed to steel guitar in church, over the years he has developed a potent take on Southern soul and R&B.
From his birthplace in Florida, Ghent moved to Atlanta, Georgia, where he played in Top 40 bands. Later, he joined up with Col. Bruce Hampton, the legendary eccentric best known as the leader of such experimental groups as Aquarium Rescue Unit and Codetalkers. Along the way, Ghent developed a style of playing steel standing up, using an "over hand" slide technique.
Now he's out in front of his own group, which features his wife MarLa and sister Tiffany on backing vocals, Gary Paulo on saxophone and guitar, bassist Seth Watters, and Will Groth on drums. Their CD/DVD Live at Terminal West fully captures all the raw energy of the band's stage show.
In a brief respite from the road, Ghent spoke to Premier Guitar about his church beginnings (and endings), as well as the evolution of his unique playing style and the custom instruments that go along with it.
"My dad humbles me every now and then. I look at his rig and he's plugging straight into a Twin Reverb."

Did you start on regular guitar or steel?
I started on drums, but went straight from there to lap steel. I learned from listening to my father, grandfather, great-uncle, and from CDs.
Did you begin playing in church?
I played in my room for a long time. A member of the church we attended heard I'd started on lap steel and invited me to some of the programs. I played in church regularly for a couple of years. As I got a little older, they saw me emerging into a Hendrix style and kicked me out.
Your style of playing actually became an issue?
It wasn't necessarily the playing. I always had a sense of freedom—I wanted to express myself. In that organization, clothing needed to be as simple as possible. I would come in with a big, red Afro and a suit. I was the Liberace of the church at the time.
Where did you play after church?
My first gig in the clubs was with a Top 40 band. I was playing R&B, rock, hip hop, pop music—anything that was on the radio. Playing everything helped groom me for my style today.
AJ Ghent's Gear
Guitars
Custom 8-string T-style steel guitar
Converted Fender Select Carve Top Jazzmaster
Amps
Andrews Amp Labs Spectraverb through a Forte 3D cab with an EVM 12L speaker
Effects
J. Rockett Audio Designs Archer OD/Boost
Chicago Iron Octavia fuzz
Real McCoy Custom and Dunlop Cry Baby wahs
Xotic SL Drive and EP Booster
MXR Carbon Copy Analog Delay
Skreddy Pedals Echo
Strings and Picks
6-string guitar: D'Addario EJ22 (.013-.056)
8-string guitar: custom D'Addario set (.015-.064)
Dunlop fingerpicks and thumbpick
Ernie Ball glass slide
Were you playing a "sit-down" lap steel?
Yes, but I started standing up after I stopped playing in the Top 40 band. I wanted to move around more. I was playing lap steel, but I wanted to look like Jimi Hendrix and Stevie Ray Vaughan, or whoever was playing regular guitar standing up. I thought that looked so cool. Wayne Rogers, who was at Gold Tone at the time, told me they
had this lap steel that was like the old Oahu style. He said, "You can strap this thing around your
neck and play!" I wanted to play it like a Dobro, where you strap it on and it still faces you like a table. But we couldn't get it to stay up like that—it kept falling
flat against my stomach, like a regular guitar. I thought, "This looks cool!" I continued to play like that and have been doing it ever since.
Was it much of an adjustment to switch from sitting to standing up, playing parallel with
your body?
It was huge! It's not something you discover on Monday and then go to the nearest open jam and try it on Tuesday. I almost had to start learning to play all over again. I couldn't see my frets the way
I could when they faced me, like on a lap steel. I
had marks on the side of the neck, like a traditional guitar, which I could see. I look at those to determine where I am, but lots of times I'm playing with my eyes closed, so I really depend on my ear. It definitely took a little time. When I adapted to it, though, it felt more comfortable than sitting down.
Some of your licks seem influenced by classic lead guitarists, rather than steel players. Who influenced you?
I started listening to a little bit of Hendrix, Stevie Ray Vaughan, and James Brown's guitarists—that's Guitar 101. Lately, I've been listening to Eric Gales—he's just phenomenal. Eric Johnson was one of my favorites, as well. I'm always trying to mimic the guitar, listening to what they're doing and trying to apply it to what I do.