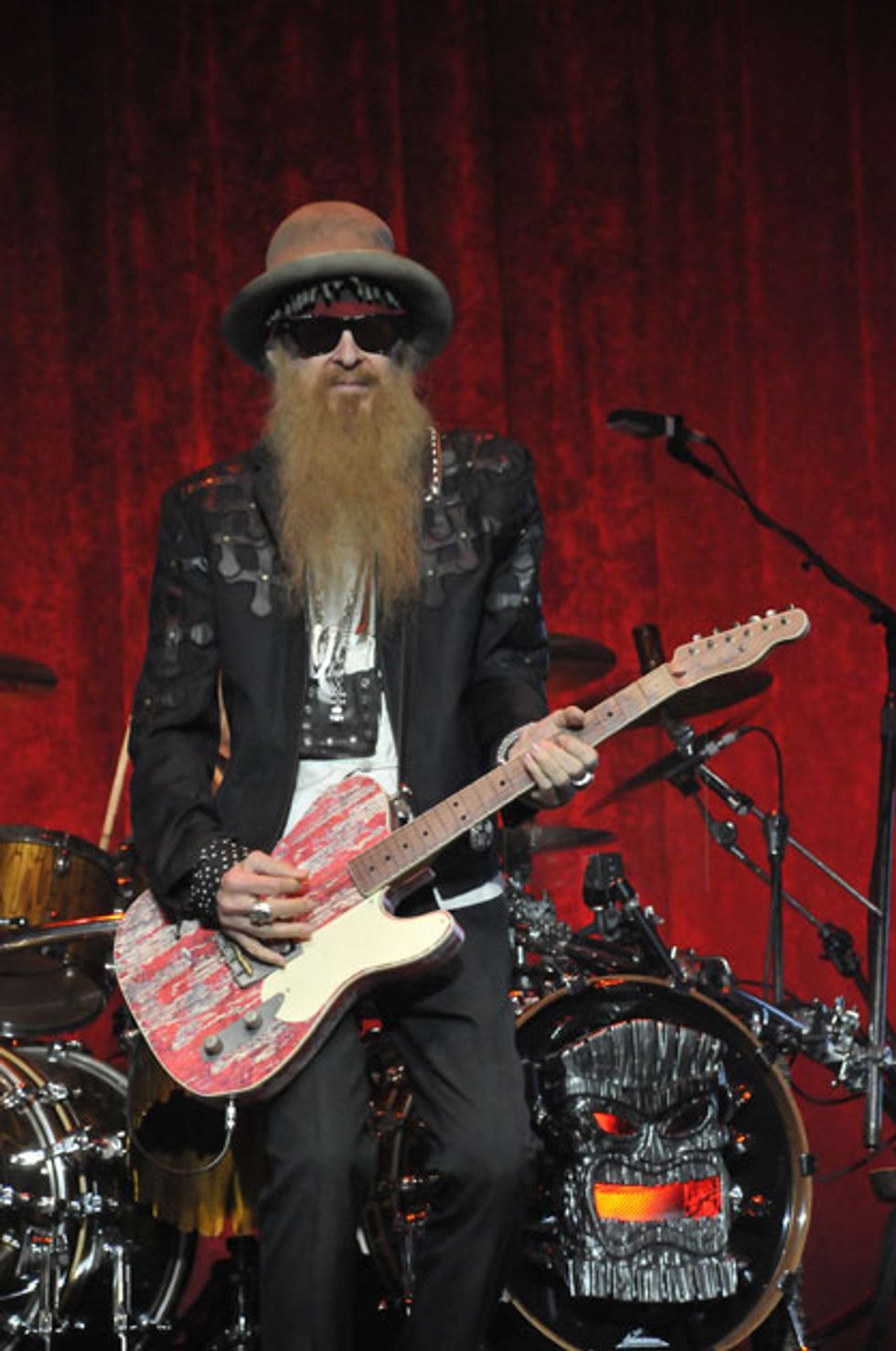 Gibbons slings his newest John Bolin guitar onstage with ZZ Top in March 2015. This T-style is nicknamed the "Peeler," and is covered with a printed decal made to resemble an instrument that was damaged in a flood. Photo by Frank White
Keeping the stories simple helps, too. Perfectamundo is really high-caliber party music. "Sal y Pimiento" means simply "Salt and Pepper," and cruises along on a mambo beat punctuated by Gibbons' trademark lazy bends, descending turnarounds, and some of the sweetest vocalizing he's done in years. "Hombre Sin Nombre" takes on a spooky vibe akin to Ennio Morricone's soundtracks for Clint Eastwood's "Man with No Name" Westerns and perks it up with timbales and other Latin filigrees. Plus it includes a fat Tele break replete with pinch harmonics that uses reverb like a high school kid uses his dad's cologne. Album closer "Q' Vo" tips its hand with its first words, "la fiesta." But it's a chill celebration, as B-3 once again sets the vibe with a slouchy jazz-blues melody that gets picked up by the guitar.
Both instruments then pass the tune back and forth like a bottle of El Jimador. And so it goes, with the digital robot-voice colors of auto-tune, judicious samples, and some stunt editing blending seamlessly with the organic pleasures of Gibbons' seriously below-the-belt picking. It all keeps Perfectamundo consistently upbeat and grooving: A joy to hear.
Like Stax Records house bandleader Booker T. Jones had his funky group the M.G.'s, Gibbons has his BFG's, a cross-cultural cast that includes Garza on bass, percussion, and vocals; Martin Guigui on piano and B-3; Mike Flanigin on B-3; Greg Morrow on drums; and percussionists SoZo and Melanie DiLorenzo. In the studio, Cuban-born, New York City-based bandleader Chino Pons also contributed percussion, and longtime ZZ Top engineer Gary Moon added some guitar. But Gibbons' real secret weapon for the Perfectamundo sessions, which occurred in Houston, Austin, L.A., and Pontevedra, Spain, was Gibbons himself—for his previously unrevealed Latin percussion jones and his Hammond B-3 skills.
"Emerald City Guitars in Seattle set us up with an old National electric solidbody that is the 'scraunchiest' sounding thing ever. Talk about mean! Like a lead pipe with bailing wire plugged into
a can of whip-ass."

Moves like organ-style double-stops and slow bends that emulate the sound of a Hammond drawbar have always been part of Gibbons' guitar approach. And for good reason. "My dad always had a B-3 at home," he says, "providing the chance to connect with that mysterious thing of pulling out the drawbars, pouncing on the pedals, and making a mighty sound. Can't think of anything cooler or more 'down.' Ask any seasoned B-3-ist and they all agree, 'There ain't a bad note in there.' I'd certainly say the likes of [organ greats] Jimmy Smith, Jimmy McGriff, Groove Holmes, and Brother Jack McDuff all remain inspirational."
The B-3's easy way with mountainous subtones may also account for Gibbons' career-long predilection for low, moaning, grumbling guitar sounds, which he takes to fresh depths on "Perfectamundo" and "Got Love If You Want It" in particular. "Just something about the low end that treats our sonic tastes to some 'tomatalizing' tone," he observes. "Those low sounds are closer to the ground—more rooted." To achieve a new personal high in low, Gibbons deployed pickup maker Andy Alt's new A Little Thunder active humbuckers. "It's an intuitive pickup ready to fit any humbucking-equipped instrument, and drops the low strings down one or two octaves," he explains.
Gibbons had an arsenal of go-to guitars, amps, and stompboxes for the Perfectamundo sessions. "After the backbeat was laid down, of course, came our fave-rave electric, Pearly Gates, that fine 'burst from '59, along with a few ancient Fender war clubs brought into view by none other than our pal Nacho Banos," says Gibbons, referencing the noted Valencia, Spain-based guitar dealer and Fender collector. "To complement the 'unusual' of what was going down, we began stompin' on stompboxes of all ilk and the road was quite exceptional. Particularly with one out of Nashville called Timmy. Certainly not for the timid. There was another sleeper, from Whitfill Guitars over in Kentucky, barking under the name of the DUI. Man, turn out the lights and call the law. Between the two, that's all she wrote.
YouTube It
Billy Gibbons and the BFG's first single from Perfectamundo is a caliente redux of Texas rockabilly legend Roy Head's "Treat Her Right."
"What wrapped it all up conveniently were a couple of new amps, namely Magnatone's Super Fifty-Nine. Killer. And the totally vintage-sounding Bigtone amp from Valencia. Two 12s, 50 watts, all tube—peanut butter and jelly. Emerald City Guitars in Seattle set us up with an old National electric solidbody that is the 'scraunchiest' sounding thing ever. Talk about mean! Like a lead pipe with bailing wire plugged into a can of whip-ass."
Through the riptide of colorful language, including his use of the royal 'we,' and the visual flash that's long been part of Gibbons' persona, what's truly shone like a beacon for nearly a half-century is his creativity and his appetite for evolution—qualities missing from the interior checklist of many roots-based guitarists. At times, (like when ZZ Top began incorporating synthesizers, samplers, and drum machines into their recordings) that has irked segments of his fan base. And yet, as 1983's Eliminator—a glossy synth-sheened album that sold 25 million copies and made the band superstars—proved, Gibbons' free-ranging instincts are canny.
"As the saying goes, keeping an open mind liberates boundaries that might be confining—the ones you put around yourself," he observes. "We figured a way to turn '25 Lighters' by DJ DMD with Fat Pat and Lil' Keke, a hardcore rap song from deep in that same Houston ghetto where Lightnin' had been a fixture, into the unexpected blues-rocker titled 'I Gotsta Get Paid' from our La Futura album. We did a 'secret' version of Dooley Wilson's Casablanca theme, "As Time Goes By," on our Mescalero album. It's not on the label or credits, but it's there. Keeping things a bit off-kilter can expand one's range widely. These kinds of things ain't work when the gray matter gets in the groove.
"We always go back to Muddy Waters, who, as we now say, was the 'early adopter' of electric guitar. Muddy came from a strictly rural blues background where there simply was no electricity, but when he could, he plugged right in and the world became all the better for Muddy being willing to do something new and, perhaps, untried. One could say, in his time Muddy used electronics with his roots-based background toward something new and exotic. Through something like that, we're open to anything and everything that can help get things loud and funky. Art is the opposite of stasis. It's dynamic."