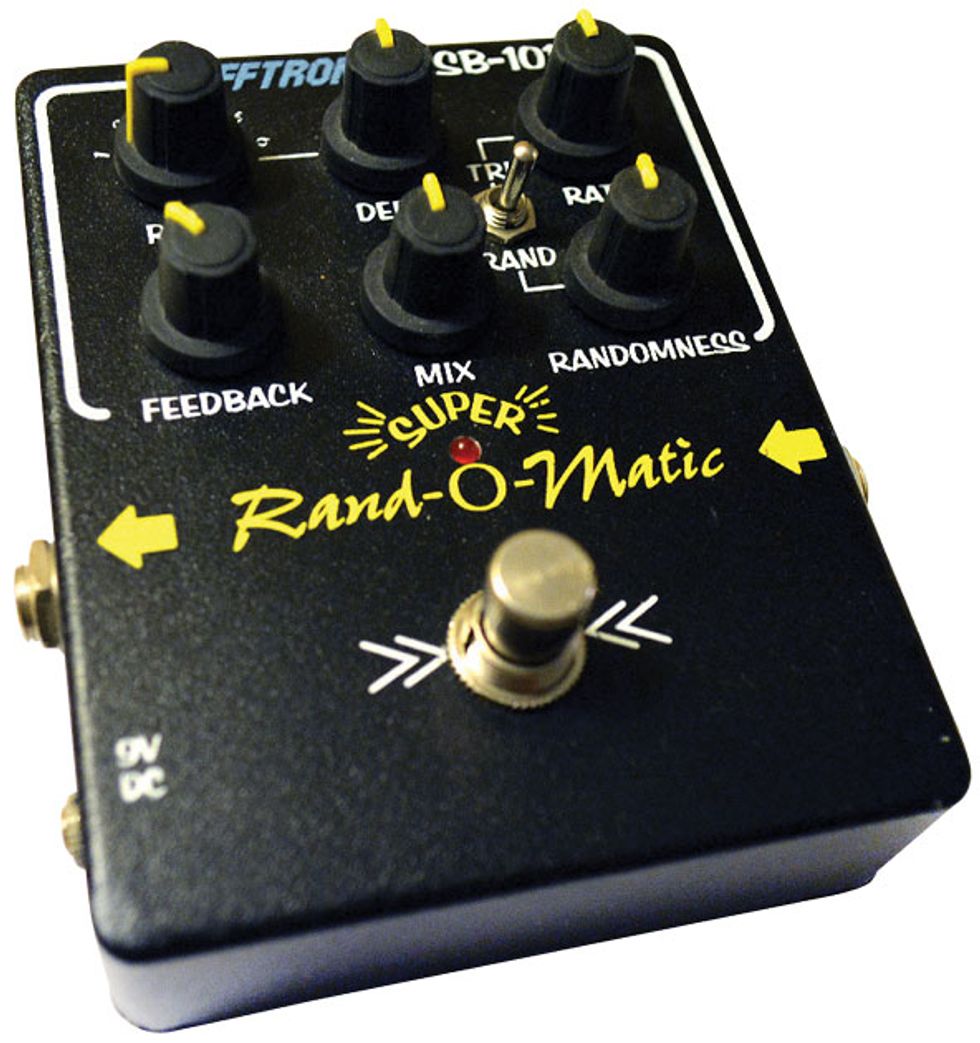 By modulating delay times in a random way, the Pefftronics Super Rand-O-Matic "humanizes" a double-tracking effect, emulating the natural variation that a player might have while trying to play the exact same part the same way twice. Photo courtesy of Proto Guitars
Matt Farrow, Alexander Pedals and Disaster Area Designs – Pefftronics Super Rand-O-Matic
I first heard about the Pefftronics Super Rand-O-Matic in a Facebook thread about Sarah Koenig's popular Serial podcast and its inconclusive finale. A friend speaking up in its defense made an analogy to this pedal, stating that attempting to reverse-engineer or recreate this very complicated device—even if unsuccessful—would be worthwhile for the education and experience. When I read the thread I didn't even know the Rand-O-Matic was a real pedal—I thought it was a hypothetical name invented to illustrate a point. After confirming its existence, I replied, "I think I'd rather work with [Alexander Pedals and Disaster Area Designs builder] Matt Farrow and try to recreate it as an emulation." Lo and behold, who should arrive on the thread but the devil himself, posting a photo of a prototype enclosure and explaining that he'd already been at work considering such a project.
Matt has perhaps the most encyclopedic, far-reaching mind of anyone in our game. In a conversation that's initially about guitar pedals, we might discuss the Capitol Records digital-mastering tones used for introductions on audiocassettes, the operational processes Pizza Hut had to develop for their dual-crust pie fiasco, the curious placement of singles on the second side of Queensrÿche's Operation: Mindcrime, or the virtues of the Casio DG-10 "guitar."
"By modulating the delay times in a random way, it 'humanizes' a double-tracking effect more like an actual second guitar track." —Alexander Pedals' Matt Farrow

"The Rand-O-Matic was built in the 1990s, and at its core it's a really good digital flanger," Matt explains. In the mid '90s, there weren't many pedal flangers on the market, other than the Boss BF-2. "Flanging basically comes from two modulated delay lines. But the problem with the analog flangers of that time was that it was almost impossible to make the sweep range large enough—you were limited by the clock rate, so you had to choose which way you'd go. But with the digital lines that [Pefftronics founder and designer] Jeff Vallier created with a ton of logic-based stuff, a microprocessor, and discrete logic chips, he could have his cake and eat it too with both short and long lines. You could have a longer one that creates that guttural roar, and a shorter one that creates that frothy jet whoosh."
At $250 (nearly $400 in today's money), the Rand-O-Matic was cost-prohibitive for most players in the early days of boutique. But for those brave enough to pony up the cash, the random function is the prize: By modulating the delay times in a random way, it "humanizes" a double-tracking effect more like an actual second guitar track, emulating the natural variation that a player might have while trying to play the exact same part the same way twice.
In considering how he would recreate such a device, Farrow hits upon a particular theme about emulation of older effects. "You can create a reissue, where you try to do everything exactly as it was done originally. Or you can create a work-alike, where your goal is to sound the same. Or you can create an analogue—something that emulates and builds upon the experience of such a device. With 90 percent of our industry making clones of a dozen archetypes, I'm not sure any kinds of straight copies are really what's needed. I guess that's why I'm more interested in pursuing my idea of what these devices can do. To quote Whitney Houston, 'If I fail, if I succeed, at least I lived as I believe.'"
I was going to correct Matt that he was really quoting Linda Creed, but I figured he said Whitney Houston just to test me.
YouTube It
EffectsDatabase.com demonstrates the helicopter, laser, and other weird sounds to be had in the Rand-O-Matic.