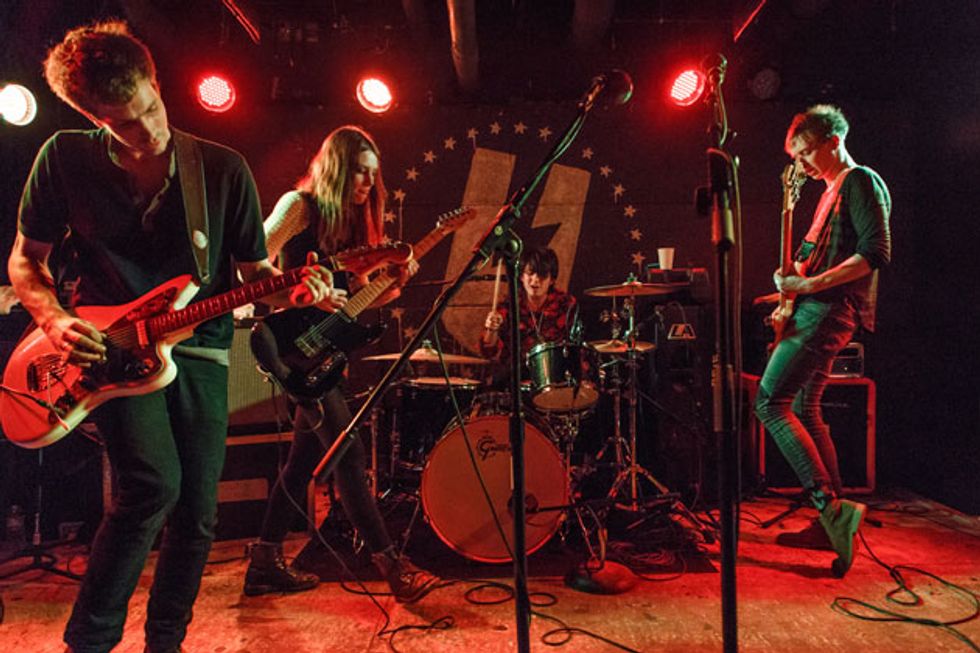 From their start playing acoustic open mic gigs, Ellie Rowsell and Joff Oddie have transformed Wolf Alice into a twin-guitar, critics' darling band with sharp sonic teeth. Photo by Matt Condon
Wolf Alice is a brash, noisy North London-bred quartet that has the complete attention and adoration of the ultra-finicky British music press, and is trying to conquer the States. The band's critically-lauded debut album, My Love Is Cool, is a dynamic ride that takes many of the tropes that made the alternative rock of the '90s so potent—shifting walls of guitar, feedback squalls, tremolo warbles, and moody-yet-melodic vocals that conjure visions of Veruca Salt and Garbage—and reinvigorates them with the fire and passion of a pack of young musicians set on doing things their own way… even if their way, intentionally or not, echoes one of the most vibrant, creative decades of modern guitar-driven rock.
A series of triumphant appearances at major British music festivals this summer, including Reading, Leeds, and Glastonbury, teamed with rave reviews for My Love Is Cool from New Musical Express, The Daily Telegraph, the BBC (which placed the band on its "Best Music Sound of 2015" list), and, here in the U.S., industry pulse-taker Billboard, all seem to spell Arrival—capital "A" intended.
Although the band that takes its name from an unconventional coming-of-age story by English novelist Angela Carter surprisingly claims to have not been directly influenced by the '90s grunge and noise-rock its sound so often references (even while mentioning The Pixies in interviews), Wolf Alice has done something truly excellent with its interpretation of that era's music. The 13 songs on My Love Is Cool are often painted in challenging sonic textures, yet ultimately Wolf Alice lives and dies by its melodic sense and a mission to serve its songs, typically favoring simple arrangements (the sparsely adorned, massive-sounding "Moaning Lisa Smile" is a fine example) that provide bedrock for the whisper-to-scream delivery of frontwoman, guitarist, and blooming musical heroine, Ellie Rowsell.
Nonetheless, the musician chiefly responsible for Wolf Alice's swirling guitar textures and unfettered, substantial riffs is lead guitarist and songwriter Joff Oddie. With a Fender Jaguar or Strat typically resting on his right knee as he hunches over its strings, Oddie appears—as he's carried by the music's shifting tides—to almost be dissecting his instrument, plucking and stabbing, probing to find the spots where magic lies buried and ready for revealing.
"Our soundman always tells me to turn down, but I think
secretly he quite likes it."

Unlikely as it seems, given their ability to create a mighty caterwaul at whim, Oddie and Rowsell started performing at open mics as an acoustic duo in 2010. The foundation of the riff-driven rollercoaster ride "Fluffy," from My Love Is Cool, reflects those origins. "The first version was made in my bedroom, with me and Ellie playing acoustic guitars," Oddie relates. "From what I remember, it was a lot softer and had a bit more of a shoegaze element. I think it got more visceral in the rehearsal room and it simply stayed that way." Wolf Alice's current lineup, which includes bassist Theo Ellis and drummer Joel Amey, came together in 2012. A year later the band released its debut EP, Blush.
From across the pond, Oddie spoke with Premier Guitar about his unexpected influences, functioning as a "band-focused" guitarist, his affinity for fingerstyle guitar, and his desire to raise a din in the studio and onstage.
What was your path to the guitar?
I must have been about 10 or 11 when I first picked up a guitar. My step-dad played in a band and they used to rehearse in a barn next to our house, so there were always guitars kicking around. I remember deciding one day that I wanted to play the guitar—as you do when you're a kid—and my step-dad restrung some old acoustic he wasn't using and gave it to me, along with a three-chord songbook. There were about 50 songs in it you could learn by just knowing C, G, and D7 chords. I sat down and learned "Imagine" by John Lennon.
What players would you cite as major influences?
The English folk revivalists of the '70s were some of the best guitarists I've ever heard. I'm a really big fan of Michael Chapman, Bert Jansch, Nick Drake, Davey Graham, as well as the guys across the pond from earlier, like "Mississippi" John Hurt, Robert Johnson, and Elizabeth Cotten.
I remember my brother coming home from university and playing the first Nick Drake album [1969's Five Leaves Left] to me in his car. I can't say I loved it straight away, buts it's the one now that I keep coming back to. I also remember seeing Michael Chapman play in my village hall—it's tiny and intimate, and in the middle of nowhere—and I'm not quite sure why he was there, but I was completely bowled over with his playing. He became an instant hero, then and there. The rest was all just research after I got the bug.
I recently got put onto John Fahey by our tour manager in the States and I've been obsessed with him. He has a record called The Transfiguration of Blind Joe Death and it blows my mind every time I hear it!
As far as electric players go, I'm a huge fan of Graham Coxon [Blur] and John Squire [the Stone Roses]. Amazing players! Other than that, I get really excited by people who just seem to have a total disregard for the traditions of guitar playing—people who make a lot of noise and use lots of pedals. I would say Lee Ranaldo [Sonic Youth] and Kevin Shields [My Bloody Valentine] are among my favorites where that style is concerned.