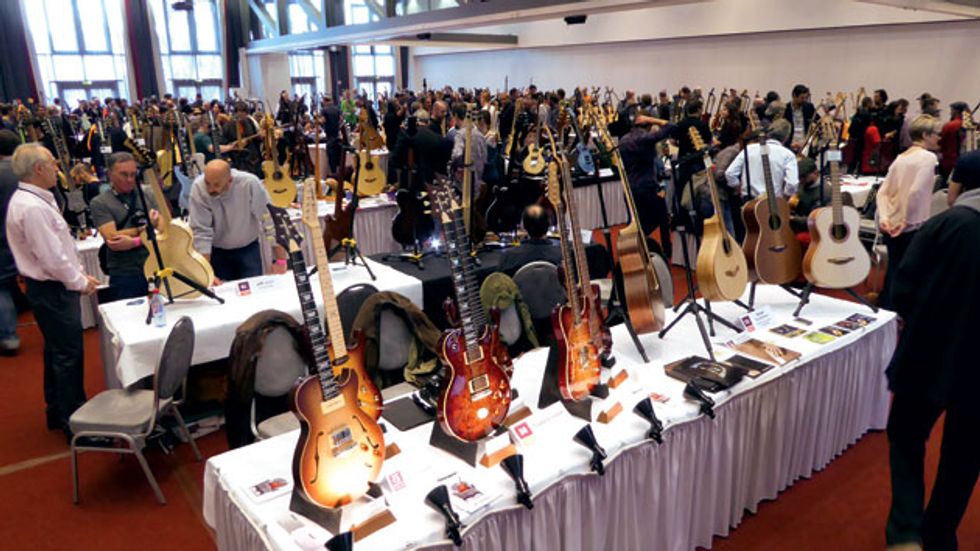 Photo by Steve Fjestad
At the end of October, Berlin saw the second edition of the Holy Grail Guitar Show, an event conceived and organized by the European Guitar Builders Association (EGB). For those not yet familiar with the concept, it's a show exclusively for builders of handmade guitars and basses, and most of these luthiers make fewer than 25 instruments annually. Luthiers must be invited to exhibit, and they're chosen by a committee of the EGB, which follows strict nomination guidelines.
Every exhibitor shares an equal space. Another difference that many NAMM and Frankfurt Musikmesse visitors might appreciate is that all amps are housed in external sound cabins, a move that makes the two exhibition halls quiet and intimate, and fosters communication amongst attendees and builders.
Held at Europe's largest hotel, the Estrel Berlin, the 2015 show included 10 lectures by master luthiers from all around the world, some 40 concerts, and plenty of demos of the many exhibited instruments. About 115 exhibitors and close to 1,000 guitars awaited attendees for the two-day outing. Here are some highlights from selected luthiers at HGGS Part Two, and a look at what caught our eye this time around.
Chris Larkin Guitars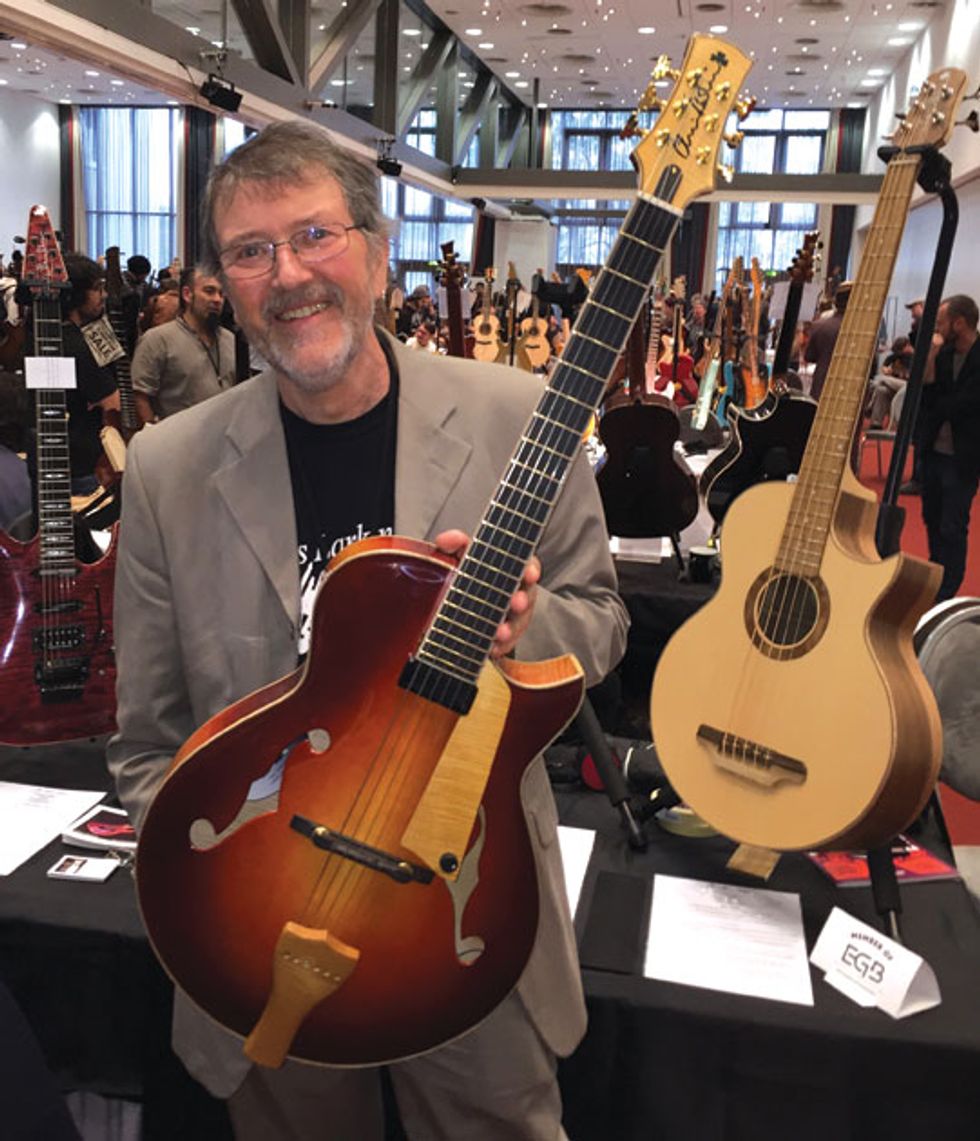 With nearly four decades of guitar and bass building, Chris Larkin is without question one of Europe's most experienced luthiers. In 1999, after years of attending traditional trade shows, Chris opted to rely only on his website to attract customers. The fact that he was able to successfully run a shop located on the West Coast of Ireland—far from all of Europe's music centers—speaks volumes about his communication skills and build quality. After 16 years of trade show abstinence, he calls his first HGGS appearance "the most rewarding experience of my lutherie career."
Larkin brought four instruments that covered almost all categories: a 5-string acoustic bass, a parlor acoustic, a solid electric, and a small archtop jazz guitar. As a luthier partner of the Leonardo Research Project—an effort funded by the European Commission to support the use of non-tropical, local woods—most of his instruments are built using Irish timber.
Larkin's Archtop Jazz model is an acoustic with a floating pickup, made of Canadian spruce with back, sides, and neck from Irish fiddleback sycamore and flamed Irish maple. The fretboard is Rocklite, an ebony substitute made from sustainable eucalyptus and is, in Larkin's words, "far more suitable than ebony for this purpose."
chrislarkinguitars.com
Danou Guitars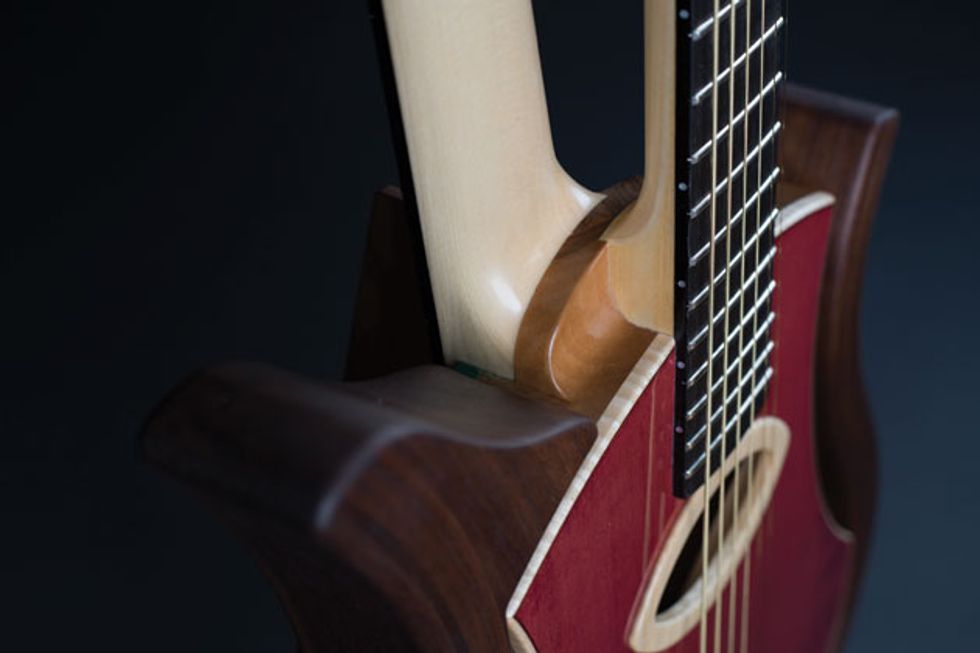 In one of his latest projects, Swiss luthier Daniel Meier wasn't afraid of embracing new concepts of functionality and shape. He's made a series of different "dual" guitars that, as opposed to the classic doubleneck, rotate within an outer frame. The design was initially something he created for himself, but the idea has now manifested in multiple variations of solidbody and acoustic pairings.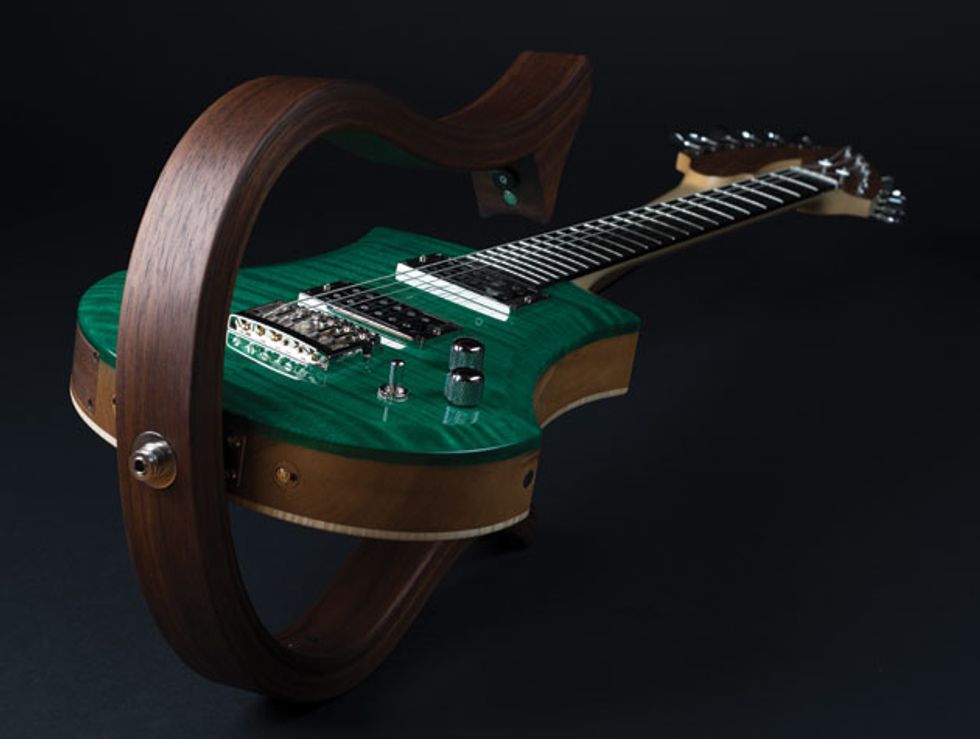 The Galileo sports a green electric guitar on one side and a red nylon acoustic on the other. While the two guitars are rather traditionally equipped with two humbuckers and a Schertler Lydia for the acoustic, more effort went into conceiving the flip mechanism. The solid hinge at the bottom is built around the output jack and is the only mechanical connection while rotating. Extra strong magnets help position the guitar, and a lock keeps the desired guitar in place. The two necks are angled apart by approximately 10 degrees. Surprisingly, there isn't much difference in playability between the electric and acoustic guitars, but those who play with the thumb over the neck might get stuck when working further up the fretboard. Meier is another builder focusing on local woods. On the Galileo he used maple, spruce, and walnut, finished with a glossy polyurethane coating.
danou-guitars.com