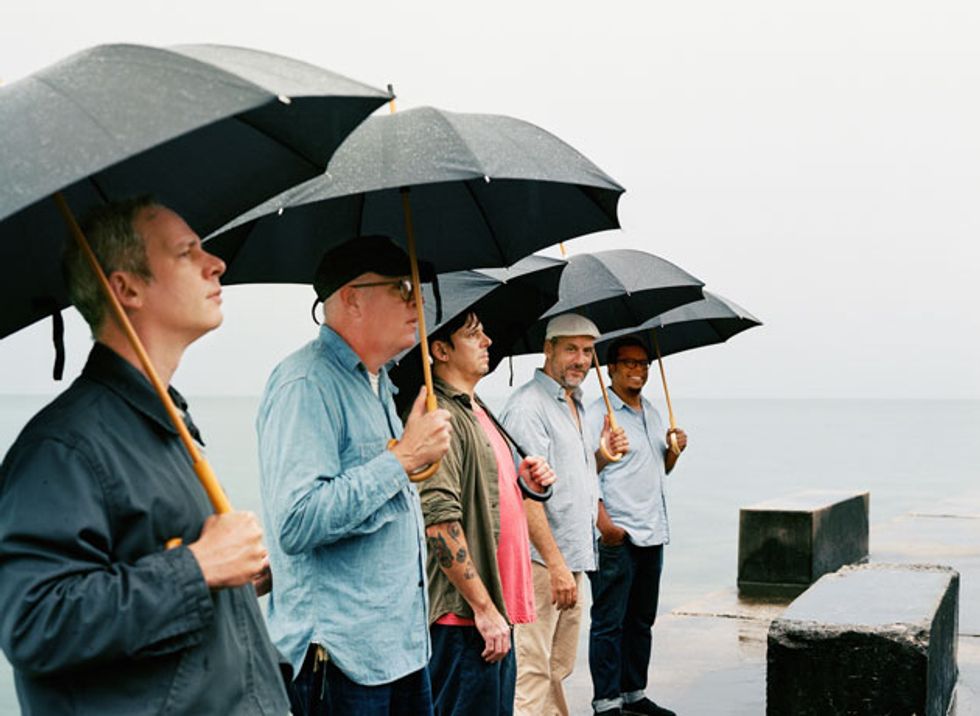 Labels run off Tortoise's collective back like raindrops, as they move ahead through genres, new recording methodology, and other changes reflected in their seventh studio album. Photo by Adam Paynter
For the last 25 years, the Chicago band Tortoise has made primarily instrumental music that, despite often being labeled as post-rock, in actuality defies facile categorization. Tortoise's commitment to experimentation is evident in its seven-album body of work, in which you're just as likely to hear a symphonic percussion instrument as an electric guitar or an electronic blast of sound. Rock, 20th century classical, and jazz, among many other influences, are given equal consideration in Tortoise's musical works.
In subverting the conventional structures and vocabulary of rock, Tortoise has given permission to bands like Godspeed You! Black Emperor, Mogwai, and Sigur Rós to do the same. To put it another way, Tortoise's influence has encouraged more than a few bands to find their own experimental directions—not just indie-rock groups, but more mainstream acts, like Deftones, as well.
Tortoise formed in 1990 when bassist Doug McCombs (formerly of Eleventh Dream Day) and percussionist and keyboardist John Herndon (formerly of Poster Children) joined forces as a production team and a rhythm section for hire. That plan never really materialized, but McCombs and Herndon teamed up with drummer John McEntire and bassist Bundy K. Brown (both formerly of Bastro), along with percussionist Dan Bitney, to form the earliest incarnation of Tortoise.
The quintet's self-titled debut (1993) featured the unconventional configuration of two bass guitarists and three percussionists playing not just standard drum kits, but marimbas and vibraphones. By Tortoise's third album, TNT (1998), the group had enlisted Jeff Parker, a jazz guitarist known for his association with the AACM (Association for the Advancement of Creative Musicians). Naturally, improvisation and extended harmony then became more noticeable aspects of their music.
In 2010, the City of Chicago commissioned Tortoise to write a suite of compositions in celebration of the robust local community of jazz and improvisational musicians. The barebones themes Tortoise contributed to the project eventually morphed into the densely orchestrated compositions on The Catastrophist (Thrill Jockey), Tortoise's first new release in seven years.
"With Tortoise, the sonic landscape is broader than it is in a lot of the jazz I play. It's music that demands I play with more color, using more effects and experimenting with different timbres, with EQs and percussive elements." —Jeff Parker

On the album, Tortoise expands on its original concept while visiting unexpected territory, like a cover of "Rock On," by the English singer-songwriter David Essex, and the original song "Yonder Blue," kind of an R&B ballad with Yo La Tengo's Georgia Hubley. We chatted with Jeff Parker and Doug McCombs about the concepts at play on The Catastrophist, their idiosyncratic styles—and, of course, the tools of their trade.
Jeff, in addition to playing in Tortoise, you're a prominent voice in modern jazz. Do you consider yourself a jazz guitarist or a rock guitarist? Jeff Parker: I consider myself a jazz guitarist, for sure. Jazz is where I learned the sounds that I hear, and this informs my approach to music in any situation. I still make a lot of my professional life as a sideman and leader in jazz music. I went to Berklee in the late '80s with a lot of great jazz musicians. I was classmates with Roy Hargrove, Antonio Hart, Seamus Blake, Mark Turner, Joshua Redman, and Chris Speed, and I still play with a lot of these musicians. Before I joined Tortoise, I made my living playing in jazz organ groups in Chicago—some with Larry Goldings and Chris Foreman—doing a lot of pickup gigs.
How did you become involved with Tortoise? Parker: When I first heard Tortoise, I immediately became a fan. They were essentially just bass and drums: two drum sets and two bass guitars. This appealed to me because I've always had a bottom-heavy approach to playing the guitar. When I first started playing music I actually wanted to be a bass player. I picked up my sister's guitar and played bass lines from Parliament-Funkadelic.
Anyway, the guys in Tortoise and I became friends and they started asking me to sit in. They already had a strong aesthetic thing with the bass and drums, and I didn't really want to disrupt that. I think the reason they liked playing with me was because I had this guitar style that really fit well with the band. Those guys came up playing in punk bands before they started Tortoise to do something different. At first I blended in, but it's become less like that over the years. Now the guitar's more out front—but it's not as if I'm playing like Jeff Beck.
How does your style fit into the band? Parker: It's more conceptual than anything. There are definitely certain clichés associated with the guitar, and I avoid them. My approach isn't about playing loud or screaming leads, especially within the context of so-called rock music. It's often very sonic or ambient, or just using the guitar to play single-note melodic or repetitive things along with the rhythm section.
How do you reconcile the music of Tortoise with your jazz background? Parker:One of my favorite guitarists has always been Jim Hall. Even though he had a very specific sound and the context of what he was doing wasn't very broad—usually within a pretty traditional jazz ensemble—he always sounded very open and colorful because of his approach to the instrument. The goal for me is to have a similar approach to playing jazz as I do when I play with Tortoise. But with Tortoise, the sonic landscape is broader than it is in a lot of the jazz I play. It's music that demands I play with more color, using more effects and experimenting with different timbres, with EQs and percussive elements—there's kind of an African guitar vibe in a lot of the music I play with Tortoise.