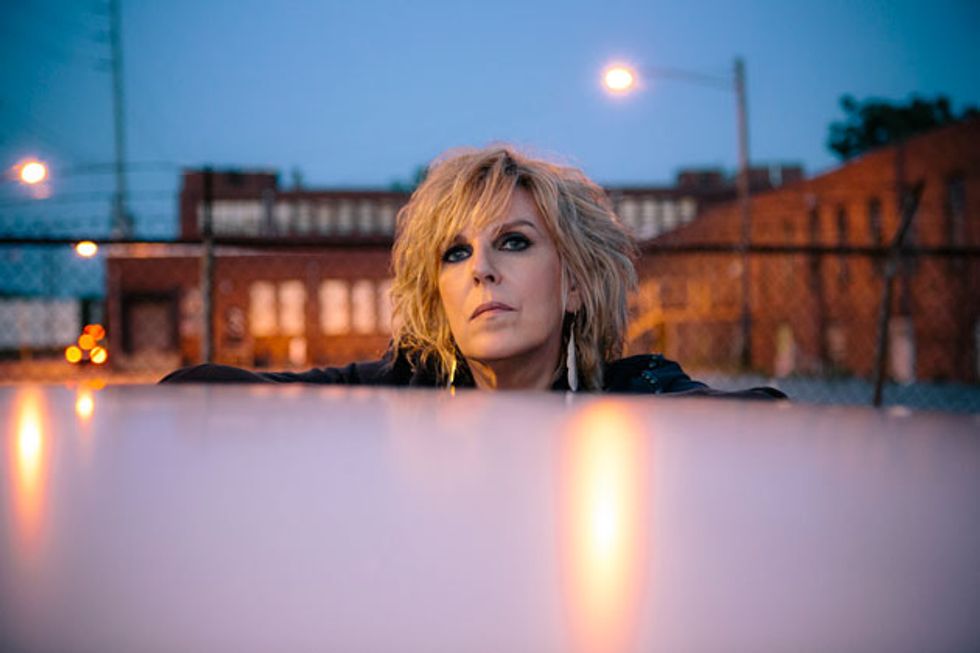 Through decades of performing and songwriting, Lucinda Williams has developed a strong, personal style of rhythm guitar that pumps blood through the heart of her albums and shows. Photo by David McClister
Most artists pan for gold when they record, but only a few consistently find it. Lucinda Williams has been a remarkably successful prospector since she made her landmark 1998 album, Car Wheels on a Gravel Road. The daughter of poet Miller Williams had displayed her own gift for telling sharp-eyed stories since releasing her second album and first collection of all-original songs, 1980's Happy Woman Blues, but with Car Wheels, she arrived at the crossroads of country, blues, rock, and folk that she'd been driving toward—in Cadillac style.
Since then, Williams has polished her articulate gemstones of song even more, cutting six albums through 2014 that cracked the Top 30 and established her as the queen of the song-driven, roots-based genre dubbed Americana. She's also perfected a rhythm guitar style that's ideal for the tension and release at the core of her powerful, buttermilk vocal performances. Syllables melt in her mouth, thanks in part to her Louisiana drawl, but they can also sting like the notes of a Stratocaster or a trumpet. And her guitar, which she beats like a thief, propels and lays back with similar flexibility and force. It's not always metronomic, but exactly where it needs to be.
"Over the years, I've mastered something with my right hand, just from playing so long," Williams explains. "When I first started making records, my guitar wasn't seen as the launching pad for my songs. In the studio, they'd just play around me. But now, it's where everything comes from. Sometimes I put the guitar down when we're recording a song at the point where it feels like the band is getting the right vibe, so I can concentrate on my singing, but without my guitar playing leading the way in, it just wouldn't be right."
Now Williams has taken a new turn with The Ghosts of Highway 20. It is a cosmic folk-rock masterpiece, with a sound built on the guitars of Williams and accomplices Bill Frisell and Greg Leisz—MVPs of the jazz and singer/songwriter realms, respectively. The two-disc set is a fusion of visionary artistry. Leisz is a subtle craftsman who has spent his life accumulating the skill to build perfect frameworks for songs. Frisell has mastered sound, tone, and phrasing in a way that can transform a songwriter's labors into something almost incorporeal. And Williams' voice and lyrics conjure places, people, attitudes, and events that straddle the past and present in a way similar to the authors Gabriel Garcia Márquez and Barry Hannah.
"When I first started making records, my guitar wasn't seen as the launching pad for my songs. In the studio, they'd just play around me. But now, it's where everything comes from."

Maybe the term to describe The Ghosts of Highway 20 is magical surrealism. The album brushstrokes its way through 14 songs that illustrate death, struggle, heartache, abandonment, and the people and places bound by them, here and in the spirit world. But it's too beautiful and mesmeric to be depressing. Thanks to the warmth of Williams' voice and the burnished intelligence of Frisell's and Leisz's guitars—which create a transcendent refuge for these lost souls and places—the light of joy glints everywhere.
"I think it reflects a vision that's not negative, but older and wiser … mature," says Williams.
In addition to her own ghostly evocations of the past, like the title number, and "Dust" and "Bitter Memory," which weave the loss of Williams' and her producer/manager/husband Tom Overby's parents with the faded beauty and ugliness of the South into their emotional fabric, Williams recorded songs by two other distinguished writers: Bruce Springsteen's blue collar requiem "Factory" and Woody Guthrie's previously uncut "House of Earth." And the album's capper is the majestic, near-14-minute "Faith and Grace." The number, featuring only Frisell on guitar, is an exploratory gambol based on a spiritual by blues legend Fred McDowell that Williams compares to John Coltrane's rapturous "A Love Supreme."
"Bill is really why the album sounds like this," Williams explains. The majority of the tracks were cut at the same time as those for her previous release, 2014's more conventional—if it's fair to label the work of a songwriter/performer as superior as Williams that way—Down Where the Spirit Meets the Bone. "It became obvious all the songs that Bill played on fit together beautifully," she continues, speaking by phone from her home in Los Angeles. "We knew we had something special and organic. That's how it is working with a genius."
Did you have this album's sound planned when recording began?
Everything is approached in a fairly organic fashion. It's just bringing the right musicians together. Bill Frisell, right off the bat, is going to lend that kind of atmospheric thing. It's just the way he plays. And having Bill and Greg Leisz together … we don't think about it. Everybody just plays. And then we listen to what we have.
Since this album and your previous release were mostly recorded at the same time, what determined the songs that went on each?
Everybody asks, "What's the theme of the album?" And they mean the themes of the songs, like they're all part of the same story. And I guess sometimes that can happen, but we don't sit down and say, "Well, this song is about Louisiana and this one is about Highway 20, so they go together." It doesn't work like that. It's what fits sonically. And it's just a happy coincidence this time that the themes of the songs also work well together.
So you didn't write them as a suite?
No. I had some of them already. Some I wrote later and added on, like "Ghosts of Highway 20," "If There's a Heaven," and "If My Love Could Kill." And one is among the oldest songs I've ever written, that Tom discovered on an old cassette tape: "I Know All About It." It used to be called "Jazz Side of Life," but we changed the title. I probably wrote that in 1980 and put it on the shelf. I've saved all these acoustic cassette tapes in a big trunk, and Tom was going through archiving them and ran across this song. I thought I'd outgrown it, but he said, "No it's great." So I brought it up to my standard now as a writer and then we cut it, and it was just amazing. Sometimes there are happy surprises like that.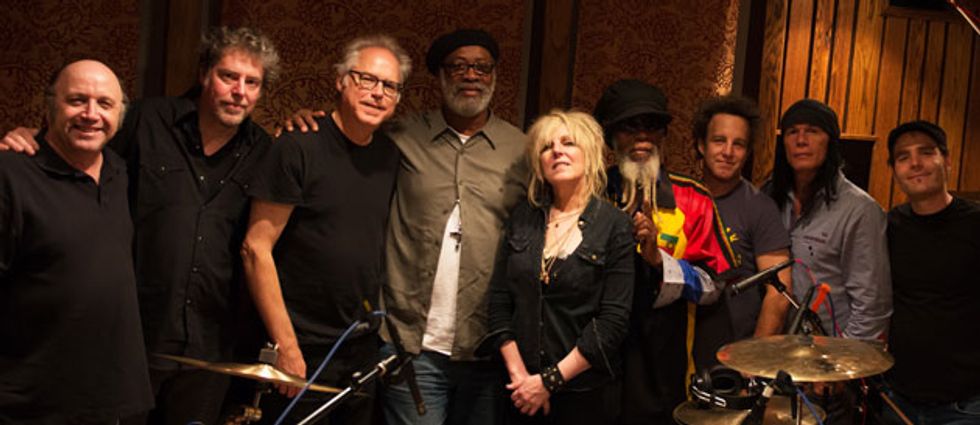 The line-up that recorded the improvised tune "Faith and Grace" includes (at center, beginning third from left) Bill Frisell, Carlton Davis, Lucinda Williams, and Ras Michael. Photo by Peggy French
Why the Springsteen and Guthrie songs?
The Woody Guthrie has an interesting story. We were playing a festival in Germany, and Nora Guthrie, who is Woody's daughter, and her husband came to the festival and we ended up hitting it off and hanging out afterwards, drinking and talking about socialist politics. She's an old leftie. Some time later she sent me the lyrics to that song and said, "These are really kind of out there for Woody, but of all the people I thought might be able to tackle this, it would be you if you want to put these lyrics to music."
What I learned was, this was written when Woody was traveling west and ended up in Arizona. For the first time, he saw adobe structures and he was really impressed. And he called them "houses of earth." Tom thinks that's metaphorical—the house of earth is the woman. But I'm not sure. It's pretty racy for that day and time. For example, one of the lines is, "I can teach you things that you could show your wife." It's an empathetic look at a prostitute. I first performed it at the Kennedy Center in Washington D.C., and somebody with me said, "I'm pretty sure this is the first time anybody's performed a song about a prostitute at the Kennedy Center."
Tom is a huge Bruce Springsteen fan. "Factory," he turned me on to. He grew up in a factory town, in Austin, Minnesota. His dad worked at the Hormel meat packing plant for 30-plus years, so that song really resonates with him, and me, too. We worked it up for playing the Fillmore in San Francisco one night, during the Occupy Wall Street movement, so we dedicated it to the movement, since it's a song about working people. Tom's dad passed away a few months before mine did, year before last. So it's a combination thing—kind of a tribute to his dad. That line, "Men walk through these gates with death in their eyes." Tom says, "I've seen those men walk through those gates. I could have been one of those guys."
What do Bill and Greg bring to the game individually?
Greg and I go way back to the '80s, when I first got to L.A. He's such a great multi-instrumentalist, with pedal steel, lap steel, and guitar. At the end of each night, when the session ended, it would be Greg, Tom, and me listening to what we had. And Greg has great suggestions. One night I said, "Tom, we need to make Greg co-producer, because that's what he's doing." It helped to have him and David Bianco, the engineer, contributing. We ended up making a great team.
The way I like to work is very democratic. When we do a track, we have three or four live takes and we all listen at once. It has to do with the bass and drums, and getting the vibe locked in there. If we're lucky we get the one with the bass and drums vibe locked down and the best vocal, because somebody can always go back in and redo some guitar.
With Bill, nobody ever said a thing to him. He'd just play. I'd show the songs to the guys, we'd go over a song until we had the arrangement, and then, it's "Let's go!"
Not everybody gets to hear him do this, but Bill can play any style—even a Jimi Hendrix vibe. He doesn't always get a chance to do that. He does his floaty, ambient thing, but he can also just tear it up.