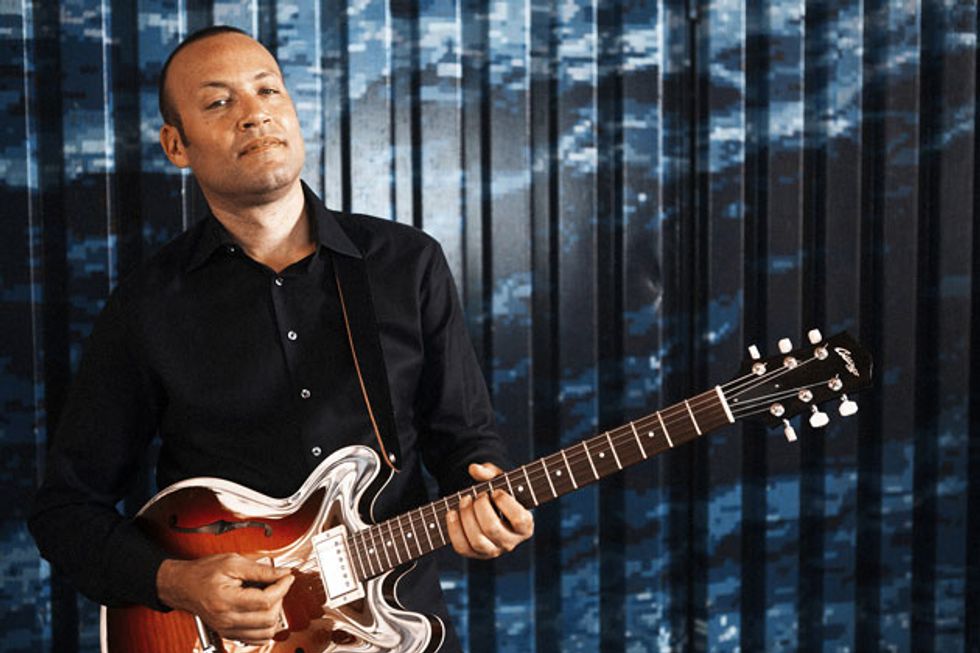 Liberty Ellman with his main electric axe, a Collings I-35 LC. "It's got a great weight and is nice and small but sounds really rich—no less rich than the '65 ES-355 that was my main guitar for a while."
Not long ago, guitarist Liberty Ellman got a mysterious phone call from the saxophonist and bandleader Henry Threadgill, who asked him to meet for breakfast and some "information."
"Henry had just gotten back from Cuba, and I thought 'information' was a code word for rum or cigars," says Ellman, laughing. "But it turns out he had seen a great band there playing a music called trova, which features the tres. [The tres is a guitar-like instrument with 6 strings tuned in 3 courses.] He handed me a tres he'd brought back, and I said, 'Oh my god, do you expect me to learn to play this?'"
Ellman, one of Threadgill's key collaborators for 15 years, is influenced by the saxophonist's deep curiosity about music, especially in terms of form. But Ellman has his own identity as a composer and bandleader, as is apparent on his latest album, Radiate, a quintet outing featuring eight original compositions—music that is complex and cerebral, but pleasurable to listen to.
Ellman, who is 44, cut his teeth in the Bay Area in the 1990s, playing everything from theater to hip-hop gigs while forming lasting relationships with bold jazz musicians like saxophonist Steve Coleman and pianist Vijay Iyer. After moving to New York in 1998, Ellman started collaborating with Threadgill in the ensemble Zooid, and since then he's worked with some of the biggest names in modern jazz, including saxophonist Joe Lovano, pianist Myra Melford, and trumpeter Wadada Leo Smith.
On his four albums as leader, Ellman has established himself as one of the most compelling voices in modern jazz. With his warm, clear tone and light and nimble touch, he's got a foot planted in the jazz guitar tradition. But with his surprising choices of intervals and his penchant for evocative and unusual chords, not to mention his judicious application of overdrive and delay, he's somewhat of an iconoclast. What's more, his impossibly clean technique would be the envy of even the fiercest shredder.
"I want my pieces to sound good and to feel good and for my band to be able to learn them quickly enough, even if it's
something complicated."

Speaking from his home, in Brooklyn, New York, Ellman chatted with Premier Guitar about his impressive guitar collection, his nonstandard methodologies, his small onscreen role in a Jimi Hendrix documentary, and the creative charge that comes from working with Threadgill and other masters, inspiring him to try to create a "unique world" within his own band.
There are a bunch of killer guitars, both vintage and new, on the gear section of your website. What have you been playing lately?
I've been playing a Collings acoustic—an 01 in sunburst—for about 10 years, and since I love that guitar I got an I-35 LC. I really love that guitar, too. It's got a great weight and is nice and small but sounds really rich—no less rich than the '65 ES-355 that was my main guitar for a while. With a nice vintage guitar like that, maintenance requires a lot of attention, and you have to worry when traveling with the instrument. But the I-35 plays and sounds every bit as amazing, and I don't have to be precious with it. Everything is great about it, from the finish to the frets. It sounds cliché, but they really do pay attention to all the details down there in Austin.
What are some of the other highlights in your collection?
I've got a 1960 Telecaster Custom with the slab board neck and bound body, all original except it's been re-fretted. It's got a narrow neck but the tone is just gorgeous—everything you'd want out of a Tele. I've got a 1959 ES-175, all original down to its PAF pickups. It hasn't been parted out like some of the Gibsons from that era. That guitar is also gorgeous. Oddly enough, it's in museum-quality condition, without even one scratch on the body, but the frets are pretty worn down. I have no idea how the previous owner or owners managed to keep it that clean! Then there's the ES-355. What's cool about that one is it's a factory mono example without the Varitone that many players choose to remove. It used to have a Lyre [vibrato tailpiece], but now it's got a stop tailpiece. It's a really great guitar. As for acoustics, I love my 1953 J-50, which is really fun to play.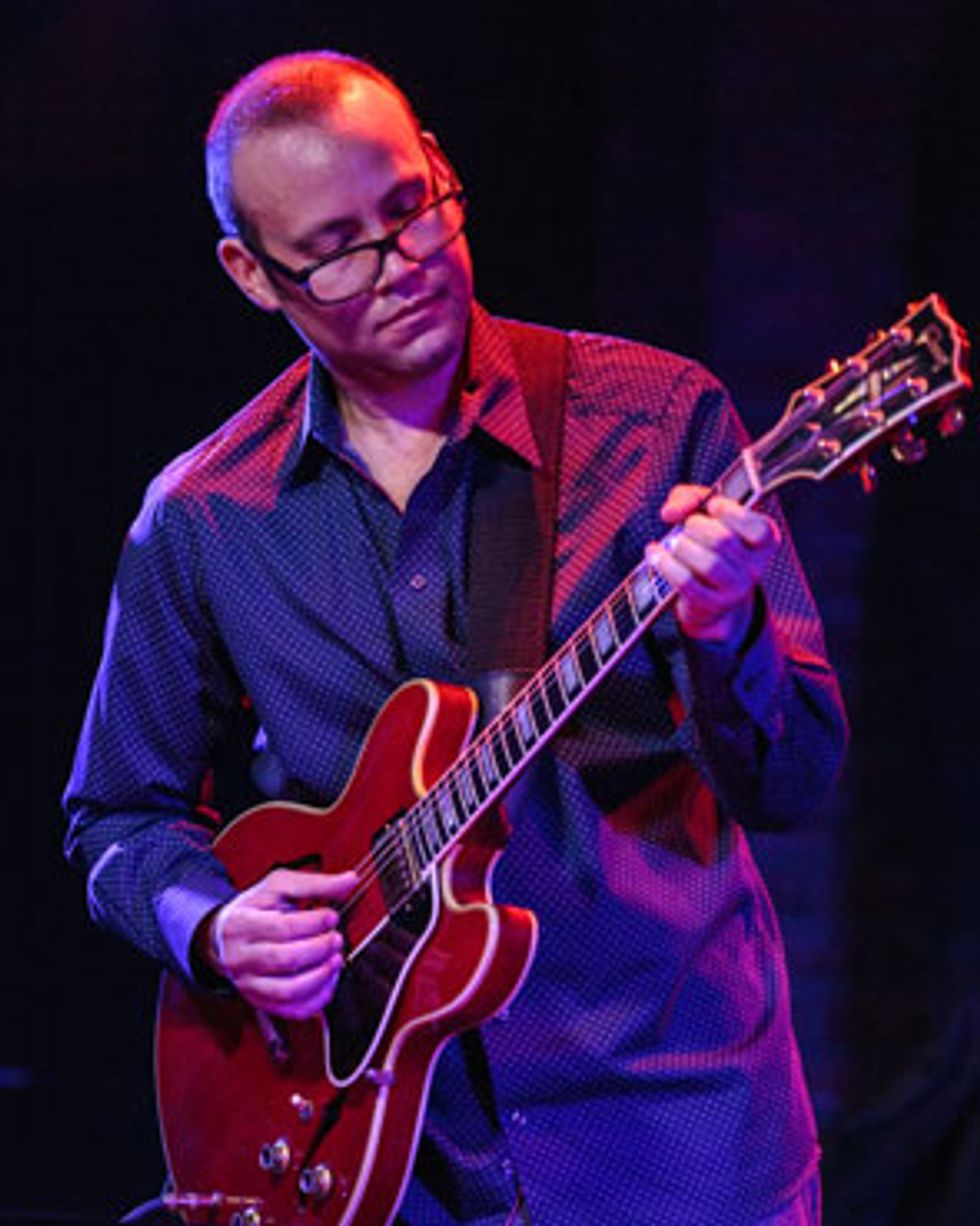 Liberty Ellman brandishes his 1965 Gibson ES-355 at the January 2014 Alternative Guitar Summit at New York City club Subculture with his trio, completed by bassist Matt Brewer and drummer Gerald Cleaver.
Photo by Scott Friedlander
Most of those guitars aren't typically associated with jazz. How did you get into collecting?
It was only natural. I grew up in a musical house—my mother knew Jimi Hendrix—and so I've never been a stranger to rock music and a fascination with guitars and amps and all that. One of the goals I have for a future record is to take all these different guitars and have the album be a showcase for their versatility.
I have a really good friend I've known since high school, named Heath, who's a voracious collector. He was the first person I'd heard of paying two grand for a Stratocaster. This was back in the late '80s. He lived in San Francisco and got a job at a vintage shop, where, in the days before eBay, he had access to great instruments that didn't even make it to the floor. Every once in a while he'd call and say, "Hey, I've got something I think you should take a look at."
One funny story was that we went to a flea market in Marin City, which is outside of San Francisco, where, along with a bunch of other random things, someone was selling a '64 Deluxe Reverb. He wanted a hundred bucks for it, but said it wasn't working. I didn't have any cash, and Heath bargained the seller down to 50 bucks. It turned out nothing major was wrong with the amp, just that the reverb channel was blown and it needed new tubes. Once it was fixed, I gave Heath a couple hundred bucks for it. I still have it—it's a beautiful amp.
Describe your family connection to Hendrix and music in general.
My mom and dad were both musicians. My dad's a drummer and used to play in Todd Rundgren's Utopia band, back in the early '70s. We lived in a loft in SoHo [a New York City neighborhood]. My dad had a practice room and Todd and all kinds of people came by. My mom was more of a singer-songwriter, and she knew all kinds of musicians and even sang with Band of Gypsys in New York at some point. Anyway, she and I are in one of the Jimi Hendrix's documentaries—the one called Jimi Hendrix [from 1973], where he's sitting on a stool on the cover. She's interviewed about him briefly, talking about going out dancing, and I'm in the background as a baby, crying. That's my degree of separation.
When did you first get into guitar?
I started guitar lessons when I was five—the kind of lessons where the teacher puts a book in front of you and tries to teach you "Yankee Doodle Dandy"—but it didn't take. A friend and I recently had a conversation about what would be the proper thing to inspire a kid of that age on guitar, and it was an interesting discussion, but we didn't come up with a good answer—other than not "Yankee Doodle."
I got really committed to guitar when I was 12, not long after I had moved to California with my mother when my folks split up. Around the same time, I was getting familiar with my mom's record collection. She had a ridiculous amount of stuff—all the Jimi Hendrix and Led Zeppelin albums, Albert King, Ravi Shankar, Miles Davis—just an amazing collection. She loves to tell the story of when I walked up to her and told her she had so much great music in her collection—as if she didn't know. In any case, my mom had the Miles Davis album In a Silent Way, and that's the first jazz record where I was really seduced by the guitar. I was fascinated by what John McLaughlin did on the record and how the guitar fit into these sound worlds that Miles Davis had set up, not just blowing over a static backbeat. Then, I went down a rabbit hole, checking out all the people that Miles had played with, and in the process discovering everything that had happened in jazz in the past 60 or so years.