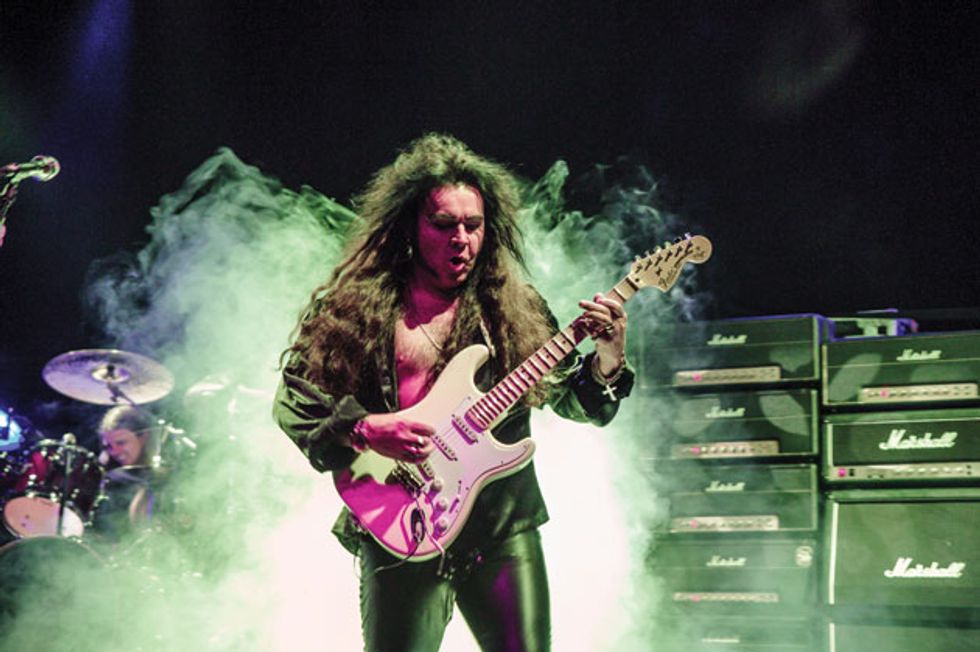 With an enviable collection of vintage Marshall heads and cabinets behind him, Yngwie Malmsteen fired off his groundbreaking brand of neo-classical shred during his performance in the Caribbean Theater. Photo by Annie Atlasman
On a windy pool deck somewhere off the coast of Florida, Ron "Bumblefoot" Thal rips into the galloping riff of Ozzy's "I Don't Know" with his gold Vigier doubleneck. As the opening track from the Black Sabbath frontman's 1980 landmark solo debut, Blizzard of Ozz, the choice is fitting, since the song marked the first time many guitarists were floored by Randy Rhoads' nimble-fingered leads and dynamite riffs. Right now, it's also the kick-off for a set by drummer Brian Tichy's Randy Rhoads Remembered ensemble.On the first night of the inaugural voyage of the Axes & Anchors cruise, it soon becomes hard to tell if the slightly tilting motion is coming from the ocean waves or the throngs of fans rocking in rhythm to some of Ozzy's greatest hits.
Unlike other music-themed cruises, A&A was designed to appeal more to musicians than fans. Organizer Ann Squire had the idea for the cruise several years ago on a road trip to Colorado to see Queensrÿche.
"We thought it would be great to have 10 workshops on a cruise, and the next thing we knew we had 35," she says, laughing. These workshops, where budding guitarists get up close with their favorite players to inquire just how they did what they did, separated A&A from other, performance-based cruises.
The lineup was handpicked by Squire and her staff, and included legendary figures Zakk Wylde and Yngwie Malmsteen, and modern metal masters such as Alex Skolnick, Marty Friedman, and Chris Broderick. Sadly, Michael Schenker had to cancel due to the death of a band member shortly before the cruise.
"If this had been around when I was 17 or 18 and had Al Di Meola, John McLaughlin, or Frank Marino, I would have saved up and gone—without a doubt," says Wylde, who was aboard to show his somewhat more acoustic side to coincide with the upcoming release of his new album, Book of Shadows II.
"Originally, the idea was to only feature guitarists," Squire relates. After some feedback, Squire and her partners felt they needed additional acts to attract a younger generation, so they brought on Breaking Benjamin, Motionless In White, Thousand Foot Krutch, and others. Squire affectionately refers to them as "Octane" bands—after the Sirius/XM station that features contemporary heavy rock.
With nearly 45 performances and the workshops packed into a four-night cruise—February 20 through 24—it was inevitable that some schedule conflicts occurred, but since most of the acts performed more than once, the chance of missing an artist entirely was next to zero.
YouTube It
During Zakk Wylde's performance of "Stillborn," he wielded an Epiphone Masterbuilt acoustic and got up close with the audience as bandmate Dario Lorina backed him up with some sensitive keyboard work. Check out 1:08, where Zakk takes a seat in the crowd and provides an incredible look at his ruthless picking technique.
For Those About to Shred
The Carnival Victory is an impressive vessel by any standards. As soon as I stepped into the Atrium, a centrally located hub that hosted several performances and more intimate Q&A sessions, the sheer expansiveness of the modern cruise ship was somewhat overwhelming. With 13 decks, 24-hour buffets, a full casino, an art gallery, mini golf, a multi-level water slide, a spa, and five performance venues, it's easy to forget that you're actually floating in the middle of the ocean.
Most artists were featured in a mix of large-stage performances in either the Caribbean Theater or at the Pool Stage, and workshops or Q&A sessions in the smaller venues. The all-you-can-hear music schedule mirrored the overwhelming amount of food and drinks that filled the ship.
Although many of the guests viewed this vacation as a way to beef up their guitar skills, the first night was aimed at setting the tone with a packed Pool Stage schedule that included a rare U.S. appearance by Japan-based, ex-Megadeth shredder Marty Friedman, the soulful electro-acoustic vibes of Zakk Wylde, and an impressive all-star tribute to an icon of modern rock guitar, the late Randy Rhoads.
While the Victory headed from Miami toward the first port of call, Key West, Marty Friedman and his band (guitarist Jordan Ziff, bassist Kiyoshi Manii, and powerhouse drummer Chargeeee) tore through an intense set of tunes from Friedman's latest release, Inferno. Ziff, who bears an uncanny resemblance to Friedman circa '86, was in lockstep with his boss throughout the set, while Chargeeee's Animal-esque performance and fireball energy created a buzz that kept fans talking for days.
A Zakk Wylde "acoustic" show might portend musical elements of legendary folk-rockers like Neil Young and Bob Dylan, but shortly into the first tune the comparisons faded. Wylde used a trio of Epiphone Masterbuilt acoustics run through a pair of his signature MXR ZWR Berzerker Overdrive pedals and a Roland JC-120 to create a decidedly distorted sound that served as a fitting platform for trading Di Meola-inspired licks with Black Label Society bandmate Dario Lorina. "I loved seeing Zakk tearing up an acoustic—just giving it everything he gives," Bumblefoot mentioned the next afternoon.
Tichy, who performed with Ozzy on the Ozzfest tour in 2000, partnered up with Randy Rhoads' family to develop an all-star tribute to the late guitarist. Usually, Randy Rhoads Remembered performances are scheduled around the NAMM show, but the cruise proved to be a natural fit, since you couldn't swing a life preserver without hitting someone who could play the "Crazy Train" solo note-for-note. In addition to Bumblefoot, Alex Skolnick made an appearance during the triple-R set with an energizing performance on "Flying High Again." Legendary bassist Rudy Sarzo, who toured with Rhoads in Osbourne's band, served up the low end for the night (his highlight was the intro on "Believer"), while Kill Devil Hill vocalist Dewey Bragg did an admirable job on vocals. Jeff Watson, Type O Negative drummer Johnny Kelly, and guitarist Marzi Montazeri made appearances to help power through nearly all of the material on Ozzy's first two solo albums.
Teachable Moments
Even though most clinics on the schedule listed a specific focus, many morphed into informal but informed Q&A sessions. Act of Defiance guitarist Chris Broderick opened up the Caribbean Theater with a surprisingly large audience for 9 a.m. During his clinic, where everyone had guitars in their laps and was ready to soak up some knowledge, the feeling of community was palpable.
"There's that instant common bond that everyone has," says Broderick of the vibe on the cruise. "Complete strangers can start head banging and talking metal." The welcoming vibes brought out a ton of questions from the crowd, and Broderick interspersed those by playing some tunes through his Axe-Fx-powered rig over some backing tracks on his laptop.
An inquiring attendee asked about how Broderick has such mind-bending dexterity with his ring and pinky fingers. "I seem to hit a wall with tempo and accuracy more quickly with those fingers," the attendee said. As accomplished a musician as Broderick is, he still strives to identify holes in his playing and creates compositions and exercises to help isolate and fix them. Broderick's answer to the attendee was Ex. 1, a simple neo-classical-style lick that forces the lackluster fingers to get up to speed. (Bonus idea: Broderick suggests moving the same motif up and down the natural minor scale.)

Once Broderick wrapped up a few last-minute questions, the crowd moved towards the Pool stage where Ron "Bumblefoot" Thal was holding court. The windy conditions might have proven difficult for some, but didn't faze Thal. "I've done crazier," he recounts. "Once in Buffalo it was so cold—I just took my shirt off and ran into it." As the queries flowed, Thal's mix of humor and otherworldly technique was as impressive as it was inspiring.
His approach to the clinic was to encourage players to get out of their own heads and move past the technical. "Once you have the knowledge of scales and modes, you have it. You don't have to focus on it anymore in order to play," says Thal. Of course, anyone who gets the chance to ask Thal a question always inquires about his infamous use of a thimble to explore the imaginary frets past the neck to produce everything from ultra-high birdcalls to attention-grabbing harmonics.