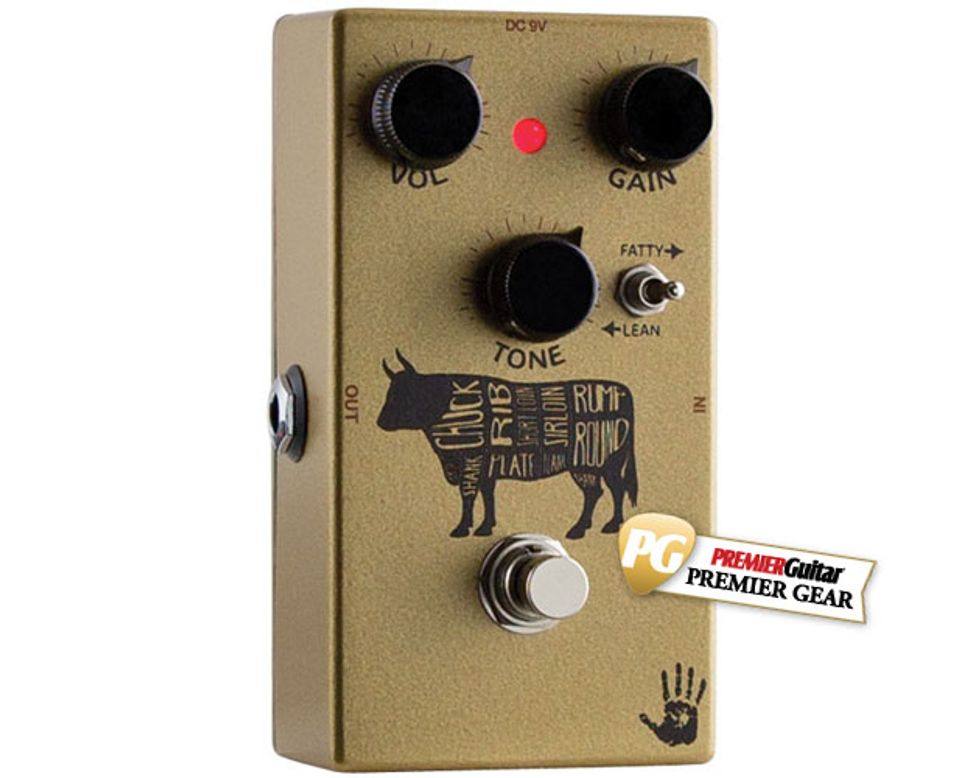 Mojo Hand Sacred Cow
If there's an upside to the plague called "Klon hype," it's that the condition drives builders to duplicate the circuit and sound at (relatively) affordable prices. Better still, it's compelled a few manufacturers to pursue enhancements and improvements on that now well-codified sonic template. The Mojo Hand Sacred Cow is one of the better fruits of that effort I've come across—and we've seen many in recent years.
Economical Execution, Top Tones
Crack open the Sacred Cow and you see smartly applied economical construction and thoughtful, creative circuit design. Input and output jacks and the AC jack are mounted on the circuit board, though there's little reason to suspect they are anything other than totally secure. The footswitch itself is mounted apart from the circuit board, which makes replacement easy down the road if necessary. Elsewhere, the circuit is neat and well executed. Texas Instruments op amps and germanium clipping diodes hint at Klon inspiration.
At many equivalent levels, it's hard to tell the difference between the Sacred Cow and the excellent Klon clone I keep on my own board (which itself is about 95 percent authentic sounding in a head-to-head test with a real-deal Centaur.) But I did hear an ever-so-slight extra airiness and shimmer across the frequency spectrum that I really loved—and that, in fact, might have been the difference between my own klone and the real thing.
Ratings
Pros:
Smooth and tasty take on the Klon recipe. Nice higher gain tones. Big harmonic spectrum.
Cons:
Would be nice to avoid board mounted jacks at this price.
Tones:


Ease of Use:


Build/Design:


Value:


Street:
$179
Mojo Hand FX Sacred Cow
mojohandfx.com
The Sacred Cow shines with essentially clean amps set right at, or just below, the verge of breakup. Low- to medium-gain settings on the pedal yield creamy, harmonic distortion that's perfect for greasy Stones riffs and snappy lead tones with a just-right softness and glow on the top end. The dynamic shifts you can achieve by clicking the pedal on and off at these settings is akin to the ideal outcome from guitar volume attenuation. But using that technique on top of the Sacred Cow, which is very responsive to guitar volume changes, yields exponentially more color.
Beefier and More Buttery
Higher gain settings highlight what I consider an unsung attribute of Klon-type circuits—a harmonically multifaceted growl that marks that perfect point where "overdrive" and "distortion" shake hands. With Fender single-coils it produces an intoxicating and complex drive tone that's perfect for punky, grinding chord work. With humbuckers it can give an otherwise mild-sounding 6L6 amp an air of Sabbathoid evil.
Sacred Cow's most obvious enhancement (apart from delivering authentic Klon-ness at a fair price) is the lean/fatty switch. Lean settings are "normal." Fatty settings, however, lend low-end heft that almost never obscures the pedal's lovely high-end detail. It also gives flexibility to players who switch between single-coils and humbuckers, or need extra presence or thump in the course of a set. It's an addition that genuinely works—one that guitarists are likely to use, rather that leaving in a single, preferred position.
Downstream from my Tone Bender, the Sacred Cow proved to be a great fuzz enhancement, lending punch and the kind of compression and boost you might seek from a nice outboard compressor in a studio. The harmonic depth of the Sacred Cow also makes it a great pairing for delay and reverb textures—exciting ghost harmonics and color in subtle slapback settings, and celestial ambient and shoegaze zones alike. It's a great pedal for retaining 1st position and barre chord detail amid the blur of reverberations and modulation.
The Verdict
There's a lot to love about the Sacred Cow. It's forgiving, flattering, musical, and, in many cases, a touch of magic tone dust. For Klon tones at an accessible price, it's tough to top.
Watch the Review Demo:

Click onto the next page or select the dirtbox you want to explore next:
JColoccia ID
Oddfellow The Bishop
Zen Zero Red Crown
Pettyjohn PettyDrive
All Review Demos On One Page