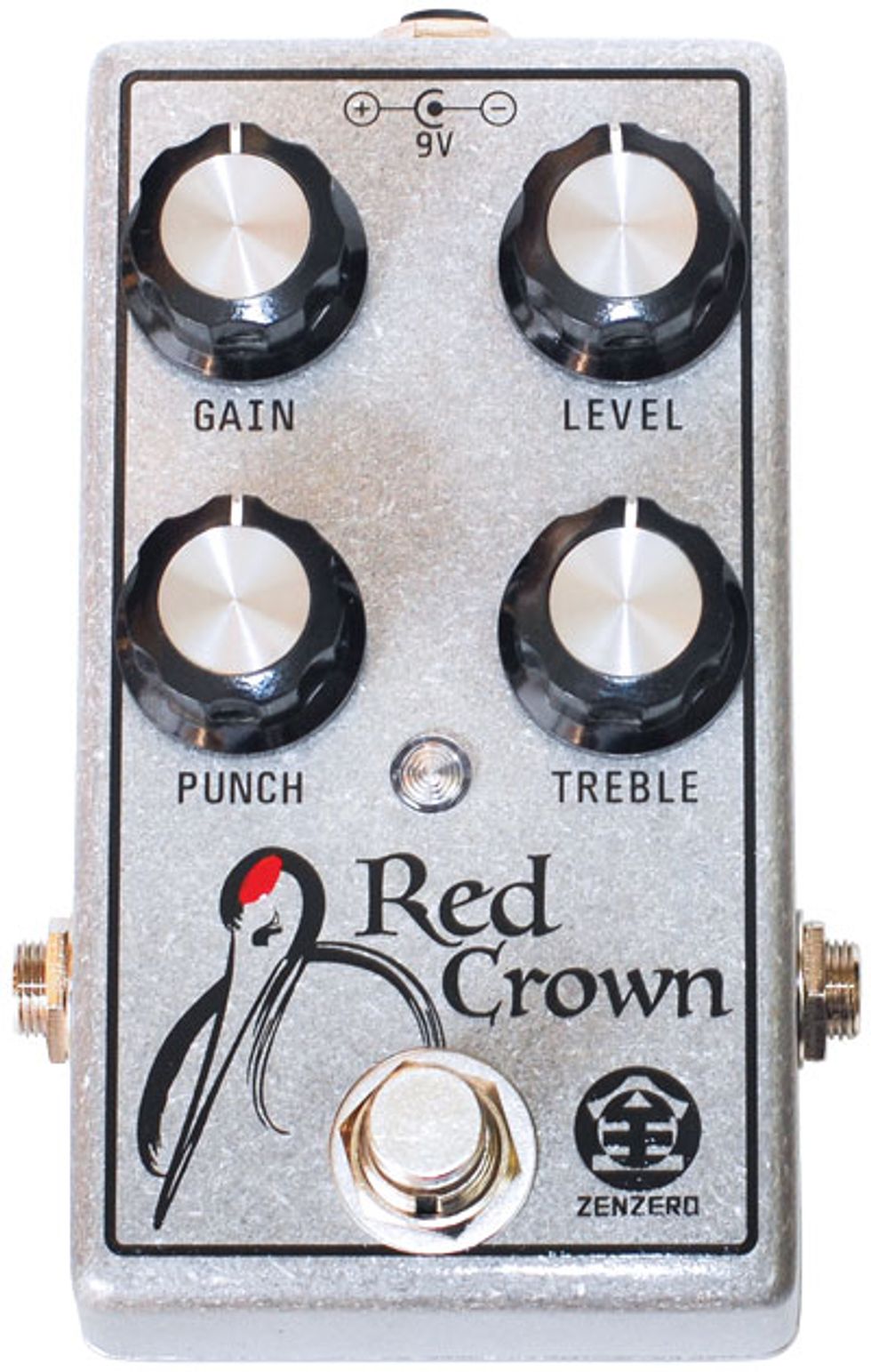 Zen Zero Red Crown
The Red Crown is designed by an Italian guitar nut living in Japan. And if you told us little more, our imaginations would still be fired by the potential tone outcomes of that culture collision. Sure enough, this Zen Zero box sounds quite unlike anything else.
Mark of Solidity
Red Crown is a beautifully designed unit—from the elegant, subdued graphics to the soldering within. While you can't use a battery, the builder positioned input and output jacks lower on the enclosure so you can snuggle the unit closer to pedals with jacks situated at their enclosures' center points. Inside, the Red Crown is tidy, if a bit crowded. Two notable fixtures include a Texas Instruments LF353 OpAmp and a fat 516D capacitor—another component you don't see in an overdrive circuit every day. If you guessed we're headed for unique sonic territory, you'd be right.
Brutishly Big and Toppy
For starters, the Red Crown is loud—very loud. And many of the most impressive, growling overdrive tones are found at impractically loud volumes. How loud is it? I had to dial gain and level settings back to about 9 o'clock or less to achieve unity gain. But for players that like leads to soar above everything else in a mix, or that relish extreme volume shifts within a performance, the Red Crown's high volume ceiling will be a blessing from the guitar heavens. It's also a good fit for underachieving small amps, in this respect.
Ratings
Pros:
Rare combination of high output and harmonic complexity. Amazing with neck humbuckers. High-quality construction.
Cons:
Feels way too hot for many applications.
Tones:


Ease of Use:


Build/Design:


Value:


Street:
$185
Zen Zero Red Crown
zenzeroelectronics.com
One of the most interesting things about the Red Crown's output is that it remains pretty transparent in spite of itself. For single-coil users—especially Stratocaster players who don't want to sacrifice chime for extra muscle and a bit of dirt—the Red Crown can feel miraculous. It also does magical things with a neck humbucker, and the high gain profile and hot top end mixed with aggressive guitar tone attenuation generates scalding but smooth Cream and David Hidalgo sounds that will sing for an eternity.
Red Crown's frequency spectrum feels very even for all the excitability in the high-mid and treble zones. It's much more open and airy than a pedal like a Tube Screamer. And the "punch" control adds emphasis and body to the low end without suffocating the strong trebles. It's a great feature for thickening thin single-coil output, though in excess it can affect dynamics.
Volume attenuation from your guitar is tricky. You can get nice clean-ish tones by reducing guitar volume, but you may have to roll the knob back to 2 or 3 to get there. There's a lot of color in between, but it's trickier to manage than something like a Stratocaster and Marshall, which can go from clean to crunchy with a little nudge of the volume control. With practice, you can get used to the extra range and color. But if you like to shift dynamics with small adjustments, the Red Crown might feel touchy.
For all the extra treble presence, the Red Crown sounds surprisingly great after a fuzz. Common sense says the hot output would turn my Tonebender into a wailing feedback banshee. Counterintuitively, it highlighted some of the loveliest bits of the fuzz frequency spectrum. A Russian Big Muff clone sounded smoother still.
The Verdict
If you're accustomed to TS- or Klon-style overdrives, the Red Crane's hot output and top end might sound and feel extreme. The extra high end and surprising transparency can leave you feeling naked if you don't mind your technique. And though some players might miss that touch of sag and compression that many ODs add to the tone equation, pickers with great technique and timing will love its extraordinary responsiveness.
Watch the Review Demo:

Click onto the next page or select the dirtbox you want to explore next:
JColoccia ID
Mojo Hand Sacred Cow
Oddfellow The Bishop
Pettyjohn PettyDrive
All Review Demos On One Page