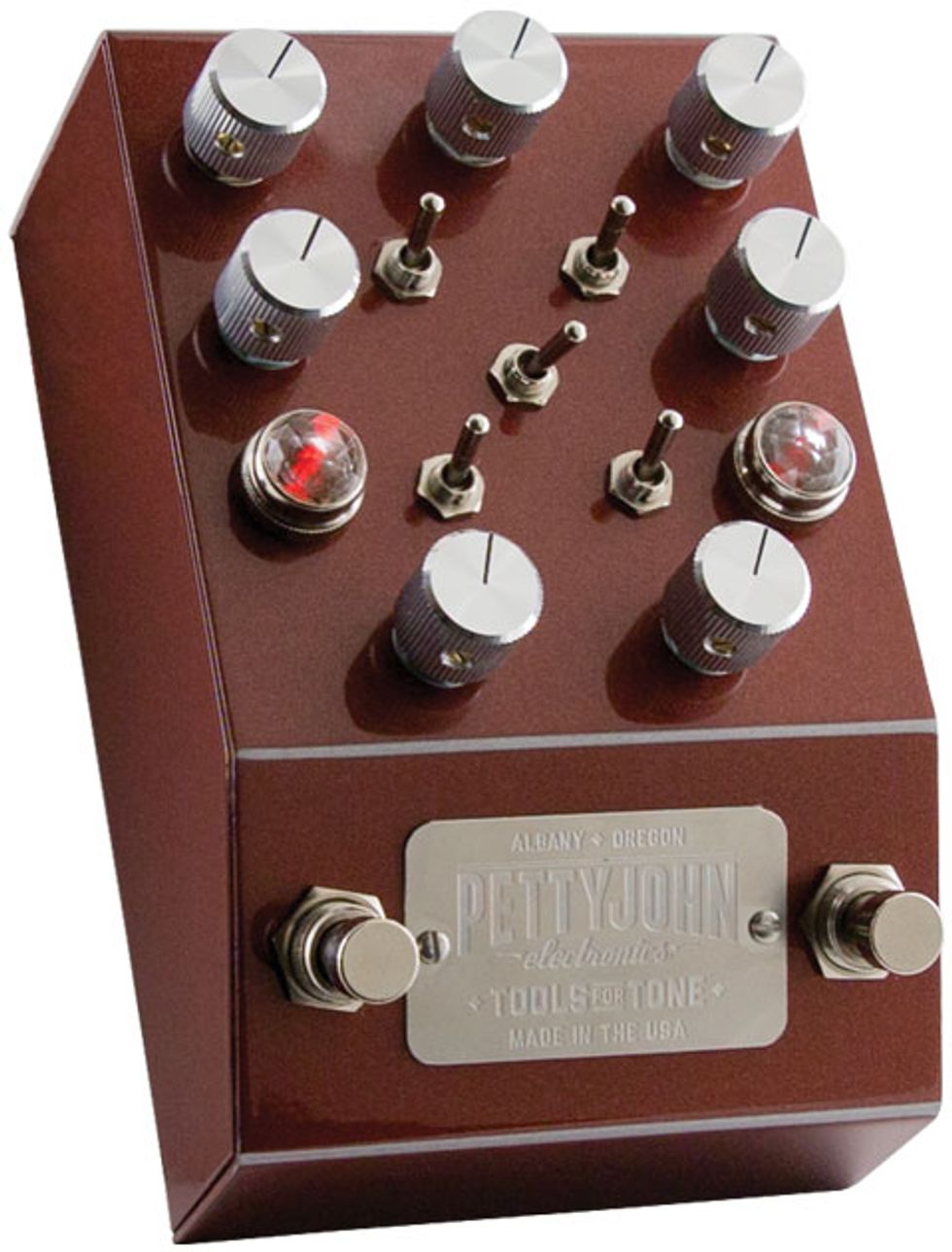 Pettyjohn PettyDrive
The Pettyjohn PettyDrive looks complicated, but with two channels, a parallel effects loop, and multitudinous voice-shaping options, it's as much a brain or hive for your pedalboard. Remember what we said about overdrive being a pivot around which your whole sound can turn? The PettyDrive very constructively takes that potential to great lengths. And if you're a control freak or a player that approaches tone with a studio engineer's mindset, the PettyDrive's potency is hard to resist.
Tone Dispatches from the Mothership
At a glance, the PettyDrive is an indecisive player's horror show. In actuality, the control layout is quite logical—which is good given that Pettyjohn did not label a single control. Taping the easy-to-eyeball instruction card that comes with the unit to its underside is a pretty good idea.
Essentially, the PettyDrive is made up of two matching sets of controls. Gain, level, and tone for each channel are stacked vertically along each side. One significant difference between the two sets: The lower-gain "chime" channel uses a "tilt" EQ, which boosts treble and cuts bass, or vice versa, simultaneously. The higher-gain "iron" channel uses a simpler high-cut tone control. The top knob is a mix control for the effects loop, which only works with the "iron" channel. Switches include dedicated, three-position low-cut toggles for each channel, plus a clipping diode selector for each channel. You can also flip the order of channels using the center switch.
Ratings
Pros:
Thoughtful design and execution. Top-flight quality. Rock solid. Well-matched drive channels. Endless tone permutations.
Cons:
Expensive. No labels for a complex control array.
Tones:


Ease of Use:


Build/Design:


Value:


Street:
$317
Pettyjohn PettyDrive
pettyjohnlectronics.com

First impressions aren't very telling when you look inside. Squint and the mass of wires looks like a clown-colored riot. Look closer, though, and you notice what a well-executed, robust build this is. Individual knobs and switches are all chassis-mounted well away from the densely populated circuit board, which is mounted on four strong steel posts on the chassis' underside. The topside of the unit hints at the ambition in this OD design, but the guts reveal how thoughtfully it is carried out.
Sounds abound in the PettyDrive, and describing every possible permutation or tone would take a review many times this one's length. But I loved the subtleties and articulate nature of the "chime" channel in particular. It's a very transparent overdrive and a comparatively low gain channel, which leaves a lot of room for your guitar and amp to speak in their native tongues. Single-coils loved soft clipping on this channel with a little extra bottom from the low-cut selector. The humbuckers in a Telecaster Deluxe sounded best with a little extra low-end cut and a generous heap of high end from the tone knob. Needless to say, the possibilities for dialing in very precise tone profiles for situations like overdubs are vast.
The higher gain "iron" channel is high-gain in a strictly relative sense. In fact, it's a medium-gain type drive that derives much of its extra heat from the selectable LED and MOSFET clipping sections. And while some players might long for more extreme differences between the two channels, the smaller gain discrepancy means they stack beautifully and can be shaped and chiseled in very precise ways when run together.
The effects loop and the mix knob work brilliantly. And while the PettyDrive sounds great with other effects in series, the very simple process of adding a pedal via the effects loop adds a delicious additional layer of texture.
The Verdict
The PettyDrive probably isn't an overdrive for the casual player. Adjustments in the heat of performance are tough without practice, and the process of discovering the tones that best fit your rig demands deeper investigation than the average drive pedal. That said, the PettyDrive is surprisingly intuitive and the cornucopia of sounds this thoughtful circuit can produce will thrill the sonically curious.
Watch the Review Demo:

Click onto the next page or select the dirtbox you want to explore next:
JColoccia ID
Mojo Hand Sacred Cow
Oddfellow The Bishop
Zen Zero Red Crown
All Review Demos On One Page