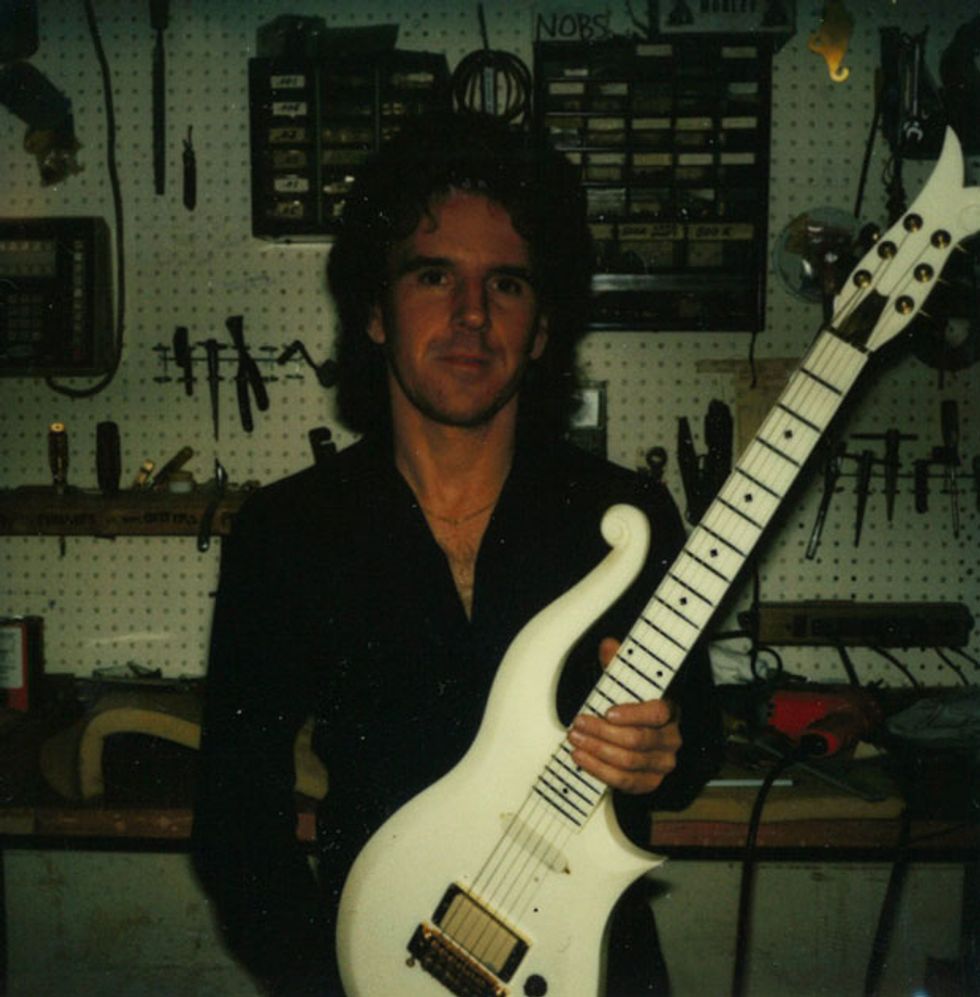 Minneapolis luthier Dave Rusan holds the very first Cloud guitar built for Prince in 1983. Rusan is standing by his bench in Knut-Koupée Music, the guitar repair shop he worked at that Prince frequented and commissioned to build a one-of-a-kind axe for the film Purple Rain.
On a blustery Sunday night in New York City's Times Square, the mood is bittersweet as devoted fans flock to a special weekend screening of Purple Rain. While many here are still trying to come unstuck from the notion of a world without Prince tearing up a stage or dropping another uniquely multihued album, there's also a sizzle of expectation in the air, almost as though a full-blown concert, and not just a movie, is about to jump off.
After all, this was the film that, more than 30 years ago (in the summer of '84), established Prince, playing a character known simply as the Kid, as an explosive musical talent to be reckoned with. Maybe his acting chops didn't quite set the world on fire, but that's yet another of the saving graces of Purple Rain; as campy as the film is, the story it tells is straight-ahead, timeless, romantic, and familiar. Sacrificing himself for his art, the Kid fights through family strife, ridicule (from his rivals Morris Day and the Time), and his own demons to realize his lifelong dream. And naturally, he gets the girl in the end.
One scene in particular sends a knowing murmur through the theater crowd. The Kid is wooing his love interest, Apollonia, when he stops in front of a shop window to admire a guitar. "Do you see something you like?" she asks him. He answers only "Let's go," and the camera cuts and pans slowly over Apollonia's shoulder to reveal a white, curvy, alien-looking axe, slung upside-down (for a lefty—like Jimi Hendrix, let's say) from a black mannequin's neck. It's foreshadowing that hits you over the head, but the statement is clear: This is the Kid's totem, the staff of Moses, his ticket to the big time. And one day soon, it'll be his to play.
"That's what a guitar is really, at least in the rock world," says Dave Rusan, the original builder of what would become known in Prince-ly lore as the Cloud guitar—one of four he made in the mid-'80s. "It's so much more than just part of a costume. It's a means of expression, power, identity, you name it. And honestly, I didn't know how it was going to be portrayed in the movie, because we didn't have any hints of a plot line or the script or anything. But when I first saw it, I remember thinking, 'Oh wow—there it is!' I was quite surprised."
"For a solidbody, when it comes to shaping wood, that's about as tough as it gets. And painting it was the worst thing ever!"

At the time, Rusan lived and worked in Minneapolis doing repairs at Knut-Koupée Music, the hip Uptown store cofounded by a local guitarist named Jeff Hill. Prince started coming in when he was still in high school, and by the late '70s, after he'd signed to Warner Bros., he was a regular customer. Rusan remembers first hearing about Prince through David Z, who produced some of his early demos.
"One day David walked in with a boom box with a cassette in it, which was how you listened to stuff on the fly back then. He just came into the store and put it up on the counter and played it. After a while we went, 'God, who's this band? They're great—they sound just like Earth, Wind & Fire!' And he said, 'This is one guy. This is Prince.'"
By the middle of '83, Prince's album 1999 had put him on the map with the hits "Little Red Corvette" and "Delirious." Word started circulating that he had even bigger plans for his next project. "I'd been in London working at another shop for about nine months," Rusan recalls. "When I came back, there was Prince up at the counter. He and Jeff went into the back office and they talked a long time, and then Jeff came down and told me, 'Prince is going to make a movie. He needs a guitar, and you're going to make it.' And I was like, wow. I didn't see that coming. He'd already had some success, and had a few albums out, but not too many people made movies until they were much bigger—like Elvis, you know?"
Prince told Hill he needed a fully functioning instrument, but with an unusual design that he wanted to swipe from a bass once owned by André Cymone, Prince's childhood friend and former bass player. "We were recording his first album [For You] at the Record Plant in Sausalito," Cymone remembers. "We had a day off, so we just got in the car and drove. I spotted a shop in San Rafael, we popped in, and I saw the bass. I played it and fell in love, but I didn't have the cash at the time, so I asked Prince to buy it and he did. I'm not completely sure who the maker was—I haven't seen it since I left the band. I was pretty surprised when I saw him playing a guitar version. I'd never seen anything like that before."


According to curators at the Smithsonian National Museum of American History, this yellow Cloud guitar was donated in 1993 from Paisley Park Enterprises through Skip Johnson, who was a production manager for Prince. The museum's records list David Rusan as the builder, along with Barry Haugen of Knut-Koupée Enterprises in Minneapolis.
Photo courtesy of the Division of Culture & the Arts, National Museum of American History, Behring Center, Smithsonian Institution
Cymone goes on to say that he believes the original bass might have been made by Spector. Rusan thinks it was Sardonyx, but a search of both manufacturers turns up no images or background information. Cymone can be seen playing the bass in the music video for Prince's "Why You Wanna Treat Me So Bad." Lefty bassist Sonny T also appears to be hefting it again, years later, in the video for "My Name Is Prince." For now, these two instances seem to be the only visual proof that it ever existed. It wouldn't be the first mystery associated with Prince, who was a soft-spoken natural at keeping even his closest friends guessing about his studio secrets, let alone his true feelings and intentions.
"Prince wasn't much for small talk," Rusan says. "He could certainly express himself if he felt it was necessary, but in this case he didn't all that much. So he had this bass with him in the store that day—I'd actually worked on it before—and his main requirements were just that the guitar should be in that shape, and it had to be white, and it had to have gold hardware. I think he specified he wanted EMG pickups, but compared to all the conversations you would have with somebody about a custom guitar, there wasn't anything else he wanted to talk about—the size of the neck, the frets, the playability features, or anything. He did come in once after that, and Jeff was able to get him to make a few comments, but I figured if he's not going to tell me what he wants, I'll make something I think he'll like and hope for the best."
In fact, Prince loved the guitar so much that he asked for two more. Rusan made a fourth for a contest giveaway sponsored by Warner Bros. in '85; its whereabouts are currently unknown. Later in the '90s, Washington-based luthier Andy Beech made 27 additional copies. The guitar also features prominently in Doug Henders' cover art for Prince and the Revolution's Around the World in a Day, which apparently is how the Cloud got its famous nickname. Prince's character is wearing a cloud-covered blue suit in the painting—the same suit he sports in the video for "Raspberry Beret."
These days, Rusan is still a busy and much sought-after luthier and custom specialist at his Rusan Guitarworks shop in Bloomington, just south of Minneapolis. He shares his memories openly and fondly—at one point in the very early days, he even auditioned for a spot in Prince's band—and he's still grateful for the trust Prince placed in him to make what essentially became his signature instrument for 20 years, starting with his memory-searing performance of "Purple Rain" on film—still a triumph of arena-rock theater and emotion.
"To be honest, I'd never done anything like it before," Rusan says. "I did a whole lot of repairs for a long time, but I'd never made a neck-through-body guitar or done anything involving that much carving. So I thought I'd take a shot, because I knew I'd always regret it if somebody else did it. It's amazing what you can do when you have to."
After 1999 came out, Prince was pretty well-known for playing his Hohner Mad Cat T-style. Did any of the specs from that figure into the making of the Cloud guitar?
I've worked on the Hohner many times—but no, because at that time I didn't see it as much. It's only been in later years. I had it in here about 10 years ago because it suffered an accident, and I had to make it look good again for TV, you know? But it really had no relationship in any way. Nothing about it—from construction style to scale length. It was a whole different thing.
So what were the basics you started with? It sounds like you had free rein to create the guitar you thought he wanted.
Well, I copied the body of that bass very carefully, and all the details of sizing it down for a guitar. I just did what I thought was best, since I wasn't able to get a lot of information from him. So I used hard rock maple and a neck-through-body with 22 frets, and the pickups were EMG active electronics. The single-coil in the neck is the SA Stratocaster model, and the one on the bridge is a model 81 humbucker like you'd put in a Les Paul. I think he specified those because they were very noise-free, and they still are. They don't lose their clarity no matter how much overdrive you put on them, and Prince would use a lot of distortion on some of his leads—the end of "Let's Go Crazy" has a lot of that. The clarity and definition comes out. They wouldn't get muddy like some of the more traditional pickups.
But I basically devised a step-by-step plan and just went about it, and Prince was plenty happy with it. I had put together Teles and carved some necks by that time, but I never made a guitar like this one. And for a solidbody, when it comes to shaping wood, that's about as tough as it gets. And painting it was the worst thing ever! The first guy who painted it had trouble because he did it in cellulose lacquer, and the clear coats tend to have a little bit of yellow in them. In the horn area, parts of it would start to get too yellow, so we had to strip it down and try it again. So it was tough. Normally on guitars, you can buff everything with a machine, but that whole thing almost had to be done by hand.
Can you describe how that first guitar sounded?
The maple made it real bright. The harder the wood, the more it reflects and enhances. It's the brightest wood you could use, and then with the neck-through body, that makes it sustain. And the EMGs have a lot of highs, so it was bright. For that funky rhythm thing that he did so well, that's mostly good.
How about the weight?
They were fairly heavy, almost Les Paul weight, because of the density of the wood. But there's not a lot to them—and everything looked much bigger on Prince! [His longtime guitar tech] Takumi Suetsugu brought in one of the later Symbol guitars [built by Jerry Auerswald] for me to work on, and I thought, "It fits in that case?" I thought it was going to be a lot bigger than it was.
So it was kind of heavy. Prince was small, but he was very fit. I went to all the rehearsals in town, because I worked on everybody else's stuff too, and a couple of times I wanted to speak to him, and they'd say, "Well, he's working out in the back room." So he could handle it. And up to a point, that extra weight increases the sustain, which makes the guitar more even-sounding, you know?